Thu, 1 Nov 2007, 01:58 AM



New Surgery, Additional Cast won't Impede Force's Rehabilitation



Courtesy of Dave Densmore



14-Time Champ will Support Team at 43rd annual Automobile Club Finals



LAS VEGAS --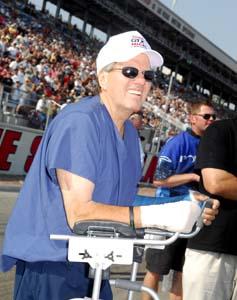 John Force
With casts now on both feet, John Force won't be breaking any speed records this week when the 2008 NHRA POWERade drag racing season races to close with the 43rd running of the Auto Club Finals at Auto Club Raceway at Pomona.
The 14-time NHRA Funny Car Champion underwent additional scheduled surgery Tuesday at Kerlan-Jobe Medical Center in Los Angeles where doctors inserted a pin in his right foot to support a broken bone discovered after he had flown home to Yorba Linda, Calif., following 27 days in a Dallas, Texas, hospital. Doctors also cleaned and repaired a troublesome nail bed on the middle finger of his right hand.
The new cast will further restrict Force's mobility. The 125-time tour winner was able to use a walker to get to and from the starting line during last week's ACDelco Las Vegas Nationals, but, with a new boot cast on the right foot, he will be confined to a wheelchair or his the cab of his Ford truck this week.
Nevertheless, it is just a temporary setback for the 14-time Auto Racing all-America selection, who plans to be back in the cockpit of his Castrol GTX High Mileage Ford Mustang in time for pre-season testing in January.
"We knew we were gonna have to do this (surgery)," Force said. "They told me it won't set back my rehab, through. We're still on schedule with that. They found the broken bone after I got back to L.A. and they think I might have done it during my rehab because we were doing three sessions a day, seven days."
Force's original injuries included a compound fracture of the left ankle, tendon and ligament damage in his right knee, badly mangled fingers on his right hand and toes on his right foot and a left wrist so badly dislocated that it required surgery during which pins were inserted and a cast applied.
The Sept. 23rd accident during which his car broke apart and collided with that of Kenny Bernstein during competition at the Texas Motorplex was the worst of Force's 30-year career. In fact, it was the first time the 58-year-old icon had been injured badly enough to spend the night in the hospital.
Son-in-law Robert Hight, who still has a mathematical shot at the $500,000 POWERade Championship, said Wednesday that Force's presence at last week's race in Las Vegas provided an emotional boost to everyone associated with the team. It also provided a boost for Force himself.
"Nobody loves drag racing more than John," Hight said. "That's all he talked about in the hospital was getting back out here. He's the leader of this team whether he's in a wheelchair or in a race car."
Hight still could win the championship IF he wins the race and current points leader Tony Pedregon fails to qualify or if the wins the race and sets the national record and Pedregon is eliminated as early as round one. If Pedregon wins a round of racing, the championship is his.
"We have no control over what Tony does," Hight said. "All we can do is go out and try to get all the points we can - and that's what we're going to do."
In addition to Hight, John Force Racing, Inc., will field cars for 24-year-old Ashley Force, veteran Phil Burkart Jr., who for the second race will fill the seat normally occupied by Force, and former title-winning crew chief Mike Neff, who will compete in his second event in a Castrol GTX Ford tuned by John Medlen.
Ashley, the front runner in the race for the Auto Club's 2007 Road to the Future Award, is coming off a runner-up finish last week at The Strip at Las Vegas Motor Speedway. She is the first woman to reach the final round in the Funny Car category.




NHRA: 10 Most Recent Entries [ top ]

Mar 18- GAINESVILLE - Pro Mod Sunday Wrap Up
Mar 18- GAINESVILLE - Sunday Wrap Up
Mar 18- GAINESVILLE - Pro Mod Championship Points
Mar 18- GAINESVILLE - Bonus Points
Mar 18- GAINESVILLE - Championship Points
Mar 18- GAINESVILLE - Mickey Thompson Top Fuel Harley Series Championship Points
Mar 18- GAINESVILLE - Bonus Points
Mar 18- GAINESVILLE - Summary of Eliminations in Top Fuel
Mar 18- GAINESVILLE - Summary of Eliminations in Funny Car
Mar 18- GAINESVILLE - Summary of Eliminations in Pro Stock