Thu, 27 Sep 2007, 09:54 PM



Who Is This Guy?



By Bob Frey


Photo copyright 2007 Auto Imagery, Inc.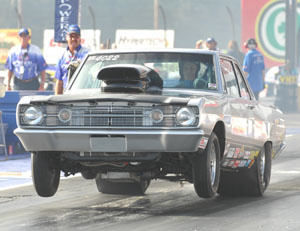 Caffey Broadus
Over the years there have been a lot of guys, and gals, to win an NHRA national event in the Super Gas class. In fact, of all the eliminators on the NHRA schedule, past and present, no category has had more different winners than Super Gas. An amazing 306 different drivers have visited the winner's circle from the 9.90 category. Of that total, 217 drivers have only won one national event. The remaining drivers, those who have won more than once, include some of the most well known names in the sport, including Scotty Richardson, Sheldon Gecker, Steve Cohen, Iggie Boicesco, Sherman Adcock, Ed DeStaute and Caffey Broadus. Now I know what you're thinking, I know most of those guys but who is Caffey Broadus? Well, he is the winner of the Memphis race a few weeks back and, even if you've never heard of him, he is one of the best bracket races and 9.90 racers in his neck of the woods. As Caffey waited for his turn in the winner's circle at Memphis, I was approached by a fellow racer, one who competes with Caffey on a regular basis. The guy pointed to Caffey and his unusual choice of cars for Super Gas and said, "This guy is tough. Combined with today's win he has now won eighteen straight rounds racing around here." And I don't care who or where you're racing, to win eighteen consecutive rounds is quite an accomplishment.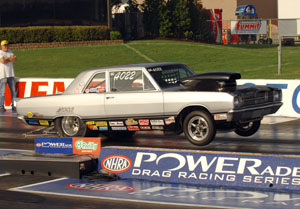 Caffey Broadus, despite not being a household name in the sport, has been racing for over twenty years. "I got tired of getting in trouble on the streets so I decided to get a real race car and run on the track," he said. "I've had this car for a while now and it took me some time to get it running like it is." When he got the car, a 1968 Dodge Dart that was originally built by Gary Jennings, Caffey said that it had "engine troubles and the transmission was shot. Plus the steering wasn't working, either." Other than that it was a real gem. "Dave Koffel did the engine on it and I have called him a lot over the years. He's a great guy and he's been a big help. The way I talk his ear off when I call I think he's glad I live so far way. If I lived closer I think he might be afraid that I would stop by and really bother him." The engine that Dave built is a 528 cubic inch, aluminum Mopar engine that has served Caffey well, even if it did take him across the finish line under the 9.90 dial in each of the last five rounds in Memphis. "It's tough out here," Caffey said. "Everyone is so good on the tree and you have to be able to run the finish line if you want to be successful. I just had a lot of luck today." Caffey admits to leaning how to run the finish line from some of the best racers in the class. "When I first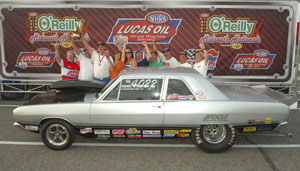 Broadus and team celebrate win.
bought the car out I raced Steve Cohen and he really schooled me at the end of the track. Like I said, all the guys can cut good lights so you better be able to do well at the finish line if you want to win." He said that, in his race with Steve, he thought Steve was going to go around him at the finish line but that he never did and Caffey broke out. "He's an artist on the track. I thought he was going to run around me but then I learned that his car wasn't fast enough to do that. He just pushed me until I took the stripe and broke out. It was quite a lesson." He went on to say that when two cars are running and trying not to break out, the slower car has the advantage. "It's tough for the fast cars to lose E/T at the end. If they're running hard and are on a break out run, if they stay with it until the last hundred feet or so they could throw it in reverse and they're still going to break out." That learning process continued in Caffey's first national event final round which, ironically enough, came in Memphis. "Tommy Phillips showed me how to do it back in 2003. He let me have the stripe and I broke out and he got the win. You try to learn from those races and those racers because they're the best." Apparently, Caffey did learn.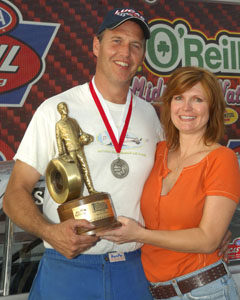 Caffey and Elizabeth
When Caffey isn't racing at the national events he spends a lot of time at the tracks in and around the Memphis area where he races two cars. "I have a foot brake car and my Super Pro car (the one he ran in Memphis). They have a lot of good races around here, 6.0 and 7.0 races at the eighth-mile tracks and I run a lot of them. It's different, though, because you're not racing the guys who can tear you up with the big speed on the quarter mile." Besides the lessons that he has learned as a driver, Caffey is quick to thank his crew chief, Pat Tosh for his help. "He does a great job at the track and he makes a lot of decisions that really help me out." And when he's not racing, Caffey is busy running his own business, Broadus Automotive, a company that specializes in working on Cadillacs. "We don't do body work but we do just about everything else. We do a lot of work on the Northstar engines. Cadillacs have gotten very technical and we've built up a good client base over the years." He has been running the business for almost twenty years and the last ten years have been especially good. "I got some excellent people who have been with me for about ten years and that makes both the business and the racing a lot easier." When Caffey decided he wanted to refinance his business a few years ago, he went to the bank where he met a young lady named Elizabeth. "She was the banker, I needed money and we hit it off and now she's my wife." Besides being his wife and enjoying drag racing, Caffey and Elizabeth have something else in common, they both are big Celine Dion fans. "We were in Las Vegas last year but didn't get to see the show. I'd like to go back and take Elizabeth to see Celine." When I suggested that he take his car out and race in Vegas he said, "I don't have an enclosed trailer. The guys busted on me when I won here in 2004 so maybe now I'll go out and get one." If he does and if he decides to take his car on the road, the other Super Gas racers better beware, because the soft spoken guy from Olive Branch, Mississippi, the guy with the unusual car that runs in Super Gas, has learned a lot and he just might win enough that his name may be mentioned with the best in the class, if it isn't already.




NHRA: 10 Most Recent Entries [ top ]

Apr 24- CHARLOTTE 1 - Steve Torrence Enjoying Four-Wide Success Heading to NGK Spark Plugs NHRA Four-Wide Nationals
Apr 24- CHARLOTTE 1 - Fact Sheet
Apr 24- Kalitta Motorsports Welcomes NASCAR Stars to the SealMaster Track Walk in Charlotte
Apr 24- zMAX Dragway Celebrates 10th Anniversary
Apr 24- CHARLOTTE 1 - NGK Spark Plugs NHRA Four-Wide Nationals Brings 40,000 Horsepower Thrill Show to zMAX Dragway
Apr 23- HOUSTON - Lucas Oil Drag Racing Series Wrap Up The NHRA Lucas Oil Drag Racing Series Wrap Up
Apr 23- CHARLOTTE 1 - J.R. Todd Aiming for Two Four-Wide Racing Wins in 2018
Apr 23- Mid America Dragway Joins NHRA Member Track Network
Apr 23- HOUSTON - Special Awards
Apr 23- HOUSTON - Sunday Video