Thu, 27 Sep 2007, 01:30 AM



Worsham and CSK Auto Renew Agreement for 2008



Courtesy of Bob Wilber


Photo copyright 2007 NHRA





Marketing Partners Will Focus On One Car Next Year



ORANGE, Calif. --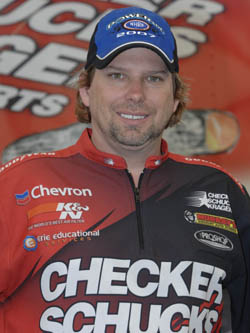 Del Worsham
CSK Auto, Inc. has exercised its option to renew its primary sponsorship of Del Worsham's NHRA Nitro Funny Car for the 2008 season, which will mark the 12th year the auto parts company has backed the successful and popular driver from Southern California. In conjunction with the renewal, the company and racing team have announced a shift in their marketing strategy, as they now will focus their resources on Worsham's car alone. CSK has sponsored two Checker, Schuck's, Kragen Funny Cars since 2000, with a variety of drivers filling the seat, including Jeff Arend who is currently completing his first year with Worsham Racing.
"Our partnership with Del Worsham and his organization has been very beneficial to us for 11 seasons, and we're extremely excited to renew our agreement with Del for 2008," said Jim Schoenberger, Vice President-Marketing for Phoenix-based CSK Auto. "In today's business world, highly focused and nimble organizations are the ones best able to lead the way, and we feel it's in everyone's best interest to place all of our focus on Del and his red Checker, Schuck's, Kragen team in 2008, rather than spread our support and the team's infrastructure over two duplicate organizations.
"Having been associated with Del, his father Chuck, and the Worsham Racing organization since the start of the 1997 season, we're all excited to extend what has been a very successful relationship through the 2008 NHRA POWERade season. This excitement extends from our corporate office, through our distribution centers and store crews, right into the heart of our customer base. We're all great fans of NHRA Drag Racing and the Worsham team."
Worsham is likewise excited to begin preparation for the 2008 season, while the 2007 campaign winds down with its final three races in October and early November. Having earned 19 of his 21 career race victories, along with one Skoal Showdown trophy, since bringing the CSK sponsorship aboard in 1997, Worsham may be winless in 2007, but he is more determined than ever to take his team and his marketing partners to the Winner's Circle again.
"First of all, I'm excited to know we will have a 12th season with CSK Auto, and we plan to pour every ounce of our energy into putting together the best team we can assemble for 2008," Worsham said. "The NHRA Funny Car class is so ultra-competitive now, with more very fast full-time teams than the 16-car race field can hold on any given weekend, so we know we need to ratchet up our intensity and our attention to detail to all-time high levels if we want to be a part of the '08 Countdown To The Championship.
"It's been great to field two Checker, Schuck's, Kragen Chevrolets for the past eight years, and we've had the pleasure of working alongside a large number of fantastic tuners, drivers, and crew members over that time, but I honestly don't feel like we need to have two cars to be winners. I have no doubt that we'll be able to continue improving, just like we have in the second half of the 2007 season, and I know we're capable of winning races and making a run at the 2008 POWERade Championship.
"All of the guys on the blue team, from (co-crew chiefs) Marc Denner and Chris Cunningham to the newest crew guy, have done all they can to make our program better, and it's my hope that we can keep at least some of them on board with us" Worsham added. "One CSK car may be going away, but the knowledge and the skills we've developed as a group, going all the way back to 1991, aren't going to disappear. We will have a very good team in 2008, made up of the best of the best, I can promise you that."




NHRA: 10 Most Recent Entries [ top ]

Apr 18- Haney Headed for NHRA Pro Mod with Summit Racing on His Side
Apr 18- HOUSTON - Richie Crampton Enjoying Early-Season Success Heading to 31st Annual NHRA SpringNationals
Apr 18- 2018 Mustang Cobra Jet Celebrates 50th Anniversary of Racing Legend with Quickest
Apr 18- New Ford Mustang Funny Car Scheduled to Debut In 2019 NHRA Mello Yello Season Opener
Apr 16- HOUSTON - Fact Sheet
Apr 16- HOUSTON - After Early-Season Mishap Funny Car's Jonnie Lindberg Looks to Get On Track