Wed, 26 Sep 2007, 09:58 AM



What A Weekend



By Bob Frey


Photo copyright 2007 Auto Imagery, Inc.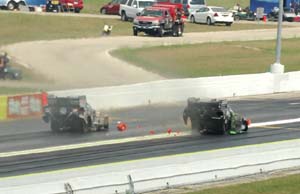 Bernstein vs Force at the finish line.
The 22
nd
running of the
O'Reilly Fall Nationals
at the Texas Motorplex will go down in history for several reasons, not the least of which was the crash involving
John Force
and
Kenny Bernstein
. By now you know that John suffered some very serious injuries and he will be out of action for a while, but what you don't know, and I don't think anyone does at this moment, is what caused the accident. I have heard from several people who are pretty sure they know what the initial cause of the accident was and they all ask my opinion. Well, I may be the only one right now who is not offering an opinion because I simply don't know. What I do know is that, for the first time in his career, John Force suffered some broken bones and more in one of the wildest accidents that we have witnessed in a long time. As John said yesterday, he's been on fire from here to
Australia
but he has never had even one broken bone as a result of an accident on the race track. He also said that he is lucky that his injuries weren't worse and I have to agree with that. Although you can never judge just by looking at an accident how badly the driver may or may not be injured, this one, between John and Kenny looked bad and it was. Still, in the long run, Kenny was uninjured and John's injuries will heal and that's amazing considering how bad it could have been. For all that the
Team Force
folks in particular, and drag racing in general, have been through this year, let's just keep John in our prayers and hope that he'll be back doing those great interviews before too long. Actually, he's already doing them from the hospital room and that's a good thing. And, if I know John, he's probably already telling the doctors that he's feeling good and is ready to go home. I'll bet medical school didn't prepare any of these doctors for a patient like John Force!! Get better, champ, and we look forward to seeing you back at the track....but not before the doctors tell you it's OK.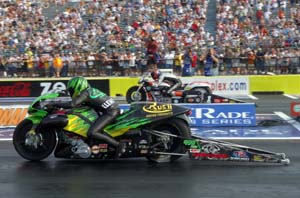 Llewellyn vs Hines
I mentioned last week that the "Countdown" format was providing us with some really exciting moments at the track and this week was no exception. Because it was the last race for the motorcycles before making the cut to the final four, there was a lot up for grabs for the teams in the Pro Stock Motorcycle class. Coming into the
Texas
race,
Andrew Hines
looked like the only "lock" for a spot in the "Countdown" while
Matt Smith
was second,
Craig Treble
was third and
Chip Ellis
was fourth. But right behind Chip were
Angelle Sampey
and
Peggy Llewellyn
, while
Karen Stoffer
and
Eddie Krawiec
were in seventh and eighth where they were clinging to their slim title hopes. Once Chip Ellis qualified number one, and got the eight points for that qualifying position, it meant that Angelle, who was forty points (or exactly two rounds) out of the "Countdown" coming in, was now, in essence, three rounds back. And then when Craig Treble lost in round one to Angelle, all of a sudden that fourth spot was up for grabs but Angelle and Peggy had to win the race to finish fourth. Angelle's loss in round two eliminated her from title contention but Peggy continued to win rounds and she made it all the way to the final round where she would have to beat Andrew Hines to get her first national event win and, in the process, make the final four. Peggy not only won the race she did it with a holeshot victory, 7.020 to a 7.007. And if you want to talk about rising to the occasion,
did you know
that Peggy's .010 reaction time in the finals was her best one of the entire year?
Did you know
that when she won that final round Peggy became just the 34
th
person to win a national event in the Pro Stock Motorcycle class in the last twenty years? And to make the "Countdown" by winning your first national race, in a race you had to win,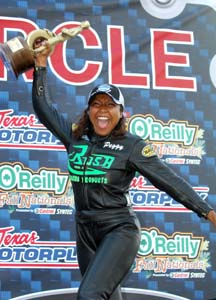 Llewellyn celebrates win.
and to do it on a holeshot by beating the three-time
POWERade
champion, well, it really can't get much more exciting than that, can it? Congratulations to Peggy,
Karl
and
Kim Klement
, her team owners,
Rush Racing
, her sponsor,
Shane Maloney
, her crew chief,
George Bryce
and the rest of that team for a job well done.
Did you know
that when they raced Pro Stock Motorcycles at the Texas Motorplex the first time back in 1987, George Bryce won the race?....When one racer gets in that means another gets bumped out and that person was Craig Treble. The Indy champ, who rides for
Harry Lartigue
, finished fifth, fifteen points out of a spot in the "Countdown."....Angelle also didn't make the field and that has to be one of the biggest surprises of the year.
Did you know
that this will be the first time since 1997 that Angelle hasn't finished at least third or better in the standings? Now how many drivers can make that statement?....Almost lost in the excitement about Peggy's win was the fact that
Michael Ray
qualified for the field. This was only Michael's fourth appearance on the tour and he becomes the 164
th
person in the history of the class to qualify for a Pro Stock Motorcycle field. Welcome to the show, Michael.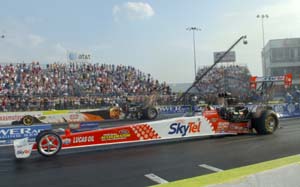 Dixon vs. Vandergriff
Larry Dixon's
win, the 41
st
of his career, moved the
Skytel
driver into first place in the points, forty five points ahead of
Rod Fuller.
Tony Schumacher
, who has not won a round in the two races since his Indy win, dropped to third and
Brandon Bernstein
is now fourth.
Bob Vandergriff
, who was the runner-up for the eleventh time in his career, is in fifth place just twenty one points out of the "Countdown." But that extra point means that he is more than one round behind
Brandon
and that could be huge next week. I spoke with Bob after the race and he was smiling, as he almost always is. He does have this cute little shirt that he wears that says something about "getting the monkey off his back," and I told him to get rid of the shirt. "Maybe the monkey likes it there," I told him. "Besides, what harm could it do to get rid of it?" Bob has been to eleven final rounds and only twenty seven people in the entire history of the sport have been to more Top Fuel final rounds than that, so I'd say that Bob is doing rather well, wouldn't you? Of course winning is what it's all about and
I wonder what Bob would rather do, win a race or win the championship without winning a race? Just something to think about. Here's something else to think about, too. Bob is in fifth place and has been to four final rounds this year by being one of the more consistent cars out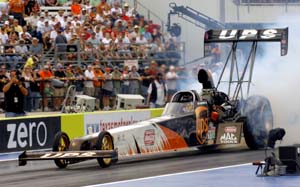 Vandergriff
there? He hasn't been number one qualifier, set low elapsed time or top speed, which means he's not over powering anyone, he's just winning rounds.
Jim Dupuy
has given him a very good car and the entire
UPS
team is getting the job done...
JR Todd
was heart broken after his round one holeshot loss to
Clay Millican.
As I often say, even though Clay may have staged deep or "stuffed her in there a little deep," as Clay put it (or something close to that), it still goes in the record books as a holeshot when a 4.610 beats a 4.566 . This was only JR's second holeshot loss of the season but it gets magnified because of the timing, one race before the final cut to the four cars that will run for the championship. JR is now in eighth place, eighty nine points out of fourth and that's almost impossible to make up in one race. I said it last week and I'll say it again, JR will be running the entire tour next year even if we don't know what car he'll be driving or what team he'll be with. I still want that
Dexter Tuttle
team to stay together because I think they've got something good going and I'd love to see JR,
Kevin Poynter
and the rest of the
Skull Shine
team return in 2008. Kevin is one of the few crew chiefs who would also like to drive and he could entertain some offers in that respect, but I hope he stays where he is. With JR and Kevin, Dexter has the makings of a very good, young and talented team. There, now I'll get off my soapbox...JR did qualify number one for the second time and that should have been an indication that he was in trouble on race day.
Did you know
that the number one qualifier in Top Fuel has now won exactly three times in the last forty three races? Gee, I wonder if Larry, Rod, Tony or
Brandon
will want to be the last one introduced during pre-race on Sunday in
Richmond
?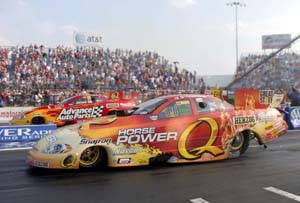 Tony vs Cruz
Since it certainly doesn't look like John Force will be racing next week, the fourth spot that he now occupies will be up for grabs.
Ron Capps, Gary Scelzi
and
Mike Ashley
are the ones who will be vying for that spot and it should be some battle. Ron and Gary, along with
Jack Beckman
, lost in the first round in
Dallas
and that threw the points into the wide open affair that we'll see next week. This was the second time this year that all three of the Team Schumacher Funny Cars lost in the first round and, like JR's loss, it looks big because it happened at this time of the year when every loss looks big. Make that huge....
Tony Pedregon
, who beat his brother, Cruz, in the final round, has moved into the top spot in the points for the first time since he won the championship in 2003. The win was Tony's 35
th
and that moves him into a second place tie on the all-time Funny car list with
Don Prudhomme
. The thing that amazed me about the final round was the fact that it was the 29
th
time that Tony and Cruz have raced but only the second time that it happened in a final round. The four round wins also gave Tony 399 for his career and that's really good....
Robert Hight
missed the field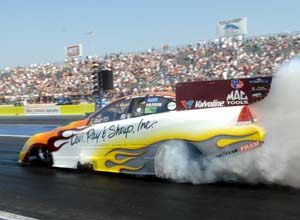 Tim Wilkerson
for the second time this year and that's also one of the real shocks of this 2007 season. Even going into Saturday's last two qualifying rounds almost everyone I spoke to thought that
Jimmy Prock
would figure it out and get Robert in the show. Robert is now in second place and, barring another DNQ next week, should be one of the final four in the FC class....Tim Wilkerson qualified number one for the tenth time in his career and he also set top speed which shows how well his car is running right now.
Did you know
that Tim has now set top speed at two of the last four races and that equals his entire total of top speeds for the rest of his career?....And which Funny Car driver who hasn't won all year do you think will win one of the last three races this year?....
Phil Burkart
was in Dallas and he stopped by the announcing booth for a while. Even though he didn't come right out and say it I get the feeling that Phil will be making some kind of an announcement soon about his future. He is a very talented driver and has had some good stints in
Paul Smith's
car this year but I know that
he'd like to be back on tour full time. Don't be surprised if you hear something from and about Phil before the end of the season. At least, let's hope so.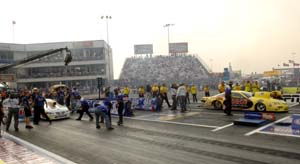 Connolly vs. Anderson
Dave Connolly
is certifiably hot!! The driver of the
Torco Chevrolet
won for the fourth consecutive time and that puts him in some very impressive company.
Bob Glidden, Warren Johnson, Jim Yates, Jeg Coughlin, Greg Anderson, Lee Shepherd
and
Ronnie Sox
are the only Pro Stock drivers to ever win four straight races. Of course Mr. Glidden once won nine in a row so that should give Dave something to shoot for...
.Allen Johnson,
who went to the semi-finals in
Dallas
, is now in third place while Jeg Coughlin slipped to fourth. Among the other notables
Jason Line
jumped to fifth after
Kurt Johnson
fouled out and lost to
Justin Humphreys
after their long staging battle in round one, and
Larry Morgan
is in seventh place, fifty points out of fourth place and that's a bunch of ground to make up in only one race....Dave's win, besides being his fourth in a row, was also the 16
th
of his young career and that ties him with
Bruce Allen
for ninth place on the all-time Pro Stock list. Not bad for a guy who won't turn twenty-five until next year, is it? Of the eight drivers who are ahead of him, five are still actively racing..Good luck to
Adam Flamholc
in
Richmond
. I always wanted to say that.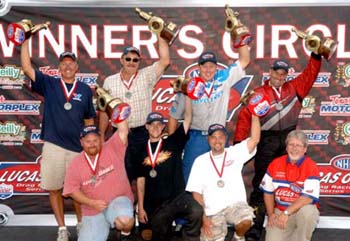 Standing: Mark Faul, Terry Pearson, Tom Bayer and Von Smith
Kneeling: Chuck Wier, Danny Gruninger and Shawn Carter
There was some great sportsman action in Ennis and
Danny Gruninger
picked up the first national event win of his career and he did it in style. David, who was the number one qualifier in Competition Eliminator, beat
David Rampy
in the final round to secure the win. Winning a race is nice, doing it by beating Mr. Rampy has to make it even more special...
Terry Pearson
and
Shawn Carter
also won for the first time on the national level, Terry in Super Stock and Shawn in Super Gas....
Thomas Bayer
and Von Smith were the winners in the alcohol classes while
Mark Faul
and
Chuck Wier
also visited the winner's circle..Even though he lost in the first round
Bill Reichert
appears to be a lock for the Top Alcohol Dragster title.
Jim Whiteley
, the number two guy in the points, needed a final round showing to stay in the chase and he didn't get it....
Diana Harker,
Kate's twin sister, tested in Randy Meyer's car on Monday and she will make her TAD debut at the points race in Atlanta.




NHRA: 10 Most Recent Entries [ top ]

Mar 20- Strong Stable of Contending Pro Stock Racers Vie for Final Starting Position for K&N Horsepower Challenge
Mar 20- GAINESVILLE - Special Awards
Mar 20- GAINESVILLE - Lucas Oil Drag Racing Series Wrap Up
Mar 19- GAINESVILLE - Sunday Video
Mar 18- GAINESVILLE - Pro Mod Sunday Wrap Up
Mar 18- GAINESVILLE - Sunday Wrap Up
Mar 18- GAINESVILLE - Pro Mod Championship Points
Mar 18- GAINESVILLE - Bonus Points
Mar 18- GAINESVILLE - Championship Points
Mar 18- GAINESVILLE - Mickey Thompson Top Fuel Harley Series Championship Points