Mon, 24 Sep 2007, 02:00 AM



Llewellyn Earns First Win to Clinch Spot in Countdown to One



Courtesy of NHRA Communications


Photo copyright 2007 Auto Imagery, Inc.





While T. Pedregon, Connolly, Dixon Share Somber Winner's Circle



ENNIS, Texas --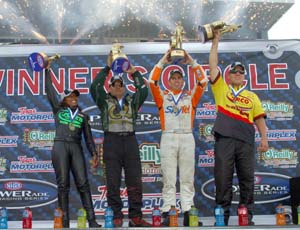 Llewellyn, Dixon, Pedregon and Connolly
Pro Stock Motorcycle newcomer Peggy Llewellyn won her first NHRA national event at a critical juncture in the season, pushing her way into the Countdown to One field by the slenderest of margins Sunday evening.
The San Antonio-based rider shared a somber Texas Motorplex winner's circle with new POWERade points leaders Larry Dixon and Tony Pedregon, as well as Pro Stock juggernaut Dave Connolly, who collected his fourth trophy in a row, at the 22nd annual O'Reilly NHRA Fall Nationals presented by Castrol Syntec.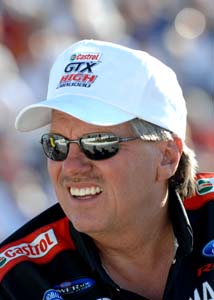 John Force
The mood of the day was tempered greatly by an accident involving John Force, who suffered a broken left ankle and wrist and numerous abrasions, and Kenny Bernstein. Force was airlifted to Baylor University Medical Center in Dallas.
Dixon used his third victory of the season to take the Top Fuel lead in the Countdown to Four. The driver of the SkyTel dragster was ready for the final, leaving with a .059-second reaction time. Final-round foe Bob Vandergriff was close behind in his UPS rail, taking off in .065 seconds, but his car was soon smoking its tires, allowing Dixon to take the 41st win of his career in 4.629 at 310.91 mph.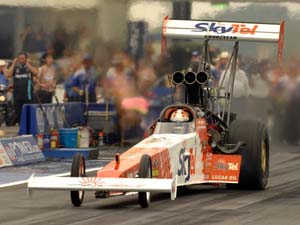 Larry Dixon
"I'm glad that [John Force is] alive," Dixon said. "From that point you can fix anything. A lot of credit goes to the Safety Safari, the medical team, and the rules package for the way the cars have to be built so that you can survive an accident like that. I feel safer in my car that goes 330 mph than I do in my rent car going 55 mph on the way to the track. I feel like I could run over a nuclear bomb, and I trust in that. He'll be back racing one day; you can count on that."
Vandergriff extended his record streak in final rounds to 0-11, but he did move to within 21 points of the top four. The Countdown to Four field now shows Dixon with 2,297 points, Rod Fuller with 2,252 points, Tony Schumacher with 2,247 points, and Brandon Bernstein with 2,221 points.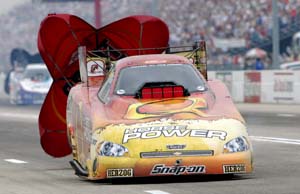 Tony Pedregon
The battle of the Pedregon brothers went to younger brother Tony as Cruz had to give up his pass just before halftrack when his Advance Auto Parts Chevrolet Impala SS started smoking its tires. It was a fortunate outcome for Tony as his Q Horsepower Chevy neared the centerline at the top end of the track, which forced him to lift off the gas to avoid crossing the line and getting disqualified. His 5.010 at 254.06 mph was definitely beatable, but Cruz was already in spectator mode, eventually drifting across the stripe in 6.882 at 131.31 mph.
Both Pedregon's reached the final round with bye runs. Tony would have raced John Force, while Cruz would have faced Ashley Force, who left the track to be with her father at the hospital.
"I was watching Force's race on the monitor and I saw what happened," Pedregon said. "I have to admit it really shook me up. It took me back to when I was a kid and my dad told me about these wrecks where cars got cut in half. I ran over there to try and help and there was no cockpit. It really scared me. I just wanted to hear that he was okay. Broken bones will mend. I wanted to hear he was talking and if he was swearing, even better."
Tony's big weekend lifted him from out of the top four and into the points lead with one race remaining before the Countdown to One begins. Former points leader Robert Hight failed to qualify for this race. He dropped to second overall, 16 behind Tony Pedregon. "Fast Jack" Beckman is now third, 30 points back of Hight, while John Force moved up to fourth, 22 behind Beckman.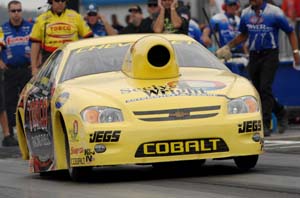 Dave Connolly
Connolly has now won four Pro Stock races in a row, the last three over three-time series champion Greg Anderson, to pad his lead in the Countdown to Four standings. This one was easy as Anderson began leaking oil after his burnout and was forced to shut off and surrender the race.
Connolly attempted a pass any way but quickly shut off and coasted to the win in his Torco/Seelye Wright Chevrolet Cobalt.
This was Connolly's seventh win of the year, which ties him for the class lead with Anderson, who fell to 7-4 in trophy rounds this year. Connolly is 7-1 on the year and 16-12 overall in his career.
"We were ready to do battle," Connolly said. "I guess Greg had some problems and I'm sure he isn't happy about it. Either way, the team did a great job for the first three rounds. The driver was a little off his game today. I feel a little under the weather and I know I didn't leave on anyone all day. The team jumped in and picked me up this time."
Connolly and Anderson both clinched berths in the Countdown to One this weekend, meaning they'll both run for the 2007 championship over the last two races of the season. Connolly is now 52 points ahead of Anderson, who in turn is 154 ahead of third-place Allen Johnson. Jeg Coughlin rounds out the top four. He's 16 points behind Johnson.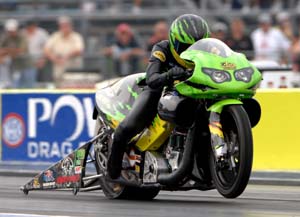 Peggy Llewellyn
Llewellyn needed to win her first NHRA national event to make it into the Countdown to One field and she delivered with a huge holeshot victory over points leader Andrew Hines. Hitting the Christmas Tree with a .010 reaction time in front of Hines' .045-second start, Llewellyn managed to hold off a hard-charging Hines to take the win with a 7.020 at 190.00 mph to Hines' quicker but losing 7.007 at 191.16 mph.
"A year ago I was back in my real estate company working behind a desk thinking I wasn't gonna race any more," Llewellyn said. "I keep on telling my crew guys, 'pinch me, pinch me,' it's pretty exciting. At the same time, it's important to remember John Force right now and to keep him in all of our thoughts and prayers."
This is Llewellyn's 20th NHRA event. The San Antonio-based rider of the Rush Racing Products S&S Buell V-Twin was a clear favorite in her home state and when the win light came on in her lane, the crowd roared its approval. Hines will enter the final two-race sprint to the championship with the most points. His Screamin' Eagle Harley-Davidson V-Rod is 4-2 in final rounds this year.
Matt Smith and Chip Ellis will also run for the Pro Stock Motorcycle title.
Sunday's final results from the 22nd annual O'Reilly NHRA Fall Nationals presented by Castrol Syntec at Texas Motorplex. The race is the 20th of 23 in the NHRA POWERade Drag Racing Series:
Top Fuel -- Larry Dixon, 4.629 seconds, 310.91 mph def. Bob Vandergriff, 5.426 seconds, 307.72 mph.
Funny Car -- Tony Pedregon, Chevy Impala, 5.010, 254.86 def. Cruz Pedregon, Impala, 6.882, 131.31.
Pro Stock -- Dave Connolly, Chevy Cobalt, 8.553, 112.17 def. Greg Anderson, Pontiac GTO, broke.
Pro Stock Motorcycle -- Peggy Llewellyn, Buell, 7.020, 190.00 def. Andrew Hines, Harley-Davidson, 7.007, 191.16.
Top Alcohol Dragster -- Thomas Bayer, 5.407, 263.41 def. Darvin Martinets, 5.798, 190.00.
Top Alcohol Funny Car -- Von Smith, Chevy Camaro, 5.647, 256.36 def. Cy Chesterman, Ford Mustang, 5.702, 255.97.
Competition Eliminator -- Danny Gruninger, Chevy Cobalt, 7.061, 195.45 def. David Rampy, Bantam Roadster, 7.298, 180.86.
Super Stock -- Terry Pearson, Chevy Cavalier, 9.405, 139.23 def. Marcus Allen, Chevy Camaro, 10.672, 124.14.
Stock Eliminator -- Mark Faul, Chevy Chevelle, 12.035, 83.00 def. Dave Workman, Ford Mustang, foul.
Super Gas -- Shawn Carter, Chevy Cavalier, 9.887, 163.77 def. Terry Sullivan, Ford Mustang, 9.863, 151.87.




NHRA: 10 Most Recent Entries [ top ]

Apr 24- CHARLOTTE 1 - Steve Torrence Enjoying Four-Wide Success Heading to NGK Spark Plugs NHRA Four-Wide Nationals
Apr 24- CHARLOTTE 1 - Fact Sheet
Apr 24- Kalitta Motorsports Welcomes NASCAR Stars to the SealMaster Track Walk in Charlotte
Apr 24- zMAX Dragway Celebrates 10th Anniversary
Apr 24- CHARLOTTE 1 - NGK Spark Plugs NHRA Four-Wide Nationals Brings 40,000 Horsepower Thrill Show to zMAX Dragway
Apr 23- HOUSTON - Lucas Oil Drag Racing Series Wrap Up The NHRA Lucas Oil Drag Racing Series Wrap Up
Apr 23- CHARLOTTE 1 - J.R. Todd Aiming for Two Four-Wide Racing Wins in 2018
Apr 23- Mid America Dragway Joins NHRA Member Track Network
Apr 23- HOUSTON - Special Awards
Apr 23- HOUSTON - Sunday Video