Sun, 23 Sep 2007, 10:46 AM



Ladwig Sets Record Enroute to NO. 1 Position



Courtesy of NHRA Communications


Photo copyright 2007 Auto Imagery, Inc.





ENNIS, Texas --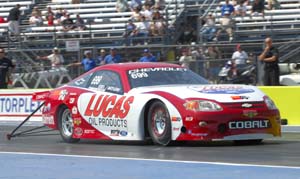 Marty Ladwig
Marty Ladwig did exactly what he needed to today by setting a national time record and qualifying No. 1 at the NHRA Sport Compact Nationals at the O'Reilly NHRA Fall Nationals.
Brad Personett was the No. 1 qualifier in Pro RWD.
This combination of record and top qualifier enabled Ladwig in his Lucas Oil Chevy Cobalt to try for the coveted 138 total points available if he wins the race. He ran a speed of 7.18 seconds at 201.55 mph in the first round of qualifying today. This is his second top qualifier of 2007 and his 21st career.
"It feels awesome to qualify No. 1 at my hometown track," said Ladwig. "I had lots of family and friends out here to watch me. The points chase is really tight. I was one round behind coming into this event, so I evened it up with the record. Coming into this last part of the season with two events left it is really important to do well."
Personett, in his Titan Motorsports Scion tC, continued his reign of the category when he drove to his sixth No. 1 of 2007 and his 17th of his career. He ran his car to a time of 6.65 seconds at 219.61 mph.
"This was a pretty good day," said Personett. "The car was faster. It was actually faster than I anticipated. The track was good today, and things are looking good for tomorrow."
Final eliminations runs will take place on Sunday at Texas Motorplex.




NHRA: 10 Most Recent Entries [ top ]

Apr 21- HOUSTON - Sunday Schedule
Apr 21- HOUSTON - Saturday Video
Apr 21- HOUSTON - Saturday Wrap Up
Apr 21- HOUSTON - Super Stock Class Eliminations Finals
Apr 21- HOUSTON - Funny Car Qualifying, Session #4 Bonus Points
Apr 21- HOUSTON - Total Qualifying Bonus Points
Apr 21- HOUSTON - Funny Car Eliminations Ladder
Apr 21- HOUSTON - Funny Car Final Qualifying, Session #4 Order
Apr 21- HOUSTON - Top Fuel Qualifying, Session #4 Bonus Points
Apr 21- HOUSTON - Pro Stock Qualifying, Session #4 Bonus Points