Fri, 21 Sep 2007, 11:12 PM



Todd Leads Top Fuel at Texas Motorplex after First Day of Qualifying



Courtesy of NHRA Communications


Photo copyright 2007 Auto Imagery, Inc.





ENNIS, Texas --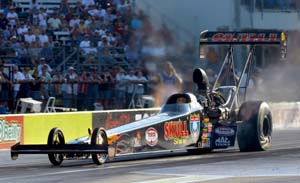 J.R. Todd
Reigning Rookie of the Year J.R. Todd knows he needs a big weekend to keep his championship hopes alive and he responded with a top-qualifying effort of 4.541 seconds at 318.47 mph Friday night at the 22nd annual O'Reilly Fall Nationals presented by Castrol Syntec.
The Top Fuel racer joined surprise Funny Car leader Tim Wilkerson, Pro Stock stalwart Greg Anderson, and Pro Stock Motorcycle points leader Andrew Hines on the provisional low qualifier's podium.
Currently 77 points behind the fourth and final spot in the Countdown to Four, Todd has two races to make up the deficit. He's off to a good start with a quick 4.541 seconds at 318.47 mph in his Skull Gear dragster.
"Last week we missed a perfect opportunity to make up some ground on the guys in front of us but, it is what it is, and now we've got our work cut out for us this weekend," Todd said. "Hopefully now can go some rounds, pick up some points, and go into Richmond and get in that top four. This is a good morale booster for us because we've all been down in the dumps. Right now everyone is pumped up."
Points leader Tony Schumacher had to surrender his second pass after smoking his tires a few hundred feet into the run. His earlier pass of 4.608 at 322.19 mph left his U.S. Army dragster 13th on the ladder. Countdown participant Doug Herbert is not qualified with two rounds on time trials remaining.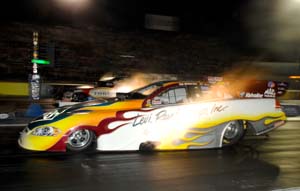 Tim Wilkerson
He's not in the Countdown to the Championship field, but independent Funny Car racer Wilkerson showed he can still match-up well with those teams by posting a 4.787 seconds at 318.17 mph in his Levi, Ray & Shoup Chevrolet Impala SS.
"We really feel like we have nothing to lose," Wilkerson said. "We're not in the Countdown or chasing points. But we do need to qualify because that money is important. That's what helps pay the guys. They're back in the pits doing handstands right now. I feel more for them than I do for me. I got the best job in the world."
Countdown participant Mike Ashley is 10th with a 4.868 in his Torco Dodge Charger R/T. The devout Jew will not race Saturday in observance of Yom Kipper, so he'll have to hope his qualifying time holds.
Points leader Robert Hight will have a sleepless night as his Auto Club of Southern California Ford Mustang has yet to crack the top 16.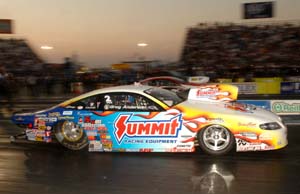 Greg Anderson
The top two racers in the Pro Stock points are first and second on the qualifying sheets with No. 2 points earner Anderson edging current No. 1 ranked racer Dave Connolly by two-hundredths of a second. Anderson's 6.668 seconds at 206.92 mph in the second session put his Summit Racing Pontiac GTO in the lead with Connolly close behind with a 6.686 seconds at 205.72 mph in his Torco Chevrolet Cobalt.
"Dave definitely isn't going away and I don't expect him too," Anderson said. "He's running strong and basically mistake-free and that's what we're gonna have to do. And let's not forget about some of these other cats. I wouldn't be surprised at all to see some of these other teams step up in the next few weeks. We're gonna have to be perfect for the rest of the year or we're not gonna win this thing."
Surprisingly, Jason Line is all the way down on the bump with a 6.729 at 206.29 mph in his summit Pontiac. Line had to abort his first round when his car got lose halfway down the track. Fellow Countdown racer Jeg Coughlin failed to qualify Friday.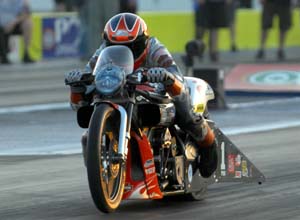 Andrew Hines
Hines took over the POWERade points lead in Pro Stock Bikes for the first time this season with his win last weekend in Memphis. Now he's trying to stretch his advantage with a top qualifying effort here. Hines' 7.015 at 190.62 mph crushed an eight-year-old elapsed time record by two and a half tenths of a second and put his Harley-Davidson V-Rod on top at the midway point of qualifying. The Pro Stock Motorcycle class last ran in Dallas in 2000.
"This is the time of the year when we usually do well, at least that's been our track record," Hines said. "The team's done a great job and stuck with it through the highs and the lows. I'm really proud of them. To be No. 1 at a track I've never run at is special. My brother [Matt] is defending champion of this race and he showed me the fast way down the strip."
Chip Ellis, who is grasping to the fourth and final spot in the Countdown to Four, has out-qualified his closest pursuers with a second-best 7.017 seconds at 190.75 mph, a track speed record. Ellis' effort is noteworthy because he entered the race exactly 40 points ahead of Angelle Sampey. By out-qualifying her, it will force Sampey to go at least three rounds further than him on Sunday. Sampey is sixth with a 7.075 seconds at 189.02 mph.




NHRA: 10 Most Recent Entries [ top ]

Apr 19- HOUSTON - Friday Schedule
Apr 19- Tige Boats Named Presenting Sponsor of E3 Spark Plugs NHRA Pro Mod Drag Racing Series Portion of NHRA SpringNationals
Apr 19- HOUSTON - Previous Success, Early Win has Funny Car's Courtney Force Excited
Apr 18- Haney Headed for NHRA Pro Mod with Summit Racing on His Side
Apr 18- HOUSTON - Richie Crampton Enjoying Early-Season Success Heading to 31st Annual NHRA SpringNationals
Apr 18- 2018 Mustang Cobra Jet Celebrates 50th Anniversary of Racing Legend with Quickest
Apr 18- New Ford Mustang Funny Car Scheduled to Debut In 2019 NHRA Mello Yello Season Opener
Apr 16- HOUSTON - Fact Sheet
Apr 16- HOUSTON - After Early-Season Mishap Funny Car's Jonnie Lindberg Looks to Get On Track