Thu, 20 Sep 2007, 04:22 PM



It's Unbelievable!



By Bob Frey


Photo copyright 2007 Auto Imagery, Inc.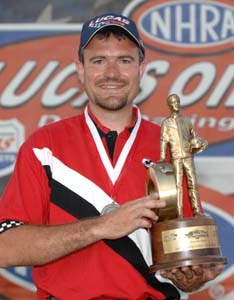 Jason Coan
Experiencing the thrill of winning a national event is something that I will never know. But, be that as it may, I can live vicariously through the drivers whom I've met over the years who have been good enough to go the distance and win one of the NHRA national events. And no matter how many times I get to shake the hand of a winner it never gets old and I imagine I will always enjoy it. To look in their eyes and see the excitement, the joy and, in some cases, the relief of finally closing the deal is an emotion that I can only dream about. Such was the case after this year's MAC Tools U.S. Nationals when I got to congratulate Jason Coan for winning his first race, the "Big Go," in Competition Eliminator. "How does it feel," I asked. "It's unbelievable. That's all I can say. If I had to win one race this would be it, and to have it be my first win makes it even better. Unbelievable."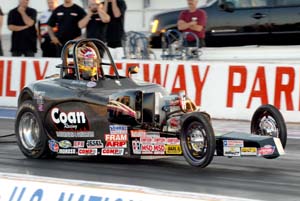 Jason Coan
When you follow the sport religiously as I do, it's sometimes hard to believe that certain drivers have never won a national event, and I have to admit that I was surprised when I learned that the Indy win was the first for Jason. "I came close at the Bristol race in '99 but this is my first final round since then," he said while clutching his trophy at Indy. "I've been doing it for a wile but haven't really concentrated on it until the last few years." What he has been concentrating on is the family business that was started by his father, Dave, in 1976. "We make automatic transmissions and torque converters, that's our primary business." And while drag racers makeup the bulk of the business, lately the company has been expanding into other forms of Motorsports. "We've been doing a lot of monster trucks," Jason said. "We do most of the ones on the Clear Channel circuit and that includes the 'Grave Digger,' the 'Maximum Destruction' truck and some others." They also are making transmissions and converters for the off-road and desert racing series. "The business is going well. We take a lot of pride in our products and, because of that, we have a lot of repeat business." Even some of the other competitors in Comp use products from Coan Engineering. "Vinny (Barone), uses our three speed transmissions and converters." Vinny also just happens to own the car that Scott Richardson was driving in the other lane from Jason in the Comp final at Indy.
Even though he grew up around the sport and his dad's business it wasn't always taken for granted that he would eventually drive the family car in competition. "Dad raced Comp or something since the 1970's. He had several drivers but before he would let me race in Comp he made me race my street car at the track for a year to get the feel of what it was like. He still had the last car that he ran, a B/EA car, and we had an engine so we made a Super Comp car out of it and that's what I raced originally. "After trying his hand at bracket racing for a while Jason eventually got the call to move up to one of the toughest eliminators in NHRA activity. "We bought our first car from Raymond Martin, and because we had built products for him we knew that it was a good car." Once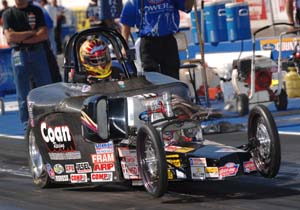 they had the car Jason went out and went to his first final round at Bristol in 1999, the first year that he raced in Competition Eliminator. But, like so many racers, he had to make a decision shortly after that. "We were getting really busy at work, plus I got married and started a family so I had to cut back on my racing." A few years later, in 2003, he started actively racing again, this time in the Jeg's Super Quick series, but he always knew where he wanted to be. "I love racing in Comp, but it's something that you can't do casually, at least not if you want to be competitive. It's like a second job. You put in a lot of long days, but winning something like this makes it all worth while."
While his father has been involved in the sport for over thirty years he has never driven one of his cars, at least not on a regular basis. "He had a couple of guys drive for him and they all did rather well. Dan Nimmo drove dad's front engine dragster back in the '70's and then Stan Whitacre who still works and, more recently, Allen Wilson, drove. Dad always said that he gets more enjoyment out of working on the car than driving it. And now that he's getting older, I may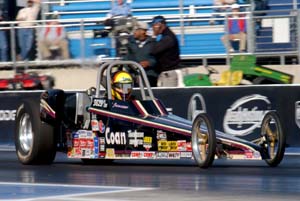 Coan's F/ED
be able to stay up later than him but I can't outwork him. He's really dedicated to seeing that the car is working perfectly." From the end result you would have to say that dad did his job at Indy as the car ran very well and Jason drove well, too. A look at the six rounds of racing will find that Jason has reaction times of 026, 060, .029, .027, .040 and 047 in the final round and, by anyone's standards, that's very good. "It's nice when it all comes together, when the car runs well and the driver does his job." And the end result when that happens is usually a win. "Indy is so tough because of the size of the field, the caliber of the drivers and the way the schedule is. It's almost like you have three first rounds. It really is nerve wracking."
The car that Jason drove to the Indy win is a new car, or at least a new class. "It's the same engine combination that we used to run in F/ED. We won the Division 3 championship with it in 2004. Based on the index we built a car to fit into G/EA and it's been real good to us. Between races that I've won on the divisional level and ones that Frank Aragona has won we've managed to diminish the index a little bit but it's definitely been good for us. It looks like I have my best chance to stay in the top ten in the national points, I've never done that before, and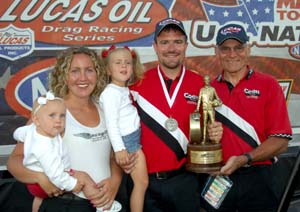 Coan and family celebrate Indy win.
right now I'm one round out of the lead in Division 3 (behind Bob Bailey)." Jason said that racing his customers and friends is one of the toughest things about the class. "Bob Bailey is one of my good friends and customers and you hate racing guys like that but you have to sometimes." The '32 Bantam that Jason drove to the Indy title was built by EasTexas Race cars, (the Super Mod guys), and features a 187 cubic inch, four cylinder engine that was built by his dad. "We get a lot of help from CFE Cylinder Heads, Tim Cole at Comp Cams, and Jason at VP Fuels Midwest. Jeff Taylor helps us a lot also, he does some machine work for us, but dad does all the assembly and the planning. If it wasn't for the engine people who help us and give us the power we wouldn't be able to do this. The class is getting so much tougher with more good cars and drivers."
As Jason waited for his turn in the winner's circle he tried to reflect on what it meant to win Indy. "You just can't put it into words." And then he shared the trophy with his wife, Shay, who was there with their two daughters, Macy and Marly. "I've known for ever that I wanted to race and work with my dad in the business. When I finished high school I went to Purdue University and got a degree in mechanical engineering and I can apply what I know every day at work. It's a lot of fun." I'm sure it is, but probably not as much fun as winning a race, Indy, an experience that Jason Coan says is simply, "unbelievable."




NHRA: 10 Most Recent Entries [ top ]

Mar 21- LAS VEGAS 1 - Fact Sheet
Mar 21- LAS VEGAS 1 - Event Preview
Mar 20- Strong Stable of Contending Pro Stock Racers Vie for Final Starting Position for K&N Horsepower Challenge
Mar 20- GAINESVILLE - Special Awards
Mar 20- GAINESVILLE - Lucas Oil Drag Racing Series Wrap Up
Mar 19- GAINESVILLE - Sunday Video
Mar 18- GAINESVILLE - Pro Mod Sunday Wrap Up
Mar 18- GAINESVILLE - Sunday Wrap Up
Mar 18- GAINESVILLE - Pro Mod Championship Points
Mar 18- GAINESVILLE - Bonus Points