Wed, 19 Sep 2007, 01:06 AM



It's Getting Exciting



By Bob Frey


Photo copyright 2007 Auto Imagery, Inc.





The "Countdown to the Championship" is a fact of life, and regardless of what your thoughts were or are about it you have to admit one thing, it sure is making the races exciting. OK, so if you are adamantly opposed to the format you won't admit anything, but for the rest of us it is making the races and every round very exciting and the
O'Reilly Midsouth Nationals
in
Memphis
was no exception. By the way, for all the people who busted on NHRA for changing the date of the
Maple Grove
race, you should now step up and give them credit for moving the
Memphis
race into September. Last year the
Memphis
race featured the worst weather conditions that I have ever been through at a race that didn't get rained out, while this year it was perfect weather over the weekend and I'm sure the fans noticed that and really appreciated the difference.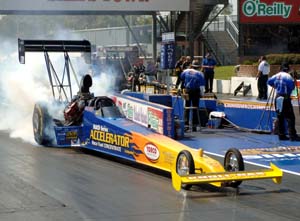 Header Goes Here
The Top Fuel class saw some more stunning upsets including the one by
Doug Foley
over
Tony Schumacher
. Tony, who was and still is the point's leader, qualified number one and appeared to be headed for a second round match with
Rod Fuller
until he broke in his opening round match with Foley. Ironically, Rod had expressed an interest and even an expectation about racing Tony in round two but he squared off against Doug instead..and lost. For Tony, it was a broken barrel valve that did him in and kept him from picking up any more points on Sunday in
Memphis
.
Did you know
that this was the sixth time this year that Tony had qualified number one and lost in the first round? In fact, the only time he won a race from the top spot was at Indy where it doesn't seem to make any difference where he qualifies because he's going to win. Qualifying at the top of the pack certainly doesn't guarantee success in
Memphis
.
Did you know
that the last time the number one qualifier won the Memphis race was in 1989 when
Gary Ormsby
beat
Eddie Hill
in the final round?....Tony had his lead trimmed a bit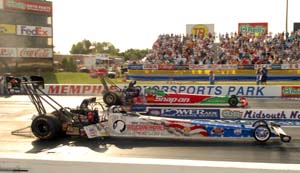 Troxel vs. Herbert
and he now is 19 points ahead of Rod Fuller and the
Caterpillar
team of
David Powers
. Larry Dixon is in third place, 33 points behind the leader while
Brandon Bernstein
is fourth, 47 points out of first place. Of course everyone wants to finish first, but right now everyone wants to finish at least fourth. With two races to go before we trim the field, finishing fourth is the goal and, in the Top Fuel class, the drivers in positions five through eight will face another "must win" or, as I mentioned last week, at least a "must go rounds" situation in Dallas.
Doug Herbert
, who went to his second final round in the last three races, is in fifth place and he is 43 points behind
Brandon
in the battle for the last spot in the "Countdown."
Bob Vandergriff
is another 18 points back while
JR Todd
is 77 points out of fourth and
Whit Bazemore
is 94 out of the final spot. With eight rounds of racing to go before the cut it is imperative that JR and Whit gain ground or face the possibility of dropping out of contention this week..I thought there were three real surprise teams this week in
Memphis
,
Melanie Troxel
, Doug Herbert and Doug Foley. Melanie, who is headed to the Funny Car class next year, won her second race of the season and she did it in her twelfth final round of the last two years. That's pretty impressive stuff for one of the classiest people ever to drive a Top Fuel car. Melanie isn't in the "Countdown" but she sure can have a big say in who does or doesn't make it.
Forest Lucas
owns that car,
Evan Knoll
sponsors it and he gives the space on the car as a tribute to the MIA's and POW's and that combination makes for a top notch operation. And lest I forget,
Lance Larson
and
John Stewart
have done a good job with the car and it will be interesting to see what happens with the team when Mel departs next year.
Did you know
that Melanie has now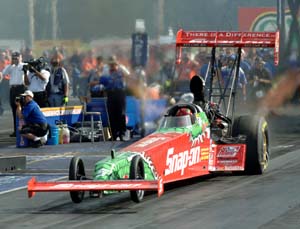 Doug Herbert
qualified for fifty-three races in a row and that's the third best in the TF class....Doug Herbert and his
Snap-On Tools
dragster continue to impress and his surge over the past few races is nothing short of spectacular. Left for dead before the
Maple Grove
race, Doug won when he had to and he closed in on a "Countdown" spot with his runner-up finish in
Memphis
. Doug's has been a real team effort, too. By that I mean the car has been running well and Doug has been driving well and that's a tough combination to beat. Doug has now been to four final rounds this year and that is tied for the second best season of his career.
Did you know
that Doug went to six final rounds in 1999 when he finished seventh in the points? What Doug has to do now is learn to close the deal.
Did you know
that of his last thirteen final rounds Doug has won just three? Forget the past though, Doug and his team are a real threat right now and it could be one of the great stories of the year if he could make it into the final four...Doug Foley was the other real surprise and he is proving to be a real thorn in the side of the top teams in the points. Doug has now beaten Tony Schumacher in the first round at two of the last three races and, at each of those races, he and his
Mach Series Accelerator
team made it to the semi-finals. Plus, in both of his two round wins in
Memphis
, against Tony and Rod Fuller, he was first off the line.
Dallas
should be exciting and keep your eyes on Mel, Doug and Doug because they will be right in the middle of things this weekend.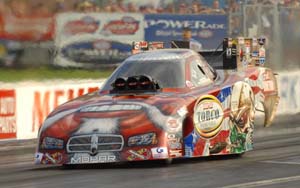 Mike Ashley
The Funny Car class saw a real shake up, especially when
Jim Head
and
Mike Ashley
failed to qualify. Both of those drivers were in the "Countdown" and now they both have their backs up against the wall. Mike, who won Indy, has the strangest resume in the FC class that I have seen in quite a while. Mike has won three races and he has not qualified at five others. That means that at almost half of the races he either wins or fails to qualify and that's just bizarre. Stranger yet is the fact that Mike won
Topeka
and then didn't qualify at Chicago and Englishtown and then he won the next race in
Norwalk
. He then failed to make the field in
Maple Grove
and won Indy before missing the field this week. Like I said, I can't remember a team that has been that up and down in a long while. When he is on there isn't another car out there that can run with Mike but now he has to win rounds in order to get back in the top four. And it will be a little tougher for Mike this week in
Dallas
because he will limit himself to two rounds of qualifying on Friday before sitting out on Saturday. Mike, who is Jewish, will observe the high holy day of his faith, Yom Kippur, by not racing on Saturday of this week. You have to admire a man who puts things into proper perspective and it will be interesting to see how it plays out for Mike in the big "D."....All three of the Team Schumacher cars
Scelzi vs. Beckman
are in the "Countdown" with
Jack Beckman
in second,
Ron Capps
in third and
Gary Scelzi
in fourth.
Robert Hight
continues to lead the way and he is now 53 points up on "Fast" Jack. With all the talk about the great charge that John Force made this year let's not forget where Jack came from.
Did you know
that Jack was in twelfth place after seven races this year? And in those seven races he had two DNQ's and four first round losses. Since then, and especially in the recent weeks, the
Mail Terminal Services
car is among the best in the class and Jack has a
Skoal Showdown
championship, a win and a runner-up finish in the last seven races. Nice job by Jack,
Todd Okuhara, Phil Shuler
and everyone involved with that team. It should also be pointed out that Jack was first off the line in every round on Sunday..Ron Capps and the
Brut
team moved up a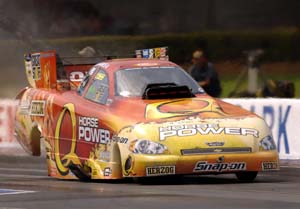 Tony Pedregon
notch to third this week while Gary Scelzi made a big move going from seventh to fourth. Of course the
Mopar/Oakley Dodge
is only seven points ahead of
Tony Pedregon
but it's a lot better than being seven points behind and out of the "Countdown" isn't it?...Even with Jim Head and Mike Ashley both missing the field
John Force
actually lost a spot in the standings when he went from sixth to seventh in Memphis.
John is about two rounds (39 points) behind Gary and that makes this weekend very important for, well, everyone. You don't want to go into the last race needing to make up more than two rounds to get in the final four, do you? It's interesting, with the new points some of the drivers, like Ron and
Gary
, may spend more time looking at and worrying about the cars behind them than the cars in front of them. With his win
did you know
that
Gary
joined
Mike Dunn, Kenny Bernstein
and
Tommy Johnson
as guys who have won in
Memphis
in both fuel classes?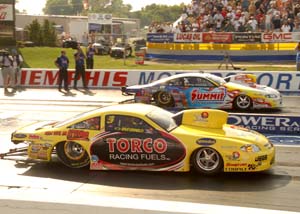 Connolly vs. Anderson
Dave Connolly
is, without a doubt, the hottest driver in the pro classes right now. Following up on his wins in
Maple Grove
and Indy, Dave won
Memphis
to extend his lead over
Greg Anderson
to 33 points.
Did you know
that Dave became just the 14
th
driver in Pro Stock history to win at least three consecutive races? And, as you would expect, the list that he joins is like an all star cast and includes
Bob Glidden, Bill Jenkins, Ronnie Sox, Warren Johnson, Greg Anderson
and others. Nice list to be on, isn't it? Ironically, exactly half of the names on that list will be competing in
Dallas
this weekend.
Kurt Johnson, Jim Yates, Jeg Coughlin
and
Larry Morgan
have all also won three straight at one time or another. I guess that goes to show how good the contemporary Pro Stock drivers are, doesn't it?...Warren Johnson, who is in eighth place, is 58 points behind
Allen Johnson
who currently occupies the last spot in the "Countdown." Let me do the math for you, that's almost three rounds with eight rounds to go and that means WJ faces an uphill battle this week in
Dallas
.
Warren
has had some great moments at the
Dallas
race including in 1995 when he made the first 6-second Pro Stock run in the history of the track. He also won the race in 1998 when he set both ends of the national record and, in 1999, he clinched his fifth championship there when he won the race and, again, set the national record.
Did you know
that the 1999 event was the last time that the Pro Stock record has been set at the Motorplex? The record currently stands at 6.536 and that will be a tough mark for anyone to break this weekend....Dave has picked a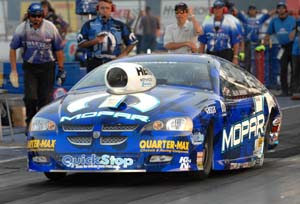 Allen Johnson
good time to get hot against Greg Anderson hasn't he? Still, even with those two recent wins, Greg holds a commanding 17-9 lead in their head-to-head matches although it's much closer, 6-5 in final rounds.
In their head-to-head battles this year Greg is 6-3 but everyone seems to remember the latest encounters, the two in the final rounds...Allen Johnson, who has been no lower than
fourth since he won the Denver race, is still in fourth place but he is only two points ahead of Kurt Johnson and only thirty-one up on
Jason Line
. Allen needs to return to his
Denver
form, and by that I mean he needs to win some rounds this weekend. Since his
Denver
race he has been to the finals in
Seattle
and the semi-finals in
Sonoma
, but he only has one round win since then. He still has the best Mopar in the class and that final spot in the "Countdown" is his until someone comes and takes it away....I would say that the top three in the class, Dave, Greg and Jeg Coughlin, are locks for the final four but that last spot still could go to any one of five drivers..
Max Naylor
was the top qualifier for the second consecutive race and that is noteworthy for one reason.
Did you know
that this was Max's 46
th
national event? And
did you know
that it took Greg Anderson 65 races before he qualified number one for the second time? Just thought I would point that out. Of course, as I always say, in the interest of fair reporting, Greg also went to seven final rounds in those 65 races. Just thought I would point that out, too.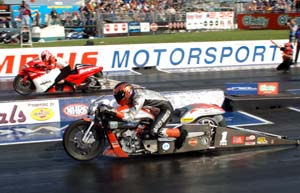 Hines vs. Johnson

The motorcycles will run in

Dallas

for the first time since 1991 and it is the last race for them to earn a spot in the final four. As in the car class, I like the chances for the top three to make the "Countdown" while the fourth and final spot is up for grabs.

Andrew Hines,

who won Memphis for the third time in as many years,

Matt Smith

and

Craig Treble

all look secure (at least to me) while Chip Ellis, who is in fourth place, may have to win a round or two this weekend to make the cut.

Angelle Sampey

is in fifth and she is two full rounds behind Chip so it will take a good showing by her to run for her fourth championship.

Peggy Llewellyn

and her

Rush Racing

team is seven points behind Angelle while

Karen Stoffer

and

Eddie Krawiec

are both 63 points out of fourth place and that's over three rounds so they face a real uphill struggle this weekend..

Steve Johnson

went .027, .007and .001 on the line before his final round match with Andrew Hines this weekend. In the final he recorded a .019 reaction time to Andrew's .061 before breaking about half way down the track. Nice job, Steve and better luck this weekend..The news about the

Army

dropping sponsorship of Angelle and

Antron

Brown

caught everyone by surprise, or at least it caught me by surprise. It should be noted that the Army also dropped several other programs that they were involved in so it wasn't just the motorcycles that were cut. That doesn't make it any easier for Antron and Angelle, or

Don Schumacher

who owns the teams, and it will be interesting to see what the future holds for the two stars. I'll tell you this, any sponsor who is looking for top notch competitors with a great track record and who work well with sponsors and fans, all you have to do is look at Angelle and Antron.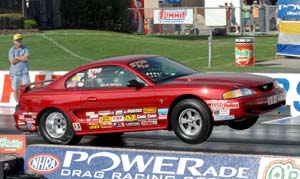 Nick Morris
Nick Morris
and
Jimmy Hidalgo
(the younger) won their first national races this week while
Terry Edwards
and
Caffey Broadus
were both repeat winners. Caffey, in fact, who won the Perfectly Strange money in Super Gas in
Memphis
, went to the third final round of his career and they've all come in
Memphis
.
Hidalgo
won over
Edmond Richardson
, the same guy his father beat when he won in
Memphis
last year.




NHRA: 10 Most Recent Entries [ top ]

Apr 24- CHARLOTTE 1 - Steve Torrence Enjoying Four-Wide Success Heading to NGK Spark Plugs NHRA Four-Wide Nationals
Apr 24- CHARLOTTE 1 - Fact Sheet
Apr 24- Kalitta Motorsports Welcomes NASCAR Stars to the SealMaster Track Walk in Charlotte
Apr 24- zMAX Dragway Celebrates 10th Anniversary
Apr 24- CHARLOTTE 1 - NGK Spark Plugs NHRA Four-Wide Nationals Brings 40,000 Horsepower Thrill Show to zMAX Dragway
Apr 23- HOUSTON - Lucas Oil Drag Racing Series Wrap Up The NHRA Lucas Oil Drag Racing Series Wrap Up
Apr 23- CHARLOTTE 1 - J.R. Todd Aiming for Two Four-Wide Racing Wins in 2018
Apr 23- Mid America Dragway Joins NHRA Member Track Network
Apr 23- HOUSTON - Special Awards
Apr 23- HOUSTON - Sunday Video