Tue, 18 Sep 2007, 08:14 AM



Quiet Star Hight Looks to Maintain his Success at Texas Motorplex



Courtesy of NHRA Communications



ENNIS, Texas --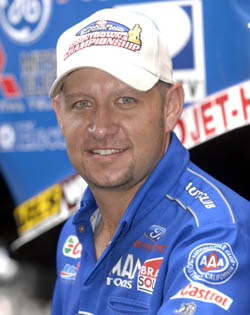 Robert Hight
Robert Hight, in his Auto Club Ford Mustang, has been quietly moving through the Funny Car category, but that is the way he likes it.
For most of the season Hight has been lurking near the top of the Funny Car points, but he has not been the driver getting the most attention on his John Force Racing team. He attributes that to his quiet demeanor, which he thinks is more like his teammate Ashley Force rather than his boss John Force and late teammate Eric Medlen.
"People have said I am the quiet one, but that is compared to John (Force) and Eric (Medlen)," said Hight. "Ashley is a lot like me. That creates a good balance on our team."
While Hight and Force have been battling it out in the POWERade Series Countdown to the Championship, Ashley has been deflecting a lot of the media attention in part due to her rookie season in the POWERade Series and her recently being voted AOL's Hottest Athlete by online users.
"Ashley has been getting all the attention while John and I are in the Countdown," said Hight. "So, she is taking care of the media, like Jay Leno and the interviews so we can concentrate on the Countdown."
Coming into the 22nd annual O'Reilly NHRA Fall Nationals presented by Castrol Syntec, Sept. 20-23 at Texas Motorplex, Hight is looking to defend his win in 2006 and maintain his position atop the Top 4 of the playoff section of the Countdown to the Championship. The $1.5 million race, which will be televised in high definition on ESPN2, is the 20th of 23 events in the NHRA POWERade Drag Racing Series. It is also the third of four races in the Countdown to Four of the Countdown to the Championship.
His approach to the races and the Countdown to the Championship have changed now that the playoff section has commenced. At the beginning of the season he kept saying that he needed to go to every race and try to win. Now things are different.
"Now with two races left (Dallas, and Richmond) we don't need to be testing," said Hight. "We need to race smart. We don't need to be the quickest. After that (In the Countdown to One) we need to pull out all the stops and be the quickest we can."
If the season comes down to a final round between he and Force, and a win decides who claims the championship, Hight knows what he wants to happen. After a slight pause he answered very definitively.
"I hope it's me that wins," said Hight. "But, either way we can't lose because the sponsors have been taken care of. It is a situation I hope to have. It would be my first championship or John's 15th."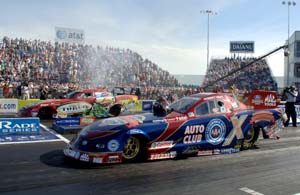 Hight vs. Ashley in '06.
Texas Motorplex, with its all concrete track surface, has always been a favorite of John Force Racing and Hight. Last year Hight defeated Mike Ashley for his first win at the track to make it a combined eight races that Hight and Force have won at this racer-favorite track. He looks forward to coming here every year.
"I love that place," said Hight. "John Force Racing has had a lot of success at the track. It should be what all tracks are held up to. I wish there were more like it. In fact, John thought of putting a shop there at one time. Billy (Meyer - owner) always puts on a great race. There is always something going on."
Defending race winners include Brandon Bernstein (Top Fuel); Hight (Funny Car); and Richie Stevens Jr. (Pro Stock).
After the O'Reilly NHRA Fall Nationals presented by Castrol Syntec concludes, there will be just one race remaining in the Countdown to Four playoff segment: the Torco Racing Fuels NHRA Nationals near Richmond, Va., Oct. 5-7.
Bernstein will try to defend his Top Fuel event win from last season, but there will be other drivers looking to gain points in the Countdown to Four. Tony Schumacher, Larry Dixon and Rod Fuller will be looking to maintain their points position in the Top Four while other drivers seek to move up including Bob Vandergriff Jr., J.R. Todd, Doug Herbert and Whit Bazemore.
Battling Hight in Funny Car will be Jack Beckman, Ron Capps, and Gary Scelzi who all have a Top 4 position. Others looking to gain those valuable Countdown points will be Tony Pedregon, Mike Ashley, John Force, and the season's surprise: Jim Head. The spoilers could include those outside the Countdown like Kenny Bernstein, Del Worsham or Hight's fellow teammate Ashley Force.
In Pro Stock, last year's winner, Stevens, may be outside the Countdown, but he will still be trying for a victory. Those in the Top Four looking to make it to the next round are Dave Connolly, Greg Anderson, Jeg Coughlin and Allen Johnson.
The Pro Stock Motorcycle riders will be going all out in Texas because this race is their last one to make it to the Countdown to One. Sitting at the top is reigning world champion Andrew Hines, but lurking behind him are a host of riders including Matt Smith and three time world champion Angelle Sampey.
SCHEDULE: Professional qualifying sessions are scheduled for 3:45 and 6:45 p.m. on Sept. 21, and 11 a.m. and 2 p.m. on Sept. 22. Eliminations start at 11 a.m. on Sept. 23.
TICKETS: For tickets, call Texas Motorplex, at (800) 668-6775. Tickets also are available at http://www.texasmotorplex.com.
ON TV: ESPN2 and ESPN2 HD will televise one and a half hours of qualifying at 12:30 a.m.. (ET) on Sept. 23. ESPN2 and ESPN2 HD will air NHRA Race Day, a 30-minute pre-race show, at 11 a.m. (ET), followed by three hours of eliminations coverage at 7 p.m. (ET) on Sept. 23.




NHRA: 10 Most Recent Entries [ top ]

Apr 22- HOUSTON - Sunday Pro Mod Wrap Up