Sun, 16 Sep 2007, 08:14 PM



Connolly Wins Three In A Row, Extends Countdown Lead



Courtesy of NHRA Communications


Photo copyright 2007 Auto Imagery, Inc.





Funny Car Driver Gary Scelzi Wins Close Race Against Teammate To Move Into Fourth



MILLINGTON, Tenn. --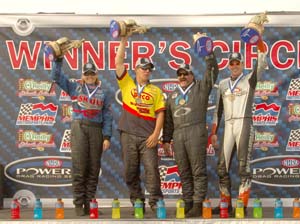 Professional Winners
L-R: Troxel, Connolly, Scelzi, Hines
Pro Stock racer Dave Connolly won his third NHRA national event in a row Sunday at Memphis Motorsports Park to take command of the Countdown to the Championship.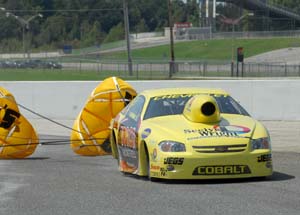 Dave Connolly
Melanie Troxel (Top Fuel), Gary Scelzi (Funny Car) and Andrew Hines (Pro Stock Motorcycle) also posted wins in their respective categories.
Connolly once again outran former points leader Greg Anderson in the final of the 20th annual O'Reilly Mid-South NHRA Nationals presented by Pennzoil for his sixth victory of the year. Just as he did two weeks ago in Indianapolis, Connolly got the better of the three-time POWERade champion in an exciting final that was decided by just .0187 seconds, 6.648 at 207.59 mph to Anderson's 6.658 at 208.65 mph.
"You couldn't ask for a better time to get hot," Connolly said. "It's just remarkable. I start to look back three or four years when I was first getting started and every time I got to the final there was Greg and he was beating me. Here we are a few years later and I've beaten him in two finals in a row. Everything is just clicking right now and hopefully we don't use up all our luck before we're done."
The Torco Chevrolet Cobalt driver improves to 15-12 in final rounds and now leads Anderson in the standings by 33 points.
In one of the closest races of the event, Funny Car driver Gary Scelzi narrowly beat teammate Jack Beckman by .0013 seconds at the 20th annual O'Reilly NHRA Mid-South Nationals at Memphis Motorsports Park.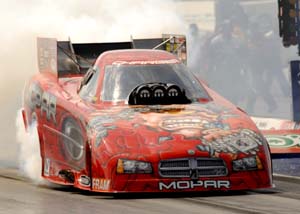 Gary Scelzi
Scelzi and teammate "Fast Jack" Beckman's Funny Car capper was even closer than the Pro Stock finale as the two title contenders were separated by a mere .0013 seconds at the other end. The two left within five-thousandths of a second of one another before virtually staying glued together all the way down the strip. In the end, Scelzi's Mopar/Oakley Dodge Charger had barely inched ahead of Beckman's Mail Terminal Services Dodge Charger R/T to take the closest race of eliminations, 4886 at 314.61 mph to Beckman's 4.892 at 310.55 mph.
"We came into this race thinking we'd better go to the final or win if we want to stay alive in the Countdown," Scelzi said. "The first step was to get into the top four. Now we need to build on that. We're in fourth but it's very bunched up. This is exactly what NHRA wanted and right now it's pretty damn exciting."
It was a day both men needed as Scelzi went from seventh to fourth in the Countdown to Four standings. Beckman's runner-up finish lifted him from fifth to second place, just 53 off the lead held by Robert Hight.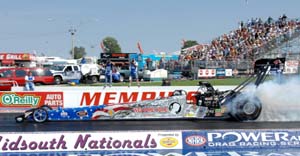 Melanie Troxel
Top Fuel pilot Melanie Troxel had the hardest road to the trophy stand as she had to take out three of the men in the Countdown to Four Top Fuel field, including Bob Vandergriff Jr., Brandon Bernstein, and Doug Herbert in the final. She ran 4.728 at 313.22 mph in her Vietnam Veterans/POW-MIA dragster against Herbert's 4.901 at 290.57 mph in the Snap-on Tools rail.
"I'm becoming more and more disappointed with not making the Countdown and it's been tough but I stand by my decision to not ask my teammate to take a dive for me," Troxel said. "You have to earn your way in and at the time we weren't running well. We just didn't quite get it turned around in time to make the field. All we can do is make the best of the situation and try to win as many races as we can down the stretch."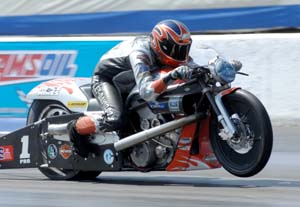 Andrew Hines
Top Fuel points leader Tony Schumacher was upset in Round 1 but avoided big damage in the standings when Rod Fuller and Larry Dixon both bowed out in Round 2.
In Pro Stock Motorcycle, Andrew Hines collected his third Memphis Motorsports Park win in a row and surged into the POWERade lead by 24 points after posting the quickest quarter-mile pass of eliminations in a final-round trouncing of Steve Johnson, who broke just off the starting line. Hines would have been tough to catch anyway, even with Johnson's huge .042-second starting line advantage, as his Screamin' Eagle Harley-Davidson V-Rod crossed the stripe in 6.917 at 192.91 mph.
"To win here three years in a row doesn't get much better," Hines said. "I guess the Countdown deal is working in our favor now but if I had it my way I'd leave it the way it was, even though I probably wouldn't have the points lead right now. We're pretty secure in the Countdown to One now so hopefully we can roll this win over to Dallas and just keep rolling."
This is the first time this season that Hines has been atop the points. With one Pro Stock Motorcycle race to go in the Countdown to Four, Hines will clinch a spot in the final four-bike field of the Countdown to One by simply qualifying for next weekend's Dallas event.
MILLINGTON, Tenn. -- Sunday's final results from the 20th annual O'Reilly Mid-South Nationals presented by Pennzoil at Memphis Motorsports Park. The race is the 19th of 23 in the NHRA POWERade Drag Racing Series:
Top Fuel -- Melanie Troxel, 4.728 seconds, 313.22 mph def. Doug Herbert, 4.901 seconds, 290.57 mph.
Funny Car -- Gary Scelzi, Dodge Charger, 4.886, 314.61 def. Jack Beckman, Charger, 4.892, 310.55.
Pro Stock -- Dave Connolly, Chevy Cobalt, 6.648, 207.59 def. Greg Anderson, Pontiac GTO, 6.658, 208.65.
Pro Stock Motorcycle -- Andrew Hines, Harley-Davidson, 6.917, 192.91 def. Steve Johnson, Suzuki, broke.
Super Stock -- Nick Morris, Ford Mustang, 11.013, 118.79 def. Tony Rhodes Jr, Chevy II, 10.797, 120.37.
Stock Eliminator -- Jimmy Hidalgo Jr, Pontiac Firebird, 10.560, 121.05 def. Edmond Richardson, Chevy Camaro, 10.569, 124.29.
Super Comp -- Terry Edwards, Dragster, 8.922, 172.23 def. Jeff Cheney, Dragster, 8.934, 170.43.
Super Gas -- Caffey Broadus, Dodge Dart, 9.892, 146.77 def. Ron Erks, Chevy Corvette, 9.888, 165.70.




NHRA: 10 Most Recent Entries [ top ]

Mar 18- GAINESVILLE - Pro Mod Sunday Wrap Up
Mar 18- GAINESVILLE - Sunday Wrap Up
Mar 18- GAINESVILLE - Pro Mod Championship Points
Mar 18- GAINESVILLE - Bonus Points
Mar 18- GAINESVILLE - Championship Points
Mar 18- GAINESVILLE - Mickey Thompson Top Fuel Harley Series Championship Points
Mar 18- GAINESVILLE - Bonus Points
Mar 18- GAINESVILLE - Summary of Eliminations in Top Fuel
Mar 18- GAINESVILLE - Summary of Eliminations in Funny Car
Mar 18- GAINESVILLE - Summary of Eliminations in Pro Stock