Sat, 15 Sep 2007, 07:32 PM



Funny Car Points Leader Robert Hight Steals NO.1 Qualifier Away from Rookie Force



Courtesy of NHRA Communications


Photo copyright 2007 Auto Imagery, Inc.





At SaturdaY Qualifying at Memphis Motorsports Park



MILLINGTON, Tenn. --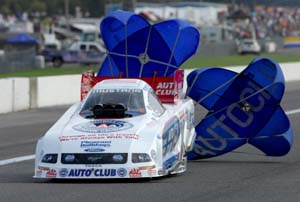 Robert Hight
On a day when five of eight Memphis Motor Park records fell by the wayside, three year professional Funny Car driver Robert Hight denied rookie driver and teammate Ashley Force her first low qualifier award running a track-record 4.762 seconds at 320.36 mph at the 20th annual O'Reilly Mid-South NHRA Nationals presented by Pennzoil.
Almost as shocking was Pro Stock Motorcycle leader Chip Ellis' jaw-dropping 6.892, the second quickest pass in class history. Max Naylor earned more respect in the Pro Stock class with his second pole in as many races, while Top Fuel points leader Tony Schumacher got a wake-up call from several of his rivals, who all posted big numbers in Saturday's cooler temperatures.
Auto Club Ford racer Hight, who is married to Force's older sister Adria, gained his seventh low qualifier plaque of the season but he may have lost his favorite babysitter as he kept his daughter Autumn's aunt from the top starting position. Instead, Aunt Ashley will begin her quest for her first NHRA victory from the No. 2 position with a best of 4.810 at 316.38 mph in her nearly identical Castrol GTX Ford Mustang.
"I think I'm gonna hide because there are all these little girls around here that are Ashley Force fans that probably want to take my knees out this afternoon," Hight said. "That includes my daughter. She had her third birthday this week and Ashley came over dressed as Hannah Montana because Autumn loves Hannah Montana. She even made Autumn little autograph cards like the racers have to give all her friends at the party. I may not even be welcome in my own house any more because she loves her Aunt Ashley so much.
"I feel bad for them because she's my teammate and she hasn't had a No. 1 qualifier yet. She would have several times this year if it wasn't for me. They're doing a great job and we need them running good so she can help us take out some of these guys in the Countdown. She's driving really well right now."
Championship contender Mike Ashley, who won two weeks ago in Indianapolis, failed to qualify for this event, his fifth DNQ of the year. Fellow Countdown participant Jim Head also missed the cut.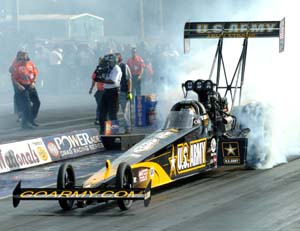 Tony Schumacher
Top Fuel leader Schumacher shaved one-thousandth of a second off Friday's e.t. to claim his ninth low qualifier award of the year with a 4.564 at 313.73 mph. But the U.S. Army racer won't rest easy knowing he has four Countdown rivals within five-thousandths of his posted number.
"It's brutal," Schumacher said. "I'm guessing if you look at all the qualifying sheets we all made it down the track every time as well. It's so close, but it makes it so fun. This is why people pay money to see us race. No one wants to see one guy running away with the points lead. It's so much better when it's tight. You have to bring your 'A game' every race."
Budweiser's Brandon Bernstein finished time trials second to Schumacher with a 4.566 at 326.71 mph. SkyTel's Larry Dixon and Matco Tool's Whit Bazemore were next with a pair of 4.568s, while Doug Herbert had a 4.569 in his Snap-on Tools rail.
The other three Countdown to Four participants, "Hot Rod" Fuller (4.583), J.R. Todd 4.587), and Bob Vandergriff Jr. (4.589) ended up eighth, 10th, and 11th, respectively.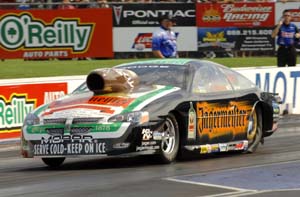 Max Naylor
For the second event in a row, 54-year-old Pro Stock sophomore racer Naylor has the quickest racecar in the factory hot rod class. Following up his first career low qualifying effort two weeks ago in Indianapolis, Naylor backed-up his recent performance surge with a personal-best 6.594 at 207.37 mph in his Jagermeister Dodge Stratus R/T to steal the pole away from Day 1 leader Dave Connolly. Greg Anderson moved to third with a 6.598 at 209.17 mph, a track record top speed.
"I took delivery on a new Rick Jones car right after Chicago and we immediately went from a bottom-half car to a top-half car," Naylor said. "Ever since then we've been learning how to qualify and I think we're getting it figured out. Now we need to figure out how to go rounds on race day because there's a distinct difference."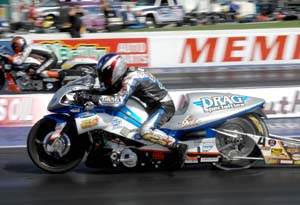 Chip Ellis
In arguable one of the most impressive runs of the entire 2007 season, Pro Stock Motorcycle leader Ellis peeled off the second-quickest pass in class history -- a stunning 6.892 at 193.21 mph on his Drag Specialties S&S Buell V-Twin -- to obliterate the MMP record by .0156 seconds, a quantum leap in drag racing. This was Ellis' third low qualifying effort in the last four races.
"I didn't think it would be that quick to be honest," said Ellis, who is within range of setting a national record should he run 6.870 or quicker Sunday. "Big George [Smith, tuner] got here this morning and said we'd run a .89 and I told him he was crazy. I thought the headwind was just too strong. But that .89 was out there and he went out and got it."
Of the eight riders in the Countdown to Four, six earned top-half berths. The only first-round match-up between championship contenders pits No. 3 qualifier Peggy Llewellyn (6.955) against No. 14 qualifier Karen Stoffer (7.043).




NHRA: 10 Most Recent Entries [ top ]

Apr 23- HOUSTON - Lucas Oil Drag Racing Series Wrap Up The NHRA Lucas Oil Drag Racing Series Wrap Up
Apr 23- CHARLOTTE 1 - J.R. Todd Aiming for Two Four-Wide Racing Wins in 2018
Apr 23- Mid America Dragway Joins NHRA Member Track Network
Apr 23- HOUSTON - Special Awards
Apr 23- HOUSTON - Sunday Video
Apr 22- HOUSTON - Sunday Pro Mod Wrap Up