Thu, 13 Sep 2007, 09:56 PM



An Indy Tradition Continues



By Bob Frey


Photo copyright 2007 Auto Imagery, Inc.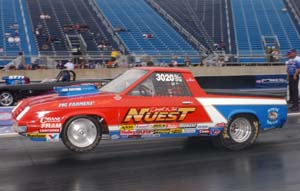 Dwight Nuest
The folks who attended this year's running of the MAC Tools U.S. Nationals saw several things that have been a part of the big race for years. The Skoal Showdown was in its 26th year, while the Ringers Gloves Pro Bike Battle was renewed for the 17th time. The Hemi Shootout has been going on for years, and the Friday night qualifying has been part of the Indy tradition for almost a decade. Toss in the five qualifying runs for the pros, the six days of racing for the sportsman, and you have Indy, unique in all the drag racing world. As obvious as some of those things are, there was another tradition that was renewed this year at O'Reilly Raceway Park, and that was the running of the pigs. OK, so it wasn't exactly the running of the pigs but it was the running of the pig farmer. Or the former pig farmer. What it really was, was the running of Dwight Nuest's Rampage truck at Indy, a tradition that he has carried on for twenty-six years now. And while a lot of people have raced at Indy for many years, only a select few can say that they have come to town with the same vehicle for over a quarter of a century. "We got the truck at the end of 1981 and worked on it over the winter," Dwight said, while waiting for one of his three time trial runs at Indy. "We finished it around June of '82 and brought it to Indy that year and we've been coming here ever since." Over the course of those years Dwight has raced such luminaries as Tim Wilkerson, Jeg Coughlin Sr., Tommy Johnson and Mark Pawuk at a variety of tracks in and around the Division 3 area. "A lot of those guys started in the sportsman ranks and we've faced them all with our truck." And while he has never won Indy, Dwight says that he still enjoys it as much as ever. "We have a lot of friends out here and we really enjoy being part of this drag racing community."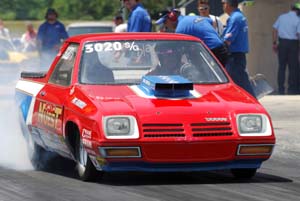 The journey to Indy began with another truck, a Toyota pickup that Dwight ran before he got his current ride. "We raced it in the bracket classes, and I knew that I didn't want to race in a 'class car,' so when Super Gas came around I decided that's what I wanted to do." After racing his Toyota, Dwight realized that he needed something a little quicker if he wanted to compete in the Super Gas class. "My wife heard about this new truck that Dodge was making so we decided to get one of them." That new truck was a Dodge Rampage, a vehicle that was so new that when Dwight and Judi started checking into it with the folks at Direct Connection, Mopar's performance department at the time, they were told that the truck didn't exist...and wouldn't. "My wife worked at a Chrysler dealership so she knew the truck was being made. We put in an order and actually picked it up at the assembly plant." The truck they got at the Belvidere plant wasn't exactly race ready. "It was what they called a body in white," Dwight said. "It was really just a bunch of sheet metal which was welded together but that hadn't even gone through the assembly line yet. We got a call and were told that we had two days to come up with the money and come get the truck." The Nuests got together the required amount of money and went to the plant to get their new ride. "They had it on a skid, picked it up with a forklift and put it right in the back of our truck." And the cost for the new 9.90 entry, a staggering $1600. Once he got it, Dwight did what every other owner of a Dodge truck would do, he put a Chevy engine in it. "It was kind of a money thing at the time. We put the Chevy engine from the Toyota in it and that's all we have ever run in the truck." A 377 cubic inch engine has rotated with a 355 cubic inch engine and Dwight says that he prefers the bigger motor. "We don't run any electronics on the truck, and I have to admit that some of the faster cars have an advantage over us, but this is what I have and I enjoy it." Judi admits that Dwight doesn't have that "hard, competitive drive of some racers" but adds that he enjoys everything about the races. "Winning is great but he would rather be well liked by the racers," she said. Dwight and Judi are both well liked and well respected by the other racers, some of whom they have formed a lasting friendship with over the years. "Plus, he has made a portable engine puller that many of the racers use and that's helped us meet a lot of people."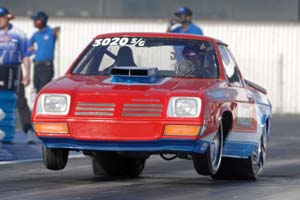 The new truck arrived right in the middle of Dwight's busy season at work so he had to take a little time off to go get it. "When they called it was right in the middle of picking season, so we shut down the combine, ran over to Illinois and picked up the truck." Picking season involved corn and soybeans, two of the major products that Dwight farms. "We used to raise pigs, so I got the name of the 'Pig Farmer,' and it's stayed with me. We had as many as 800 pigs at a time when our pens were full." The farm was a continuation of the business that Dwight's father had begun years ago. "Farming was always in our family, and I guess it always will be." Another thing that looks like it will always be in the Nuest family is drag racing. "Our daughter, Jennifer, just graduated from Butler University and she is building a '41 Chevy pickup to race. Our son, Kyle, is going for his bachelor's degree in high performance technology at the University of Northwestern Ohio, and he is on the crew for Luigi Novelli's Top Fuel car and he's learning a lot about fuel motors over there. He also gets to warm the car up on occasions and he loves it." Both of the Nuest children have spent most of their lives going to the drag races. "They were both at the first race of the season the year they were born, so they have been around this for a long while and they both love it."
While Dwight didn't win Indy this year, as a huge, bumper dragging wheelstand did him in, he and Judi had another enjoyable time at the "Big Go." When they weren't running, talking to friends or spending time in line waiting for a shot at the famous quarter mile, they spent some time in the stands watching the fuel cars. "Since our son works on a Top Fuel car, we stay until the very end to see who wins the race." And then they pack up the venerable Dodge truck, the one the factory said wouldn't be built, and head home to work on the farm or get ready for the next race. And if you missed them this year at Indy, don't worry, because if all goes according to plan, Dwight and Judi and their Rampage truck will be back next year, for the twenty-seventh consecutive year, continuing an Indy tradition that looks like it has a long way to go before it's over.




NHRA: 10 Most Recent Entries [ top ]

Apr 18- Haney Headed for NHRA Pro Mod with Summit Racing on His Side
Apr 18- HOUSTON - Richie Crampton Enjoying Early-Season Success Heading to 31st Annual NHRA SpringNationals
Apr 18- 2018 Mustang Cobra Jet Celebrates 50th Anniversary of Racing Legend with Quickest
Apr 18- New Ford Mustang Funny Car Scheduled to Debut In 2019 NHRA Mello Yello Season Opener
Apr 16- HOUSTON - Fact Sheet
Apr 16- HOUSTON - After Early-Season Mishap Funny Car's Jonnie Lindberg Looks to Get On Track