Tue, 11 Sep 2007, 11:38 PM



Memphis, Elvis & Drag Racing



By Bob Frey


Photo copyright 2007 Auto Imagery, Inc. & Rick Green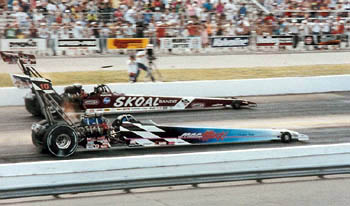 McClenathan vs. Prudhomme in '92 semifinals.
It was in
Memphis
that
John Force
saw "Elvis at 1,000 feet. It was in
Memphis
that
Tony Schumacher
and
Larry Dixon
had two of the worst crashes that we have ever seen, and they happened on the same weekend. It was in
Memphis
where we have seen some of the worst rain of any national event. And it's
Memphis
where the schedule has changed and the date has moved more than any other event on the POWERade lineup.
Memphis
is where
Jeg Coughlin
clinched the championship in 2000 and it's where we ran a round of Top Fuel qualifying on a Sunday morning before eliminations. A qualifying round that profoundly changed the look of the championship picture in 1999.
Memphis
is where
Gary Ormsby
and
Darrell Gwynn
made the quickest side-by-side run in Top Fuel history up to that time in 1989. Their run, 5.046 to a 5.045 came in the semi-finals and it was a classic and it was won by "GO" on a holeshot.
Memphis
is where
Blaine Johnson
won in Top Alcohol Dragster in 1990 and ran his record for the year to a staggering 41-5 in combined national and divisional events.
Memphis
is where
Cory McClenathan
won his first Top Fuel race in 1992 with his young crew chief,
Jimmy Prock
.
Jerry Caminito
hit the wall, or more correctly, went through the wall.
Jim Blake
beat
Cruz Pedregon
, Cruz burned his car to the ground,
Tim Wilkerson
made the first 4-second Funny Car run at the track and
Ron Capps
had the biggest wheelstand that I've ever seen in a Funny Car. All of this and more all happened in Memphis, the same town that gave us Elvis, and of course Elvis gave us "Don't Be Cruel," "Heartbreak Hotel," All Shook Up," "Playing For Keeps," "Fame and Fortune," and "That's When Your Heartaches Begin." Those are all the titles of Elvis' songs, big songs, and they are also all phrases that could be applied to the race in
Memphis
...then and now!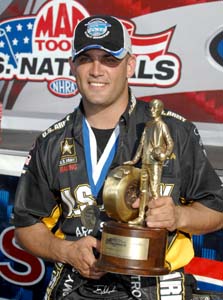 Schumacher with his Indy Wally.
Tony Schumacher's win in Indy moved him to the top of the pack and he now has the points lead for the first time this year. Conversely,
Rod Fuller
, who lost to Larry Dixon in the semis at Indy, is now in third place.
Did you know
that it's the first time since after the
Topeka
race that Rod has not been the point's leader? There are a couple of things about Tony's Indy run that I didn't mention last week.
Did you know
that Tony set low elapsed time at Indy and it's the 50
th
time that he has done that in his career? That makes
him
only the second TF driver in history to set low E/T 50 or more times.
Joe Amato
is still the leader with fifty-nine. The "Sarge" also recorded top speed for the 60
th
time and Joe is the only other dragster driver ever to have sixty or more top speeds to his credit (69). It's beginning to look more and more like Tony could end up with just about every performance record in the history of the Top Fuel class. Of course he gets a lot of the credit for it but he has to share that with his crew chief,
Alan Johnson
, and the rest of the very talented team members who have worked on the Army car over the years. And even though most people think that Tony began his Indy career with that runner-up spot in 1996,
did you know
that he also ran there in 1995? At that race, like the one this year, he was also involved in a first round match between the number one qualifier and the number sixteen qualifier, only he lost that match. In '95 Tony was running in the Top Alcohol Funny Car class where he qualified 16
th
, only to lose to
Pat Austin
, the top qualifier in round one when the body on his car wouldn't latch and he was forced to shut off. By the way,
did you know
that were two other future fuel funny car drivers in that
JR Todd
field? Do you know who they are? How about
Tony Bartone
and Tim Wilkerson.... The DNQ's by
Whit Bazemore
and
JR Todd
didn't help them at Indy. Now, with three races to go before the final cut, each race takes on a "must win," or at least a "must do well" scenario for the teams, especially those who struggled at the first race. Like it or not, the "Countdown" formula has put a lot of emphasis on races that wouldn't have had any under the old points system, or at least they wouldn't have in most years. And even as good as the 2006 points battle was it really only involved two cars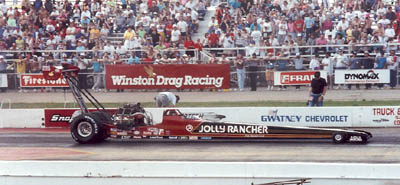 Lori Johns
in the Top Fuel class and we have many more now that can compete for and maybe win the championship. I liked it from the beginning and I still like the new format....Memphis seems to be one of the toughest places for dragsters to repeat.
Did you know
that in the previous nineteen years of this race only one Top Fuel driver has ever won it in consecutive years?
Lori Johns
won the race in 1990 and repeated in '91 and, other than that, there has never been a repeat winner in Top Fuel.
As Elvis would say, "Tell Me Why?"
...If you're keeping score,
Doug Kalitta
is the defending champion of this event. Doug beat
Hillary Will
in the final round last year and
did you know
that was the last win and the last final round for the driver of the
MAC Tools
car? Amazing, isn't it?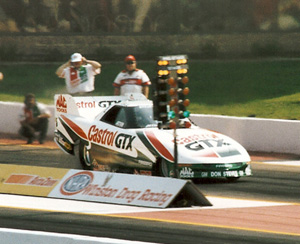 Force in 1996.
Only one Funny Car driver has ever repeated in
Memphis
and it should come as no surprise
who
that is. John Force, who has won this race five times, also won it in back-to-back years in 1996 and 1997. Only two other drivers have won it more than once and neither of them will be competing, or at least driving this weekend.
Al Hofmann
and
Mark Oswald
both won
Memphis
twice but, other than those two, for some strange reason all the other winners are one-timers. Or as Elvis would say, "Tell Me Why?
".
Al Hofmann was the subject of the "Where Are They Now" column recently in
National Dragster
and I got more than one e-mail asking me to hook Al and
Don Schumacher
up. Yeah, that would work. Anyway, it was nice to find out that Al is enjoying life and I wish him well in his retirement. That's right, in case you didn't read the story, Al Hofmann is retired. Maybe now he can try to track down the original
China
Syndrome
funny car that he had. Then again....John Force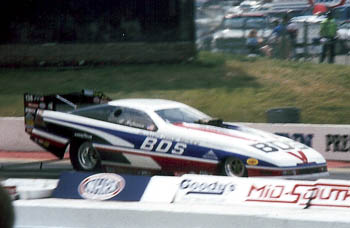 Al Hofmann in Memphis '91.
will be coming off a very rare DNQ at Indy and it will be interesting to see how he responds to that. John had only missed an Indy field twice in his career prior to this year and after those two races he didn't do so well. After his 1979 DNQ at Indy John also failed to qualify at the next race that he attended and, after his '84 DNQ he lost in round one at his next race. Like I said, it will be interesting to see how he and his team respond to the pressure. Now that I think about it, I think John,
Austin Coil,
Bernie Fedderly
and the rest of the
Castrol
team are probably immune to pressure and they'll respond like the champions they are. Which means, look out for Team Force this weekend. Being a huge Elvis fan this would be a good weekend for John to rebound and do well. John is the defending event champ and I think he'll do well this weekend, because as Elvis would say, "That's The Way it
Is
."....John's daughter, Ashley, did a great job on the
Jay Leno
show last night. If you missed it, she looked great, was bubbly (and that's a good thing), well spoken (as always), made some jokes, laughed it up with
Brad Garrett
and kept pace with Jay. It was a real boost for her, her team and the sport. Ashley just continues to amaze and she's a real plus for the sport. As far as I know, Ashley, John and
Shirley Muldowney
are the only drag races who have ever been on the
Tonight Show
.
John and Ashley with Jay and Shirley with
Johnny Carson.
If memory serves me correctly
, Mark Pawuk
did a segment with Jay as he tried to show Mr. Leno the finer points of driving a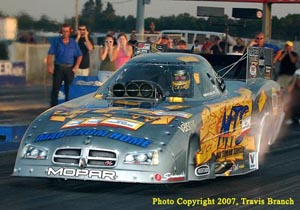 Jack Beckman
Pro Stock car.
....
Mike Ashley
made the biggest move in the points last week in the Funny Car class and he is less than a round behind the leader,
Robert Hight
. As I mentioned before, simply making the field will be an accomplishment and, if you don't believe me, ask John. There are so many good teams out there that one or two of them will be left out of the field at every race. When you consider the fact that the longest qualifying streak in the class is
Del Worsham's
at sixteen, followed by
Jim Head
and
Jack Beckman
at eleven, it's easy to see what I mean when I say that just making the show is a challenge theses days....
Jack Beckman
and his
Mail Terminal Services
Dodge will experience a couple of firsts when he arrives in Memphis. First, it will be Jack's first trip to the
Memphis
facility, and it will be the first time that he has run the car that he will bring to town. Jack, who tested at Indy earlier this week, will debut a new car as he hopes to improve on his fifth place standing.
Did you know
that once we leave
Memphis
Jack will have raced at all of the venues on the current schedule? Of course that will change next year when we go to (fill in the name of the track you think will be added to the schedule next year. And I'll give you a
hint,
it's not in
Australia
, or New England, or
Ohio
. Or as Elvis would say, "Aloha
From
Hawaii").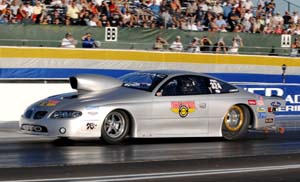 Bill Glidden
How about
Todd Hoerner

being
on the Pro Stock entry list for the
Memphis
race? Todd is shown entering with a
Steve Schmidt
car and that shouldn't come as a surprise since he has been running a Steve Schmidt motor in his Top Sportsman car this year and his Top Comp car before that. And, from what I hear, Todd has been a good friend and customer of Steve's for a number of years.
Bill Glidden
is also on the entry list for this weekend and it will be interesting to see how these two young drivers do. Qualifying for Pro Stock is brutal and, if you're trying to do it on a part-time basis it's almost impossible....
Dave Northrop
is another driver racing Pro Stock on a part-time basis and he has had more success than most
who
are competing on that level. Dave did make the field in Englishtown before missing the cut in
Reading
and
Indianapolis
, but he still has a very good car and a real shot at making the starting lineup this weekend. One of the main reasons for that is the power plant that he uses, one that is supplied by
William Tyler Jenkins
. The "Grump," who also gives
Jim Yates
his power, has been doing this for a long time and don't be surprised if he puts Jim high up in the qualifying order this weekend as well as putting Northrop in the field. Jim Yates, for his part, had a solid number two qualifying effort in Indy and only a broken rearend in the car stopped him from going rounds on race day. Jim tested well before Indy and ran well before he broke at Indy, and because of that I'm going to pick him as my dark horse this weekend. Remember on Sunday, when Jim goes rounds, where you heard it first.
Did you know
that
Memphis
was the second track that Jim ever ran on in an NHRA Pro Stock car? He competed at
Gainesville
in 1989 and then his next appearance on tour was at
Memphis
.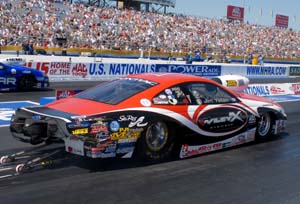 Jim Yates
It was also here in 2001 that Jim qualified number one and then was taken to the hospital and missed the eliminations altogether. Guys like Jim, Indy number one qualifier
Max Naylor
and several others could be the big spoilers in the class this year and I expect them to be real factors over the next five races....
Jeg Coughlin, Jason Line, Larry
Morgan
and
Warren Johnson
all need to do well this weekend (translate that into at least a semi-final round appearance) or face the prospect of falling out of contention after only two races into the "Countdown to Four." Warren is the only Pro Stock driver to win the Memphis race in back-to-back years so we'll see how he does in Tennessee and if his son, Kurt, the defending champion, can join WJ as a repeat winner this weekend...Jeg, who is in fifth place, is 93 points behind the leader,
Dave Connolly
, and that's more than four rounds and if you go into Dallas with that kind of deficit you'll be in big trouble.
Big trouble.
The key to success this weekend in Pro Stock, don't qualify opposite Jim Yates. You'll see.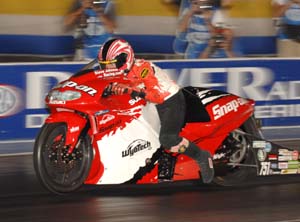 Steve Johnson
Steve Johnson
will be the only Pro Stock Motorcycle in this year's field who was in
Memphis
the first time the bikes ran there, which was in 1988, but there will be a presence by two other members of that class of '88.
Terry Vance
, of the famous
Vance & Hines
team, won the race in '88 while
George Bryce
was also in the field. In the interest of fair reporting I should tell you that Terry beat George in the semi-finals at that race. Anyway, the bikes have been part of the
Memphis
race on and off since then and this will be the ninth time that they have been part of the show.
Andrew Hines
, of that same famous team, has won it twice (2005 & 2006) and so has
Angelle Sampey
who won it in 1998 & '99 when she was part of the
Star Racing
team which was headed by, you guessed it, George Bryce....The riders who are in fourth through eighth in the bike class face the same situation as the other contenders do, only their situation may actually be worse. Since the bikes only compete at two of the next three races (they're not in
Virginia
), getting points and going rounds are very important this weekend.
Matt Smith, Craig Treble, Chip Ellis
and Andrew Hines are the top four followed by Angelle,
Karen Stoffer, Eddie Krawiec
and
Peggy Llewellyn.
Getting down by two or more rounds after
Memphis
will make it almost impossible for anyone to catch up in
Dallas
. Not totally impossible, but almost. If you are down by a few rounds after this weekend, as Elvis would say, you are "Way Down."
Speaking of motorcycles and
Dallas
, the folks at NHRA and
Harley-Davidson
have arranged for a brand new Harley-Davidson motorcycle to be auctioned off as part of the DRAW auction in
Dallas
. With a retail value of almost $14,000 the bike, a FXDB Dyna Street Bob, is one of the coolest Harley's on the market and someone will be able to take it home at the DRAW auction. I hope a lot of folks will plan to attend and I'll have more on this next week. It should be a lot of fun and should help raise a lot of money for DRAW, the organization that helps injured racers. And, from what I understand, there will be a couple of surprises to go along with the bike so make sure you're there in the "Big D" next week. It's a beautiful bike and once you take a look at it and bid on it, as Elvis would say, "
You Can't Help Falling In
Love" with it.




NHRA: 10 Most Recent Entries [ top ]

Apr 20- HOUSTON - Pro Modified Qualifying, Session #2 Order
Apr 20- HOUSTON - Funny Car Qualifying Notes, Session #2
Apr 20- HOUSTON - Super Stock Round 3 Class Eliminations
Apr 20- HOUSTON - Pro Stock Qualifying Notes, Session #2
Apr 20- HOUSTON - Pro Modified Qualifying Notes, Session #2
Apr 20- HOUSTON - Top Fuel Qualifying, Session #1 Order
Apr 20- HOUSTON - Top Fuel Harley Qualifying, Session #2 Order
Apr 20- HOUSTON - Funny Car Qualifying, Session #1 Order
Apr 20- HOUSTON - Top Fuel Harley Qualifying Notes, Session #2
Apr 20- HOUSTON - Top Fuel Qualifying Notes, Session #1