Tue, 4 Sep 2007, 05:48 PM



Notes from Jim Luikens' Reporter's Notebook at the 53rd Annual Mac Tools U.S. Nationals



by Jim Luikens


Photo copyright 2007 Auto Imagery, Inc.





Part Two



CLERMONT, Ind. --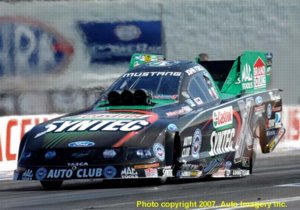 John Force
Notes from Jim Luikens' Reporter's Notebook at the 53rd Annual NHRA U.S. Nationals - Part Two
There were surprises on both sides of the qualifying cutoff line when the five rounds of qualification runs here ended Sunday evening. Below the line were surprise non-qualifiers John Force and Warren Johnson. For John it was his second non-qualifying effort of the year and the first time he has missed a U.S. Nationals field since 1984. John was driving a Castrol Syntec Mustang in honor of Eric Medlen. John's entire crew was wearing green and black Syntec uniforms as well.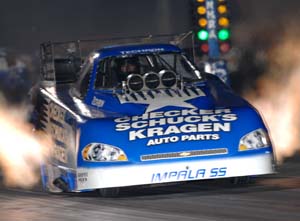 Jeff Arend
By contrast, John's daughter Ashley qualified for her first U.S. Nationals Nitro funny car field in second place. Her 4.754-second elapsed time actually tied
Jeff Arend
for low e.t. of F/C qualifying but Arend was awarded the pole position because of his higher mile-per-hour recording, which is the tiebreaker. Speaking of Arend, it was his first F/C pole ever and the first pole for the "blue" CSK car as well in that car's long history.
Warren Johnson, who like John was a Countdown to Four participant, also failed to make the cut. Johnson's best run of 6.706-seconds was just one thousandth of a second short of making the 16 car Pro Stock field. WJ said a litany of problems fought the team throughout the weekend, most of which were self-inflicted. WJ had the team leave the track Sunday night to start their return to Georgia in an effort to get a jump on diagnosing the problems.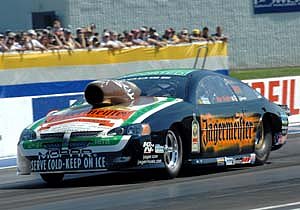 Max Naylor
On the other side of the Pro Stock fence was unheralded
Max Naylor
. In just his second year on the NHRA tour, Max shocked everyone by claiming the P/S pole on Friday night, resetting the ORP Pro Stock track record in the process. He held onto the pole during four subsequent qualifying sessions over the next two days, including an evening session on Saturday night. A grateful, but humble, Max celebrated his pole by walking back up the return road following the final qualifying session, shaking hands with the fans that were lining the fences. On Monday Max won his first round but lost on a hole shot to Greg Anderson in the second round despite recording a quicker e.t. During his stay in Indy Max found time for two personal appearances on behalf of his sponsor, Jagermeister, while his show car made six appearances over three days in Detroit to support the Detroit Grand Prix, which was being held simultaneously.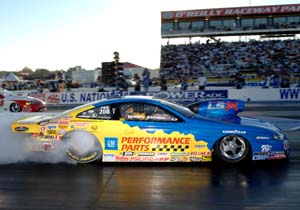 Warren Johnson
Interestingly Max's pole was achieved on Hoosier tires, the only Hoosier-shod P/S car in the place. You have to go the all way back to Sonoma 1992, a span of 329 races and 15 years, to find the last time a P/S car qualified number one for an NHRA national event using something besides a Goodyear rear tire. Meanwhile
Billy Glidden
was here racing an ex-
Mark Pawuk
GTO that has been newly purchased to assist the Mickey Thompson Tire Company in their development of a Pro Stock rear tire. Despite carrying nothing but
Mickey Thompson
signage the car was actually competing here on Goodyear rear tires in order to establish a baseline to work from in M/T's Pro Stock tire development. Billy Glidden ended up qualified 28th, 12 places away from making the field.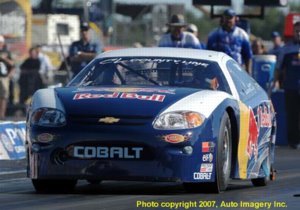 Gary Gardella
The Pro FWD and Pro RWD sport compact cars were also in competition here. The most impressive results were turned in by the "Platypus" Pro FWD Cobalts of
Gary Gardella
,
Marty Ladwig
and
Jason Hunt
. All three Cobalts ran in the seven "teen" range for the first time. When the smoke had cleared, no pun intended, Gary Gardella's 7.15-second elapsed time stood as quickest, barely besting Ladwig's 7.17 and Hunt's 7.19. In a case of losing the battle but winning the war, Jason Hunt came away with the new class record because he was able to backup his 7.19 run with a 7.24-second elapsed time. Coming into the event Marty Ladwig held the class record with a 7.26-second elapsed time, having recorded it only two weeks ago during another event at this very same track.
Rahn Tobler was making his first start here as the new crew chief for Cruz Pedregon while "Suitcase Wayne" Dupuy, who has assisted quite a number of fuel teams over the years, was asisting funny car competitor Bob Bode. Despite the new-found help neither team was able to crack the final F/C field.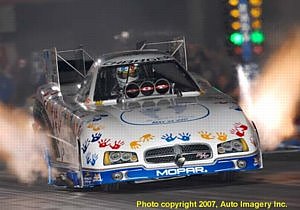 Mike Ashley
Like usual for here, a number of teams were running cars that carried special paint schemes.
Brandon Bernstein
was driving a 30th Anniversary Elvis-themed dragster here, and wearing a matching Elvis fire suit complete with blue suede fire boots.
Mike Ashley
was racing a special car for the Eric Blake Faulkner Foundation at this event only, after which it will be auctioned off at the Barrett-Jackson in Scottsdale next January. The car is meant to be a fund-raiser for the foundation, which supports parents who have to go through the same traumatic experience that
Donnie and Holly Faulkner
did when their son Eric was stillborn earlier this year. Mopar donated the body for this fund-raiser, Valspar donated the paint and
Chip Foose
designed a one-of-a-kind paint scheme to adorn it.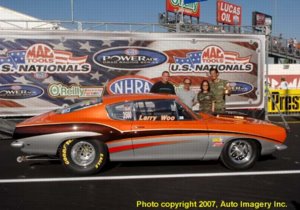 Larry Woo
Chip Foose also designed the beautiful custom blue paint scheme for
Doug Kalitta
's normally red Mac Tools dragster. Unfortunately, the Kalitta car continued its funk and failed to qualify at its sponsor's race. Countdown competitors
JR Todd
and
Whit Bazemore
also failed to qualify in Top Fuel at the first race that makes up the Countdown to Four.
Hillary Will
and
Bob Vandergriff
debuted new paint schemes here as well. Reportedly, this will be the only race that Vandergriff's dragster carried the UPS 100th Anniversary logo.
Corey Brewley, who won the Best Appearing Car award at this event last year for the Jungle Jim tribute paint scheme that he did for Bob Gilbertson, was back this year with another special paint job. This year he did a one-off scheme for Bruce Litton that featured the Lucas Cattle brand instead of Bruce's normal Lucas Oil sponsorship. In honor of the cattle connection the car was painted like a cow and featured a number of personalized miniature cows. Unfortunately, lightning did not strike twice and the Best Appearing Car award instead went to Larry Woo for his Michigan-based SS/AH Barracuda.




NHRA: 10 Most Recent Entries [ top ]

Mar 20- Strong Stable of Contending Pro Stock Racers Vie for Final Starting Position for K&N Horsepower Challenge
Mar 20- GAINESVILLE - Special Awards
Mar 20- GAINESVILLE - Lucas Oil Drag Racing Series Wrap Up
Mar 19- GAINESVILLE - Sunday Video
Mar 18- GAINESVILLE - Pro Mod Sunday Wrap Up
Mar 18- GAINESVILLE - Sunday Wrap Up
Mar 18- GAINESVILLE - Pro Mod Championship Points
Mar 18- GAINESVILLE - Bonus Points
Mar 18- GAINESVILLE - Championship Points
Mar 18- GAINESVILLE - Mickey Thompson Top Fuel Harley Series Championship Points