Tue, 4 Sep 2007, 03:20 PM



Laird Wins his First Ever at the U.S. Nationals



Courtesy of Matthew Brammer



CLERMONT, Ind. --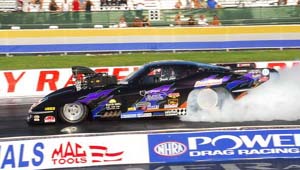 Harold Laird
It was billed as the best AMS Pro Mod Challenge race ever, the NHRA Mac Tools U.S. Nationals, and Harold Laird made his very first AMS Pro Mod event win even more memorable by defeating defending event champion and current points leader Josh Hernandez.
In just his third start of the season and the first time he's made it past the first round this season, Laird definitely brought his "A" game to Indy. Qualifying lucky No. 13 with a 6.195/230.69, Laird delivered a strong performance throughout eliminations, defeating defending World Champion Jay Payne in the first round, Mike Knowles in the second, and John Russo by a holeshot in the semifinals.
Getting to the finals to face Laird, Josh Hernandez and his Dr. Moon's Rage '68 Camaro dispatched nitrous-powered Mike Castellana in round one, Shelly Payne and her Brad Anderson-tuned '68 Camaro, and O'Reilly Raceway Park speed record setter Steve Engel. Engel ran a blistering 242.15 mph in eliminations to take the track record bragging rights.
In the final round, Hernandez selected the right lane to face the charging Laird, and with nearly identical reaction times (.051 to Hernandez' .055), the two fought a classic side-by-side battle, with the Baton Rouge-resident Laird defeating the defending champion at the line, 6.102/235.72 to 6.124/237.84.
"This means so much to me, I can't even think of the words," an ecstatic Laird said. "We've struggled so hard just to get out here, and to have this kind of success is un-imaginable. It really makes all the work worth it, and I couldn't be happier.
"It's not just another race, it's the U.S. Nationals, and to win my first race here is just awesome," he said.
Hernandez said, "We were really hoping to defend last year's title but Harold really gave us quite a race. I'm so proud of my team for getting Tommy Lipar Racing and Dr. Moon's RAGE to the finals for the third straight year at the U.S. Nationals."
Other notable events of the weekend were surprise DNQ's by No. 2 in BAE Championship points Raymond Commisso, along with series presenting sponsor Tim Tindle and his teammate Rick Stivers. Both cars struggled to get down the track in the tricky hot conditions. Also not qualifying were turbo-powered Mike Moran and Troy Coughlin.
Coughlin said, "We came into the race knowing we needed to increase our wheel speed down low and we accomplished that without question. We just need to control it now and we'll do that through chassis adjustments and utilizing different gear ratios.
"We're doing something, or trying to do something, that no one has ever done before, so every run is progress in my mind. We came here to get in the field and race for the trophy and we missed that goal. But, we did get to make some big runs down a track that is prepared to NHRA specifications for a national event. That's what it takes to get better," he said.
Next up on the schedule for the AMS Pro Mod Challenge presented by Tindle Enterprises, Inc. is the O'Reilly Fall Nationals Sept. 20-23 in Ennis, Texas, just outside of Dallas.

BAE Championship Points Standings (after 7 events)
1.  Josh Hernandez      3566
2.  Raymond Commisso    2053
3.  Jay Payne           1850
4.  Tony Pontieri       1547
5.  Tim Tindle          1432
6.  Troy Critchley      1356
7.  Steve Engel         1337
8.  Shelly Payne        1015
9.  Scott Ray            989
10. Mike Janis           850





NHRA: 10 Most Recent Entries [ top ]

Apr 19- HOUSTON - Friday Schedule
Apr 19- Tige Boats Named Presenting Sponsor of E3 Spark Plugs NHRA Pro Mod Drag Racing Series Portion of NHRA SpringNationals
Apr 19- HOUSTON - Previous Success, Early Win has Funny Car's Courtney Force Excited
Apr 18- Haney Headed for NHRA Pro Mod with Summit Racing on His Side
Apr 18- HOUSTON - Richie Crampton Enjoying Early-Season Success Heading to 31st Annual NHRA SpringNationals
Apr 18- 2018 Mustang Cobra Jet Celebrates 50th Anniversary of Racing Legend with Quickest
Apr 18- New Ford Mustang Funny Car Scheduled to Debut In 2019 NHRA Mello Yello Season Opener
Apr 16- HOUSTON - Fact Sheet
Apr 16- HOUSTON - After Early-Season Mishap Funny Car's Jonnie Lindberg Looks to Get On Track