Tue, 4 Sep 2007, 12:02 PM



Gardella Gains Precious Ground with Win at Indy Sport Compact Nationals



Courtesy of NHRA Communications


Photo copyright 2007 Auto Imagery, Inc.





CLERMONT, Ind. --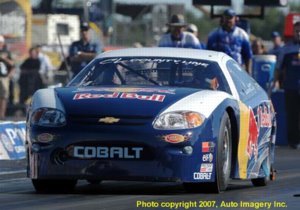 Gary Gardella
Gary Gardella gained valuable points by completing two of the three things he set out to accomplish by qualifying No. 1 and winning at the NHRA Sport Compact Nationals at the Mac Tools U.S. Nationals.
Joining Gardella in the winner's circle was Pro RWD driver Boris Rojas.
Gardella's win in his Red Bull Chevy Cobalt was his second in two weeks at O'Reilly Raceway Park at Indianapolis. He drove his car to the win in a time of 7.33 seconds at 197.50 mph to defeat Jason Hunt who finished with a time of 7.41 seconds at 200.02 mph. This was his first win at the event which is held in conjunction with the POWERade Series' Mac Tools U.S. Nationals. It is his eighth career victory. He also drove his car to the low time of the event at 7.15 seconds in qualifying, but was not able to back the time up for a record.
"It's really a dream come true," said Gardella. "Now I have everything I need in racing except a championship. I am working on that this season. I have narrowed the points down tremendously. The key is to get the No. 1 position because you get the bye run in the semifinals. I can't say how much the POWERade fans enjoyed the turbocharged car. They were cheering for me as I came up the return road. I think it was because of the Chevy and the FWD car."
Despite losing in the final round, Hunt gained valuable points by driving his Matco Chevy Cobalt to a national record time of 7.19 seconds.
Rojas drove his Mazda truck to the win by defeating Manny Cruz in the finals of Pro RWD. He won with a time of 7.80 seconds at 163.04 mph after Cruz had problems before half track and crossed the finish line in 10.75 seconds at 90.49 mph. This is his second win of the season.
"It's unreal that I've won here," said Rojas. "It's the greatest race, and a whole bunch of big names have raced here. Manny (Cruz) was the last guy I wanted to face because I've been racing with him a long time. We've become good friends. I want to thank God for the chance to race."
The Xplod Series drivers of the Pro RWD and Pro FWD categories next race at the NHRA Sport Compact Nationals at the O'Reilly NHRA Fall Nationals at the Texas Motorplex in Ennis, Tex., Sept.21-23. The next event with all professional categories is the NHRA Sport Compact Fallnationals at Old Bridge Township Raceway Park, Oct. 6-7.




NHRA: 10 Most Recent Entries [ top ]

Apr 21- HOUSTON - Top Fuel Harley Qualifying Notes, Final Session
Apr 21- HOUSTON - Funny Car Qualifying, Session #3 Order
Apr 21- HOUSTON - Pro Stock Qualifying, Session #3 Bonus Points
Apr 21- HOUSTON - Funny Car Qualifying, Session #3 Bonus Points
Apr 21- HOUSTON - Top Fuel Qualifying, Session #3 Bonus Points
Apr 21- HOUSTON - Pro Stock Qualifying, Session #2 Bonus Points
Apr 21- HOUSTON - Top Fuel Qualifying, Session #2 Bonus Points
Apr 21- HOUSTON - Funny Car Qualifying, Session #2 Bonus Points
Apr 21- HOUSTON - Funny Car Qualifying, Session #1 Bonus Points
Apr 21- HOUSTON - Pro Stock Qualifying, Session #1 Bonus Points