Mon, 3 Sep 2007, 08:48 PM



Reigning Top Fuel Champ Schumacher Opens Playoffs With Statement Win



Courtesy of NHRA Communications


Photo copyright 2007 Auto Imagery, Inc.





Mike Ashley, Dave Connolly and Craig Treble round out winner's circle



CLERMONT, Ind. --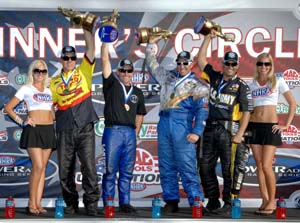 Professional Winners
L-R: Connolly, Treble, Ashley & Schumacher
Reigning POWERade Top Fuel champion Tony Schumacher surged into the NHRA playoff points lead Monday with his sixth Mac Tools U.S. Nationals victory in the last eight years.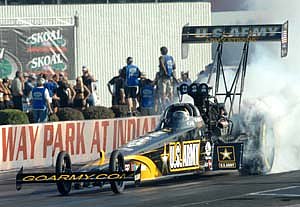 Tony Schumacher
Schumacher drove away from runner-up Larry Dixon to take the stripe with a 4.575 at 331.94 mph to earn a spot in the winner's circle with emotional Funny Car victor Mike Ashley, new Pro Stock points leader Dave Connolly, and stunned Pro Stock Motorcycle winner Craig Treble.
The three-time defending world champion is atop the points for the first time all season and with a 31-point lead over second-place Dixon and a 102-point cushion over fifth-place Bob Vandergriff -- the top four drivers after the four-race playoff will advance to the championship round -- he is in excellent position to move on to the two-race championship round at Las Vegas and Pomona.
"I guess we're a really good pressure team," Schumacher said. "The guys know they can rely on each other and it all comes together so well. Alan [Johnson, crew chief of the U.S. Army dragster] is fantastic. We ran 4.50s all day except for when it was just too hot there in the semis and we had to do what we needed to do to get down the track.
The win was Schumacher's 40th, tying him with Dixon for 10th place on the all-time NHRA POWERade Series wins list and second on the all-time Top Fuel wins list (Joe Amato, 52).
Running a special tribute body in memory of good friends Donnie and Holly Faulkner's baby son Eric Blake Faulkner, who was still-born, Ashley was the emotional favorite in the Funny Car final.
Mike Ashley
Fortunately for his supporters, which included the Faulkner family on the starting line, they didn't have to wait long to see who would win as Hight's Ford Mustang encountered trouble early in its run. Ashley might have been tough to beat anyway as he posted a 4.894 at 323.74 mph in his Torco Dodge Charger to Hight's coasting 8.072 at 104.08 mph.
"It was very, very emotional and I knew when I decided to do this tribute car that it would add a bunch of pressure to the day," Ashley said. "I just wouldn't allow myself to think about what it all meant too much. I just did the best I could all weekend for Donnie and Holly.
"This is the Super Bowl of drag racing. To win Indy is unreal but then you add to it the recognition we can bring to the Eric Blake Faulkner Foundation and it makes it stratospheric. This is a day I'll always remember and appreciate. I'm so proud of my team and the generosity of Evan Knoll and Jim Jannard and all our other sponsors to step aside for a race and let us banner this car. What a group I have behind me."
Hight did escape the day as the Countdown to Four points leader in Funny Car. He's now 21 markers ahead of Ashley, who jumped up to second place -- after starting the day in sixth place -- with his third career win.
The Pro Stock final was the closest of the day as Connolly overcame a slight .023- to .034-second starting line advantage by Anderson to take the biggest win of his career by .0088 seconds. Connolly had caught Anderson by the 60-foot timer and went on to post a 6.710 at 206.32 mph in his Torco Chevy Cobalt to Anderson's 6.729 at 205.79 mph in his Summit Racing Pontiac.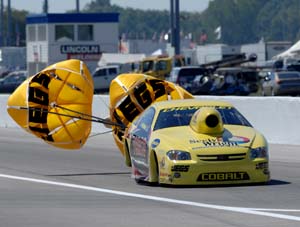 Dave Connolly
"I can never remember having a car that has the field covered by four hundredths of a second," Connolly said. "It's a real tribute to [team owner] Victor Cagnazzi and the organization he's put together. To win back-to-back races for the first time it seems like we're peaking at the perfect place in the schedule, especially with the Countdown starting. It's just an awesome feeling right now.
"I knew Greg had won 19 rounds in a row at this race going into the final but I still felt pretty confident. That team has been the class of Pro Stock for four years so it's remarkable to get in front of them for once. It really hasn't sunk in yet."
Anderson and Connolly entered the race first and second in the points with Anderson enjoying a slight 10-point edge. With his win and superior qualifying effort here, Connolly moved ahead of Anderson by 14 points.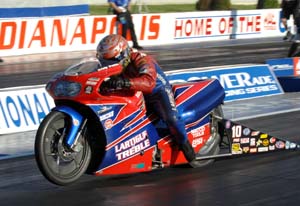 Craig Treble
He doesn't have a sponsor, but Pro Stock Motorcycle winner Treble does have his first U.S. Nationals trophy to go with a No. 2 ranking in the POWERade points. Treble survived final-round opponent Matt Smith's stout 6.977 at 189.63 mph in the final when Smith fouled out by -.003 seconds on his Buell V-Twin. Treble posted a game 7.037 at 190.83 mph to take the win.
"I'll take a win here however I can get it," Treble said. "I was lucky three outta four rounds today but all I know is that 20 years from now someone will look in the record books and say, 'Hey, Craig Treble won in 2007.' It's there forever now."
Smith can take some solace in the fact he pumped his lead in the Countdown to Four up to 51 points. Treble went from the bottom of the eight-car championship group to the No. 2 position with his win.
CLERMONT, Ind. -- Monday's final results from the 53rd annual Mac Tools U.S. Nationals at O'Reilly Raceway Park at Indianapolis. The race is the 18th of 23 in the NHRA POWERade Drag Racing Series:
Top Fuel -- Tony Schumacher, 4.575 seconds, 331.94 mph def. Larry Dixon, 4.748 seconds, 268.44 mph.
Funny Car -- Mike Ashley, Dodge Charger, 4.894, 323.74 def. Robert Hight, Ford Mustang, 8.072, 104.08.
Pro Stock -- Dave Connolly, Chevy Cobalt, 6.710, 206.32 def. Greg Anderson, Pontiac GTO, 6.729, 205.79.
Pro Stock Motorcycle -- Craig Treble, Suzuki, 7.037, 190.83 def. Matt Smith, Buell, foul.
Pro FWD -- Gary Gardella, Chevrolet Cobalt, 7.335, 197.59 def. Jason Hunt, Cobalt, 7.412, 200.02.
Pro RWD -- Boris Rojas, Mazda, 7.802, 163.04 def. Manny Cruz, Mercury Cougar, 10.755, 90.49.
Top Alcohol Dragster -- Marty Thacker, 5.390, 264.91 def. Dave Hirata, 5.442, 260.81.
Top Alcohol Funny Car -- Frank Manzo, Chevy Monte Carlo, 5.562, 263.15 def. Bob Tasca III, Ford Mustang, 5.779, 248.43.
Competition Eliminator -- Jason Coan, Ford Bantam, 8.357, 153.47 def. Scott Richardson, Chevy Roadster, 7.932, 162.59.
Super Stock -- Brandon Wilkinson, Chevy Corvette, 9.114, 131.11 def. Michael Mans, Pontiac Formula, 10.912, 118.77.
Stock Eliminator -- Peter Biondo, Chevy Camaro, 10.688, 114.72 def. Matt Welker, Camaro, 11.022, 109.76.
Super Comp -- Pat Fitzpatrick, Dragster, 8.901, 153.47 def. Ron Erks, Dragster, 8.892, 177.74.
Super Gas -- Andrew Thomas, Ford Roadster, 9.884, 149.63 def. Brian Forrester, Chevy Corvette, 9.871, 163.59.




NHRA: 10 Most Recent Entries [ top ]

Apr 24- CHARLOTTE 1 - Steve Torrence Enjoying Four-Wide Success Heading to NGK Spark Plugs NHRA Four-Wide Nationals
Apr 24- CHARLOTTE 1 - Fact Sheet
Apr 24- Kalitta Motorsports Welcomes NASCAR Stars to the SealMaster Track Walk in Charlotte
Apr 24- zMAX Dragway Celebrates 10th Anniversary
Apr 24- CHARLOTTE 1 - NGK Spark Plugs NHRA Four-Wide Nationals Brings 40,000 Horsepower Thrill Show to zMAX Dragway
Apr 23- HOUSTON - Lucas Oil Drag Racing Series Wrap Up The NHRA Lucas Oil Drag Racing Series Wrap Up
Apr 23- CHARLOTTE 1 - J.R. Todd Aiming for Two Four-Wide Racing Wins in 2018
Apr 23- Mid America Dragway Joins NHRA Member Track Network
Apr 23- HOUSTON - Special Awards
Apr 23- HOUSTON - Sunday Video