Sun, 2 Sep 2007, 08:08 PM



Qualifying Ends At 53rd Mac Tools U.S. Nationals With Shocking Results



Courtesy of NHRA Communications


Photo copyright 2007 Auto Imagery, Inc.





Force, WJ miss field; Naylor, Arend nail down first career No. 1 qualifiers



CLERMONT, Ind. --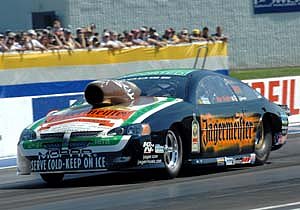 Max Naylor
Two first-timers outshined two of the biggest names in the sport as qualifying for the 53rd annual Mac Tools U.S. Nationals concluded Sunday evening in shocking style.
While Funny Car's Jeff Arend and Pro Stock's Max Naylor secured the first career low qualifying awards of their careers, the two winningest drivers in NHRA POWERade Series history, John Force (125 career wins) and Warren Johnson (96 wins), failed to qualify for this all-important event.
It's a tough way to start the six-race POWERade Series playoff for Force and Johnson, as well as Top Fuel contenders Whit Bazemore and J.R. Todd, who also failed to make the cut here. It was the first time since 1984 that Force has failed to start at the Mac Tools U.S. Nationals and for Warren Johnson it's the first time in 32 career trips to the Mac Tools U.S. Nationals that he has failed to qualify.
After securing his first career low qualifier award, Pro Stock racer Naylor made sure he enjoyed the moment, walking back from the top end of the racetrack so he could shake hands with the fans packed along the fence line. As it turned out, Naylor's first-round pass of 6.655 at 206.39 mph in his Jagermeister Dodge Stratus R/T was his best of the weekend. He failed to get down the track in Sunday's two attempts.
"I'm really enjoying this moment and I wanted to share it with the fans," Naylor said. "I was just telling them thanks for coming out and supporting us and the companies that support what we do, like Jagermeister, because that's what it's all about. We're all here for the same reason -- because we love drag racing, and to be here as the No. 1 qualifier with a track record is something very few people can say they've done."
Some real drama unfolded as the final elimination ladder took shape when it became apparent that half of the eight racers in the Countdown to Four will square off in Round 1. Victor Cagnazzi teammates Dave Connolly and Jeg Coughlin will face main rivals Jason Line and Greg Anderson from Ken Black Racing in what might become the most pivotal first-round of the season. Connolly has lane choice over Line, qualifying third with a 6.659 to Line's 14th-bst 6.694, while Coughlin holds a slim edge over Anderson, qualifying eighth with a 6.675 to Anderson's ninth-best 6.677.
Other Countdown to Four contenders were Allen Johnson in fourth place with a 6.661, Kurt Johnson in fifth with a 6.662, and Larry Morgan in seventh with a 6.669.
Warren Johnson failed to qualify his GM Performance Parts Pontiac GTO and the six-time world champion, who entered the playoffs as the No. 7 seed, will go to Memphis no better than eighth place.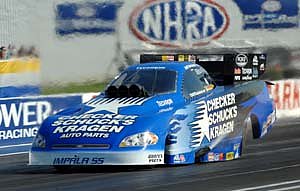 Jeff Arend
It took Checker Schuck's Kragen racer Arend 79 tries to earn his first Funny Car low qualifier but considering he got it done at Indy with a 4.754 at 327.51 mph it was probably worth the wait. He'll now try to earn his second NHRA trophy from the top spot, something only two other racers have managed to do this year in the class.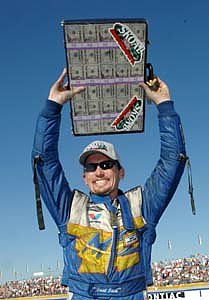 Jack Beckman
"To get the first one at Indy is special," Arend said. "Posting that number in Round 1 and having to sweat it out literally was tough but once we got to today and I saw the conditions I figured it would hold.
"It's still kind of unbelievable. I mean, I know I have a great team but when you think about the fact you've just qualified No. 1 at Indy it blows you away."
Ashley Force equaled her best qualifying effort by taking the No. 2 slot with a 4.754 at 309.70 mph in the Castrol Mustang.
Among the Countdown to Four participants, Robert Hight, Mike Ashley, Tony Pedregon, Gary Scelzi, and Jim Head also earned spots in the field. Hight was fourth with a 4.764, Ashley sixth with a 4.779, Pedregon eighth with a 4.786, Scelzi 10th with a 4.799, and Head 13th with a 4.804.
John Force has overcome a lot this year, coming from 20th to the No. 3 spot in the Countdown field. Now he faces the challenge of overcoming a DNQ at the first Countdown to Four event. He ended up 17th with a 4.856, just his third DNQ at the U.S. Nationals.
Meanwhile, in the Skoal Showdown, the $100,000 race-within-a-race bonus for Funny Car drivers, "Fast Jack" Beckman defeated Ron Capps in an all-Don Schumacher Racing final and the win-light went to Beckman by one-hundredth of a second, 4.950 to 4.976. Both Capps and Beckman, seeded first and fifth entering the playoffs, qualified safely into the field. Capps will open with Kenny Bernstein and Beckman opens against Scott Kalitta.
After what will long be remembered as one of the most eventful qualifying rounds in Mac Tools U.S. Nationals history, attention will now shift to the drivers who survived Indy's five rounds of qualifying, including Top Fuel leader Tony Schumacher and Pro Stock Motorcycle top qualifier Chip Ellis, who both have designs on the 2007 POWERade titles. The 16 drivers in each of the four POWERade Series classes who survived the turbulent three days of qualifying will race for the 2007 Mac Tools U.S. Nationals trophies beginning at 11 a.m. Monday at O'Reilly Raceway Park.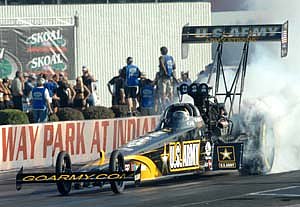 Tony Schumacher
With five wins at this race in the last seven years, Schumacher and his U.S. Army team led by tuner Alan Johnson were probably the favorite to win Top Fuel before qualifying began and the tandem added to his U.S. Nationals mystique with his eighth low qualifying effort of the season, which came off a 4.477 at 333.66 mph.
"It's gonna be hot out there tomorrow but I really feel great about our chances," Schumacher said. "You know, everything happens for a reason. We lost in the first round at Reading and were able to load up and come over here to test for three straight days on this track, and it was really hot then also. Then they re-do the points and I gain 200 back on [Rod] Fuller. Talk about falling in a pile of manure and coming out smelling like a rose!"
The rest of the ladder stayed pretty much intact from Saturday. Countdown to Four participants Larry Dixon and Bob Vandergriff Jr. did the best job of staying close to Schumacher. Dixon was second in the SkyTel rail with a 4.481, while Vandergriff was third with a 4.513.
Points leader "Hot Rod" Fuller qualified his Caterpillar dragster sixth with a 4.524, which sets up a first-round date with final Countdown qualifier Doug Herbert, who qualified 11th with a 4.561. Herbert is coming off a win at the last event in Reading, Pa., in his Snap-on Tools dragster.
Back from a one-race hiatus brought on by kidney stones, Brandon Bernstein qualified 12th with a 4.568 in the Budweiser dragster.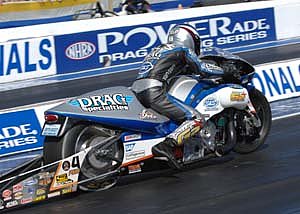 Chip Ellis
Ellis had to fight to keep the top spot after surging veteran Hector Arana shocked the field with a 6.954 at 190.83 mph on his Lucas Motorcycle Oil S&S Buell V-Twin to take control of the No. 1 position after Sunday's first session. But Ellis responded beautifully in the hotter final session by lowering the ORP record once again, this time to a stunning 6.948 at 192.00 mph on the Drag Specialties Buell. Arana ended up second.
"I was happy for Hector because he's a customer of S&S Cycles and I built his bike myself," Ellis said. "I was the first one to ever test it and it went 7.01 the first time ever down the track so I know it's a great bike. But we looked at the data from our first run today and saw that the bike had shut off twice for a total of three-tenths of a second so we would have run a 6.91 or a 6.92 that round. We knew we had a chance to get the pole back."
Andrew Hines, who won the Ringers Gloves Pro Bike Battle Saturday, will try to "double-up" from the No. 3 slot after a best of 6.968 at 191.40 mph on his Screamin' Eagle Harley-Davidson V-Rod. POWERade points leader Matt Smith is right behind on his Torco Buell, running a best of 6.977.
Other Countdown to Four racers include Craig Treble (sixth, 6.978), Peggy Llewellyn (eighth, 7.011), Karen Stoffer (10th, 7.018), Angelle Sampey (12th, 7.048), and Eddie Krawiec (14th, 7.069).




NHRA: 10 Most Recent Entries [ top ]

Mar 19- GAINESVILLE - Sunday Video
Mar 18- GAINESVILLE - Pro Mod Sunday Wrap Up
Mar 18- GAINESVILLE - Sunday Wrap Up
Mar 18- GAINESVILLE - Pro Mod Championship Points
Mar 18- GAINESVILLE - Bonus Points
Mar 18- GAINESVILLE - Championship Points
Mar 18- GAINESVILLE - Mickey Thompson Top Fuel Harley Series Championship Points
Mar 18- GAINESVILLE - Bonus Points
Mar 18- GAINESVILLE - Summary of Eliminations in Top Fuel
Mar 18- GAINESVILLE - Summary of Eliminations in Funny Car