Sun, 2 Sep 2007, 11:26 AM



Notes from Jim Luikens' Reporter's Notebook at the 53rd Annual Mac Tools U.S. Nationals



by Jim Luikens


Photo copyright 2007 Auto Imagery, Inc.





Part One



CLERMONT, Ind. --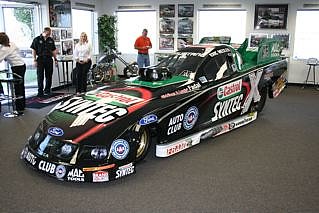 Eric Medlen Tribute Room
Notes from Jim Luikens' Reporter's Notebook at the 53rd Annual Mac Tools U.S. Nationals
As has been the case the last few years at the U.S. Nationals the early days of the event include a great number of new car, sponsor and team announcements. This year has proven to be no exception. The off-track events began on Thursday when John Force Racing held a press conference at their facility in nearby Brownsburg, Indiana. The thrust of the event was to introduce The Eric Medlen Project, a safety initiative of JFR that is housed in a brand new 48,000 square foot building that is adjacent to JFR's midwest base. John has dedicated himself, his team and his funds to developing the Funny Car of the Future. Any safety advances that are developed at the facility will be available to other teams.
In conjunction with their announcement, JFR debuted an Eric Medlen tribute room in their main building. The room is extremely well done and features a collection of helmets that Eric wore over the years, as well as a framed fire suit, fire boots and driving glove of his. Equally interesting are number of framed photos, including one of Eric racing John that has nearly been covered over by hundreds of autographs. Running around the room near the top of each wall is a collection of plaques that document Eric's wins, the event and his opponent. NHRA National Event trophies donated to the memory of Eric from Ron Capps, JR Todd and John Force are also displayed. A Castrol Syntec Funny Car dominates the center of the room and a special collection of memorabilia from Eric's championship rodeo days in one corner rounds out the tribute room.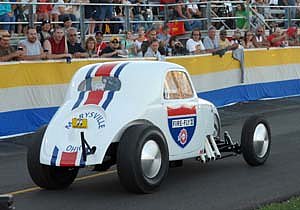 Bob Daniels' Fire Fly II
Once again a highlight of Friday's track activities was the Mopar Hemi Challenge. No less than 30 of the SS/AH Hemi Barracudas and Darts ventured to Indy for this year's event, although a few broke during qualifying and were not able to answer the call for the first round. In the past the event has been dominated by regional hemi engine builders
Ray Barton
(east),
Charlie Westcott, Jr.
(midwest) and
Harry Holton
(west). This year the Harry Holton and
Michael Ogburn
cars were not present so another west coast hemi builder stepped into the void. Long time hemi specialist
Joe Allread
returned with a vengeance as he provided the power for
Rick Houser
in
Jim DeFrank
's Barracuda. Rick recorded three 8.68 second elapsed times, as well as an 8.70, on his way to the class final.
Jim Pancake
(in a new Dart instead of his usual Barracuda) was Rick's opposition but Jim's 8.70 was eclipsed by Houser's 8.65, the low elapsed time of the event. Hemi loyalists
Don Grotheer
and
Herb McCandless
provided the color commentary from the announcing deck for this event and it was great to hear them compare today's racing with racing in their era.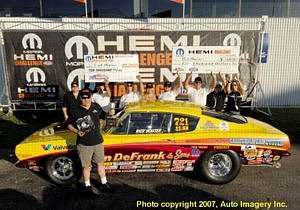 Rick Houser
A few interesting comments were heard during the press conference to introduce the eight drivers competing in the 25th anniversary Skoal Showdown. According to Skoal, 49 different drivers have qualified for the 24 previous events with 24 of them making it to the final round. Fourteen different drivers have combined to win the 24 previous events with six winning it more than once and four doubling up by winning the nationals title the next day.
Frank Pedregon is the only driver to win it in his only appearance and just one driver has qualified for all 24 previous showdowns. For any of you that guessed someone beside John Force as that driver, welcome to the sport of drag racing.
Mike Ashley has said previously that he has a strategic plan to build a world-class racing operation. On Friday he announced the next step in his plan. Melanie Troxel is going to drive a second funny car next year for the Ashley team. Mike stated that he wanted someone who would mesh well with the culture of his team and that Melanie was that person. For her part, Melanie said she considered the offer carefully, especially since her husband competes in the same class, before accepting the position. Mike added that he is currently interviewing crew chiefs for the new team and that his own funny car will run the entire tour next year, even if business commitments keep him from driving it at all 24 events.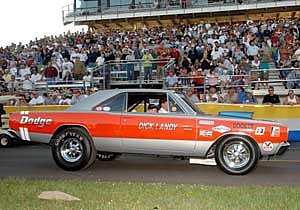 Dick Landy's '68 Dart
That's right, I said 24 events. For the first time since 2000 NHRA is going to add a new event. Unfortunately, the announcement stopped short of saying where the event would be held. It did say that the event, to be named later, would be held the weekend of September 11-14, 2008. While I certainly don't have any inside information if I was a betting man I would bet on an eastern seaboard location.
Renowned heavy equipment manufacturer Caterpillar announced that they are joining David Powers Motorsports for a minimum of two years beginning in 2008 with an option for another two years after that. Interestingly, they are not joining the NHRA to try and sell more Caterpillar equipment but to recruit more techs. They see the NHRA as a technician-rich environment and they have tech jobs to fill. Rod Fuller, who leads the T/F points going into the Countdown to Four and has been working without a net (sponsorship) this year, is very pleased to have the new agreement signed.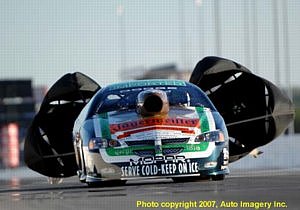 Max Naylor
Max Naylor
shocked nearly everyone in the house Friday night when he qualified number one in Pro Stock. The fact that he set a track record in the process only made it sweeter for Max, who was coming in from a giant test session earlier in the week at Martin, Michigan, where he felt he had found something. The fact that Max is the only Pro Stocker on
Hoosier Tires
made it all the more improbable. A very humble Max was thrilled by his accomplishment and said that he was going to frame Friday's final qualifying sheet because for one day he and his team were number one at Indy. When he stayed number one after the first qualifying session on Saturday he impressed his final few nonbelievers.
Finally, both Bob Daniels and Dick Landy were honored during pre-race festivities Friday night. Bob, a former NHRA Division Director and IRP General Manager, passed away earlier this year. In his honor, car builder Mike Spitzer has recreated Bob's Fire Fly II, a B/Comp 1939 Fiat Topolino that debuted at the 1959 Nationals in Detroit. Dick Landy, who like Bob died earlier this year, was honored by having two of his most famous race cars, a 1968 SS/B Dodge Hemi-Dart and a 1970 Dodge Challenger, driven slowly down the return road after a moving eulogy.




NHRA: 10 Most Recent Entries [ top ]

Mar 19- GAINESVILLE - Sunday Video
Mar 18- GAINESVILLE - Pro Mod Sunday Wrap Up
Mar 18- GAINESVILLE - Sunday Wrap Up
Mar 18- GAINESVILLE - Pro Mod Championship Points
Mar 18- GAINESVILLE - Bonus Points
Mar 18- GAINESVILLE - Championship Points
Mar 18- GAINESVILLE - Mickey Thompson Top Fuel Harley Series Championship Points
Mar 18- GAINESVILLE - Bonus Points
Mar 18- GAINESVILLE - Summary of Eliminations in Top Fuel
Mar 18- GAINESVILLE - Summary of Eliminations in Funny Car