Sat, 1 Sep 2007, 10:50 PM



Force On The Outside Looking In



Courtesy of NHRA Communications


Photo copyright 2007 Auto Imagery, Inc.





Todd, Bazemore also need to race ways into field on Sunday



CLERMONT, Ind. --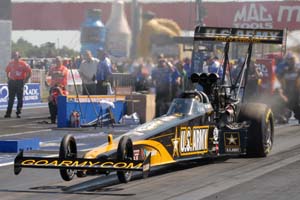 Tony Schumacher
After marching all the way from 20th place to third to secure his playoff berth, NHRA icon John Force is on the verge of putting himself back in a hole.
With two rounds of qualifying remaining on Sunday at the 53rd annual Mac Tools U.S. Nationals, the first leg of the six-race POWERade Series playoff, Force needs to run at least a 4.826 in the Castrol Syntec Ford Mustang tribute car or risk a DNQ that could be a devastating blow to his hopes of winning a second straight and 15th career world championship.
J.R. Todd and Whit Bazemore, the Nos. 5 and 7 seeds in Top Fuel, respectively, are also currently unqualified and needing at least a 4.595 to get in the field for Monday's race.
All four of Friday's provisional No. 1 qualifiers -- Tony Schumacher, Jeff Arend, Max Naylor, and Chip Ellis -- remained in control of their respective categories at the sport's longest-running event. Saturday's increased heat kept elapsed times and top speeds relatively in check. For Naylor and Arend, the No. 1 qualifier would be the first of their respective careers.
Schumacher didn't go any quicker than Friday's Round 1 pass of 4.477 at 333.66 mph in his U.S. Army dragster, but he was quickest of Round 3 with a 4.494 at 330.23 mph and second quickest of Round 2 with a 4.598 at 318.92 mph to show he has the car to beat this weekend.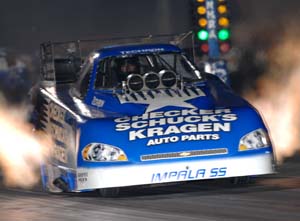 Jeff Arend
"It's great to qualify No. 1, 'Yeah' for getting the points and all that, but I'm way more impressed with the run we made today when it was 90 degrees outside because that's how it's gonna be on Monday," Schumacher said. "That run meant more to this team than the 4.47 did." The pride of nearby Avon, Ind., Larry Dixon remained second on the qualifying sheets with a 4.481 at 327.74 mph in his SkyTel dragster. Bob Vandergriff, who was quickest of Round 2 with a 4.596 in his UPS rail, is third on the ladder with a best of 4.513 at 329.91 mph.
The smile on Arend's face seems impossible to remove as he took another big step toward his first Funny Car pole. If anyone was going to unseat the driver of the CSK Chevy from the top slot it most likely would have happened Saturday evening when the Funny Cars ran last, but no one beat Arend's 4.754 at 327.51 mph from Friday.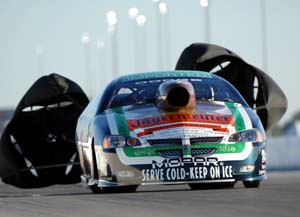 Max Naylor
"I was pretty surprised it held up until I saw some of the big teams running right in front of us and they were topping out at 4.79, 4.80," Arend said. "That just told me the conditions and the track weren't quite there today. I wasn't complaining; believe me, I'm happy to stay No. 1."
Ashley Force kept her No. 2 position with a 4.754 at 309.70 mph in her Castrol/Auto Club Ford Mustang. Jack Beckman was the big mover of the day in his Mail Terminal Services Dodge Charger R/T, jumping up to third place with an impressive 4.759 at 325.85 mph.
Naylor proved Friday night's run of 6.655 at 206.39 mph in his Dodge Stratus R/T wasn't a fluke, backing it up with Saturday's first-session best pass of 6.659. It wasn't enough to lower his previous mark but he remained on top anyway in his Jagermeister Dodge Stratus.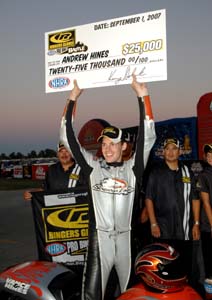 Andrew Hines
"They've done a real good job with the track," Naylor said. "We were back in the left lane for the first round today and ran another 6.65 so that was great. As competitive as this class is these days; if you're in the field you can win the race. We haven't had the best of luck on race day this year but maybe this is turning into our weekend. Maybe we're due."
Greg Anderson got a little bit better Saturday as he moved into the 16-car field with an eighth-best 6.677 at 207.24 mph in his Summit Racing Pontiac GTO. Teammate Jason Line is 12th overall with a 6.694.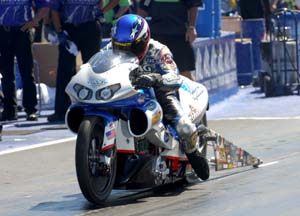 Chip Ellis
Ellis' opening pass of 6.970 was mostly unchallenged in Saturday's heat so the S&S Buell V-Twin rider maintained his top ranking in Pro Stock Motorcycle for another day. His mood was tempered somewhat, however, by his loss in the final of Saturday's 17th annual Ringers Gloves $25,000 Pro Bike Battle, which went to Andrew Hines.
"I thought I made a pretty good run in the final of the Ringers deal but it just wasn't enough," Ellis said. "This is still a good payday and I know there are six other riders who would gladly trade places with me. We've got a good bike and we've made some good runs so I know we'll be in good shape for Monday."
Hines made the biggest charge at Ellis on the qualifying sheet, coming from out of contention to the No. 2 slot with a 7.007 at 189.18 mph on his Screamin' Eagle Harley-Davidson V-Rod. Hines also won $25,000 in the Ringers Gloves Pro Bike Battle late Saturday evening and stands to make an additional $10,000 from NHRA should he "double-up" and win the event Monday.




NHRA: 10 Most Recent Entries [ top ]

Apr 22- HOUSTON - Pro Stock Round 3 Eliminations
Apr 22- HOUSTON - Funny Car Round 3 Eliminations
Apr 22- HOUSTON - Top Fuel Round 3 Eliminations
Apr 22- HOUSTON - Top Fuel Harley Round 2 Eliminations
Apr 22- HOUSTON - Super Stock Round 5 Eliminations
Apr 22- HOUSTON - Super Gas Round 5 Eliminations
Apr 22- HOUSTON - Super Comp Round 5 Eliminations
Apr 22- HOUSTON - Stock Eliminator Round 5 Eliminations
Apr 22- HOUSTON - Pro Modified Round 2 Eliminations
Apr 22- HOUSTON - Pro Stock Round 2 Eliminations