Sat, 1 Sep 2007, 04:16 PM



Forrest and Charlotte Lucas Honored with Indianapolis Colts Super Bowl Rings



Courtesy of Jay Wells



INDIANAPOLIS --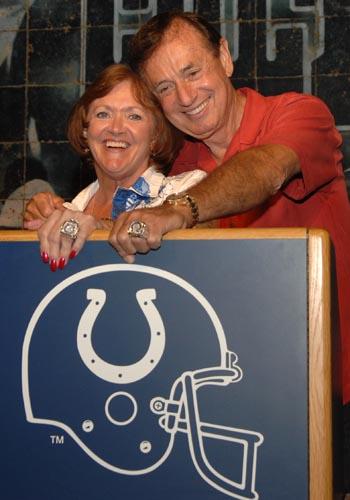 Charlotte and Forrest Lucas
Although as car owners, president and CEO of Lucas Oil Products, Forrest Lucas and Executive vice-president and wife, Charlotte may not have a dragster in the NHRA POWERade Countdown to the Championship, but together they still celebrated a world championship Thursday night.
At the Lucas Oil reception held at the NFL's Indianapolis Colts compound, a distinguished tribute was bestowed upon them by Tom Zupancic, Senior vice-president of Sales and Marketing of the Colts organization, as they were presented with team Super Bowl rings as part of the continued celebration of their victory over the Chicago Bears at Super Bowl XLI in Miami back in February. To say the Lucas' were delighted would be an understatement.
"It's so much better than that," said an ecstatic Lucas, who was almost speechless after the presentation. "Who in the world has a Super Bowl ring? The Colts have been very generous with us since we've entered into our business relationship with them. They have been good to us, but to do something like that is just extremely special. We are just very, very honored.
"Of course, I didn't get to see most of the people at the party last night because everyone wanted to see my ring. It was just one of those rare honors for Charlotte and me. Last week I had the opportunity to take a ride with the Navy's Blue Angels and boy, you would think that would be the biggest thing that could happened to us this year. Then to get the Super Bowl rings right on top of that. The only thing that would make it even better would be if Morgan won Indy this weekend. That would really cap it off."
The relationship of title-rights sponsorship between Lucas Oil Products and the defending Super Bowl champions maintains to be one of the strongest in sports marketing circles and in the fall of 2008 will debut the luxurious Lucas Oil Stadium to kick off the Colts football season.
"Before we entered into our 22-year deal with the Colts, we had to step back and view it as getting married to somebody. We really had to look at each other closely to see from their standpoint did the Colts want us. Looking at it from a different viewpoint did we want to be with them the rest of my life and whoever takes over the company will have to deal with them for a while. They like to run their company, as we like to run ours, with a lot of integrity. They did a special favor for me and they know it. It will come back to them."
The Lucas' consider Indiana home and with strong roots of their heritage in the Hoosier state have established a major facility in Corydon with worldwide distribution all of their Lucas Oil Products, which includes its major seller, Lucas Oil Stabilizer.




NHRA: 10 Most Recent Entries [ top ]

Apr 24- CHARLOTTE 1 - Steve Torrence Enjoying Four-Wide Success Heading to NGK Spark Plugs NHRA Four-Wide Nationals
Apr 24- CHARLOTTE 1 - Fact Sheet
Apr 24- Kalitta Motorsports Welcomes NASCAR Stars to the SealMaster Track Walk in Charlotte
Apr 24- zMAX Dragway Celebrates 10th Anniversary
Apr 24- CHARLOTTE 1 - NGK Spark Plugs NHRA Four-Wide Nationals Brings 40,000 Horsepower Thrill Show to zMAX Dragway
Apr 23- HOUSTON - Lucas Oil Drag Racing Series Wrap Up The NHRA Lucas Oil Drag Racing Series Wrap Up
Apr 23- CHARLOTTE 1 - J.R. Todd Aiming for Two Four-Wide Racing Wins in 2018
Apr 23- Mid America Dragway Joins NHRA Member Track Network
Apr 23- HOUSTON - Special Awards
Apr 23- HOUSTON - Sunday Video