Sat, 1 Sep 2007, 02:38 PM



Troxel to Drive Second Knoll-sponsored Funny Car in 2008 for Mike Ashley's Gotham City



Courtesy of Matthew Brammer


Photo copyright 2007 NHRA





CLERMONT, Ind. --
Racing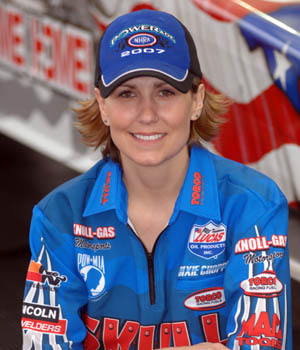 Melanie Troxel
Move over Ashley - there's a new girl on the block. Beginning 2008, Melanie Troxel will drive a second Funny Car in Mike Ashley's Gotham City Racing stable, wholly sponsored by Evan Knoll and his group of companies.
"We've got a really good program here, and after talking with my sponsor, Evan Knoll, we decided to add another car," said Mike Ashley, team owner and driver. "Melanie had expressed an interest in driving Funny Car, and after talking about it, we decided to bring her over," he said.
Troxel, who currently drives a Top Fuel Dragster sponsored by Evan Knoll and fielded by Morgan Lucas Racing, has already started cross over licensing runs in Mike Ashley's Torco Racing Fuels Dodge Charger R/T, and hopes to complete her licensing soon.
Troxel said, "I went just about to half-track in testing last week, and it felt really good. I wanted to be sure that the things I remembered from my Alcohol Funny Car days were still the same, and the feeling was still the same.
"I've always had interest in Funny Cars," she explained. "I grew up around dragsters, so I knew dragsters. The first opportunity I had to drive a short wheel base car in Competition Eliminator, though, I noticed a difference in the way the car handled and the way you got feedback from the car, and I liked it. That's what originally struck my interest in Funny Cars."
Ashley said Troxel will continue to test in his Funny Car and will work toward getting her license by the end of the year.
"I have all the confidence in the world in Melanie's driving ability, and I think she'll be a tremendous asset to our team. It really is more like a family, though, and we're excited to have her as a part of this Gotham City Racing team.
The crew chief for the additional car is yet to be named, and according to Ashley, interest in the position is high.
"We're interviewing crew chiefs right now, and there has really been a tremendous interest. Anyone who wants to join our team will have to fit a profile, because we pride ourselves for having a great, positive work environment. We have to maintain the positive, powerful environment we've built, and we want to protect that.
"I can say that Brian Corradi will be the overchief of the cars, managing both teams while helping to make the tuning calls on my car," Ashley added.
Melanie added, "I'm really looking forward to the challenge of driving a Funny car and being a part of what Mike and Evan have put together."




NHRA: 10 Most Recent Entries [ top ]

Apr 18- Haney Headed for NHRA Pro Mod with Summit Racing on His Side
Apr 18- HOUSTON - Richie Crampton Enjoying Early-Season Success Heading to 31st Annual NHRA SpringNationals
Apr 18- 2018 Mustang Cobra Jet Celebrates 50th Anniversary of Racing Legend with Quickest
Apr 18- New Ford Mustang Funny Car Scheduled to Debut In 2019 NHRA Mello Yello Season Opener
Apr 16- HOUSTON - Fact Sheet
Apr 16- HOUSTON - After Early-Season Mishap Funny Car's Jonnie Lindberg Looks to Get On Track