Wed, 10 Dec 2003, 07:45 PM



The Announcements Should Come Real Soon



By Bob Frey
Photo by:



Scott Weis
I know that you've heard this before, but a couple of big sponsor announcements, driver announcements and driver changes should be coming any day now. Having said that, I have to admit to having no knowledge about who will drive
John Force's
second car, although I will stand by my statement that
Gary Densham
will return and drive the third car and that if John gets the dragster deal that is out there
Gary Ormsby, Jr.
will get that gig. Other than that, who knows? And even though he was seen at the John Force open house this past weekend, I can tell you that
Gary Scelzi
will NOT be the driver of John's car. Wow, that's a lot of "Gary news" in one paragraph, isn't it? I can also tell you that the long-awaited announcement by
Jerry Toliver
will happen, but maybe not before the first of the year, but make no mistake about it, the deal is done…signed, sealed and delivered, they're just working on a few more additions to the program that will perk it up for everyone. Jerry has guys working at the shop, cars and trucks on order and he's moving full speed ahead to have his operation top notch by the time the Winternationals roll around….Another new look Funny Car will debut at Pomona and it will be campaigned by a former TF racer from Texas. Look for the team to have really wild uniform shirts and have parrots on the side of the car. That's all I can say for right now….The folks at the
Scott Weis
team have told me to look for them at Pomona when the 2004 season starts. With
Race Girl
still on board, but to a slightly different degree, the Virginia team may have a new look when the season begins, but they will be there at the Winternationals. Speaking of the Weis family and Pomona,
did you know
that
Dan Weis
was in the B/D finals at the 1961 Winternationals and that he was also the national record holder in the class? Talk about a great family tradition….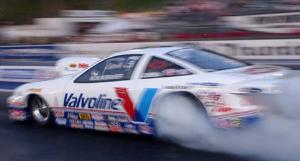 Ron Krisher
Pro Stock is getting a lot of attention lately so let's put some of these rumors to rest. First of all, as I mentioned two weeks ago,
Ron Krisher
will be racing next year. There have been a few personnel moves around his shop and some additions to his team, most notably the addition of
Rich Purdy
to his operation. Rich, one of the most versatile guys in the sport, should be a nice addition to the team and will be a big help when Ron tests his new car in Florida next week. Ron has re-signed with both
General Motors
and
Valvoline
and is determined to hit the ground running next year. "This wasn't the kind of year I'm used to," he told me earlier today, "and I intend to come to the track with more power next year and win some races."…
Hurley Blakeney
is actively looking for some sponsors for his Ford car and I've got to tell you that I think that's a great opportunity for some company. Let's face it, how many really competitive Fords are there out there these days? The number is about one, and Hurley has it. Let's hope things work out for him. Of course it would also be good to see the
Robert Patrick
Ford team return to the scene full time next year, too. When they were regulars, they were very competitive and that's a good family to have in the sport…..Bart Price, who fielded the car that qualified number one at the Winternationals earlier this year, apparently has called it quits.
Greg Stanfield
, who drove for Bart last year, is with
JR Carr
as they prepare for a full assault on the tour next year. Don't know just yet if Greg will drive in addition to JR, but either way, they should be very competitive and they'll do it in a General Motors car…..As we speak,
Rickie Smith
with the
Richard Maskin
car,
Bill "Grumpy" Jenkins
and the
"Bullet"
car with
David Connolly
and
Rick Jones
with his new IHRA Pro Stock car are all testing in Bradenton and the Maskin car has been the running very well with the new bead lock tire / wheel combo. This just in…
Greg Anderson
just pulled in to the track and now everyone should have something by which to gauge their progress. The aforementioned Ron Krisher should be there any time now.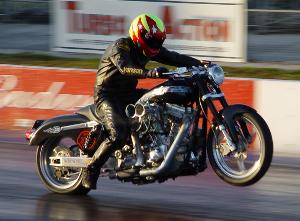 Bryce testing the S&S powered Street Pro Harley.
The Pro Stock Bike class has also been the subject of a lot of speculation lately, so let's see if I can clear up some of the rumors. First, it's no secret that
Fred Collis
has left Star Racing and I can tell you that both parties' plans for next year are up in the air. Fred, one of the truly gifted riders out there, should land a gig with some team, while
George Bryce
and the Star gang are "looking at several options" right now. Among them are the Harley-Davidson (Buell) project that George has been working on with S & S for a while. In fact, he did test the bike a couple of days ago in Florida where he also gave a pretty good workout to a really neat "street" bike, well, almost a street bike. With a big motor and no wheelie bars George made a couple of nine second passes to show that he still has what it takes to ride on of these things. I can tell you that the rumors about George reuniting with
Angelle Savoie
over at the
Army
pit area are unfounded. It just won't happen. Having said that, if Star Racing returns with their Suzuki program to NHRA racing, the rider may have a familiar look…..that's all I can say…..
GT Tonglet
and
Andrew Hines
will be the riders and the
Vance & Hines
team bikes for next year although don't be surprised if Matt is back riding, too….By the way, since we're talking about the bikes, I understand that
Reggie Showers
gave a pretty emotional talk to a group of grade school children last week. From what I heard, Reggie had the kids captivated with stories about his racing, his handicap and how he overcame it.. "Now that I've won a race (or two) I have a real story to tell," Reggie said. And indeed he does. If he puts as much effort into his talks as he did into his racing, Reggie could (and should) have a very lucrative time of it as a speaker next year.
Our loss on the NHRA tour will surely be someone else's gain and we wish Reggie nothing but the best in his endeavors next season. Of course, from a selfish point of view, I hope he's back out racing with us again real soon.
Nice to see the official announcement that Todd Veney and his dad, Ken, are teaming up for a run at the alcohol funny car class next year. Anyone who doesn't believe that they will be a real factor right from the start must be new to the sport. Ken Veney is one of the absolute best at building cars and making horsepower and I wouldn't want to be the guy who lines up against them next year…..Mitch Myers, the driver of the "Epha" team alcohol dragster from Oregon, has hired Steve Boggs for next year and that automatically makes him even more competitive than he was. With Steve Federlin and Jack O'Bannon teaming up, and with Mitch bringing Steve on board, the alky dragster class out west will be brutal.




NHRA: 10 Most Recent Entries [ top ]

Jun 21- NORWALK - Top Dragster presented by RacingRVs.com Qualifying, Session #2 Order
Jun 21- NORWALK - Competition Eliminator Qualifying Notes, Session #1
Jun 21- NORWALK - Stock Eliminator Round 1 Winners
Jun 21- NORWALK - Super Stock Eliminations Ladder
Jun 21- NORWALK - Super Stock Final Qualifying, Session #2 Order
Jun 21- NORWALK - Stock Eliminator Round 1 Eliminations
Jun 21- NORWALK - Top Sportsman presented by RacingRVs.com Qualifying, Session #1 Order
Jun 21- NORWALK - Stock Eliminator Eliminations Ladder
Jun 21- NORWALK - Stock Eliminator Final Qualifying, Session #2 Order (Revised)
Jun 21- NORWALK - Top Dragster presented by RacingRVs.com Qualifying, Session #1 Order