Thu, 11 Dec 2003, 11:15 AM



Ron Capps Gets Ride in Annual Chili Bowl Midget Championships



Courtesy of Joe Sherk



CARLSBAD, Calif. --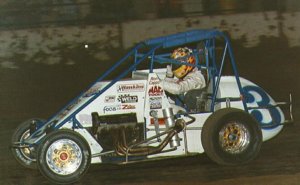 Ron Capps With His Elbows Up
Ron Capps' first visit to the Chili Bowl merely whetted his appetite, so he's happy to be returning for a second helping.
Capps, the versatile Funny Car drag racer who had the opportunity to test International Race of Champions (IROC) cars with drivers from NASCAR and Indy Car series on several large oval tracks this year, also competed in a special celebrity race at the Chili Bowl Midget Nationals in January.
Now he has the chance to drive in the actual race, thanks to an invitation from Danny Lasoski, one of the top World of Outlaws drivers. Lasoski has entered three Jerry Russell-built Eagle Midgets for the 2004 18th annual O'Reilly's Chili Bowl, Jan. 7-10 at Tulsa, Okla. Capps and NASCAR driver Ken Schrader will be driving Lasoski's other two cars.
"I am excited," said Capps. "I really enjoyed the celebrity race, but to be invited to drive a USAC Midget and to be teammates with Lasoski and Schrader in one of the most prestigious Midget races in the world is very exciting.
"I'm very grateful to Don Prudhomme because he's given me his blessing to do things like race in the Chili Bowl and test-drive the IROC cars," added Capps. "While I enjoy the variety of driving Midgets and stock cars, I grew up wanting to drive a Funny Car, and that's what I plan to do for a long time."
The 140-driver entry list includes some of the top names in open-wheel racing - Tony Stewart, a former Midget series champion who won the 2002 NASCAR championship; P.J. Jones, son of former Indy Car driver Parnelli Jones; J.J. Yeley, just the second driver to win USAC Triple Crown open wheel titles (Stewart was the first); and Kasey Kahne, a Sprint and Midget driver who followed Stewart into NASCAR and was recently named to drive for Ray Evernham in the 2004 Nextel Cup series.
While Capps is familiar with the Chili Bowl's quarter-mile distance, it differs from drag racing because it's an oval . . . a dirt oval.
"I've tested Midgets and SCRA Sprint cars, trying to get seat time before I go to Tulsa for the Chili Bowl," said Capps.
That event will be his first competitive event of the year. He'll feel more at home on the quarter-mile asphalt tracks when the NHRA's 2004 campaign begins Feb. 19-22 at Pomona, Calif.
Ron Capps gained Midget experience last year at the Chili Bowl




NHRA: 10 Most Recent Entries [ top ]

Jun 20- NORWALK - Event Preview
Jun 20- NORWALK - Tim Wilkerson Knows Summit Racing Equipment NHRA Nationals Ideal Place for Turnaround
Jun 20- NORWALK - Thursday Schedule
Jun 20- Summit Racing Equipment Continues Sponsorship of NHRA Summit Racing Jr. Drag Racing League
Jun 20- NHRA Summit National Championship Drawing To Be Held In Norwalk
Jun 19- NORWALK - Steve Torrence Hopes to Go Back-to-Back at Summit Racing Equipment NHRA Nationals
Jun 19- NORWALK - Fact Sheet
Jun 19- BRISTOL - Mickey Thompson Top Fuel Harley Series Championship Points
Jun 18- Farewell to the Mongoose Part III
Jun 18- BRISTOL - Lucas Oil Drag Racing Series Wrap Up