Thu, 11 Dec 2003, 12:25 PM



Herbert Chooses Ed McCulloch to Tune His Snap-on Racing Top Fuel Dragster



Courtesy of Joe Sherk



CHERRYVILLE, N.C. --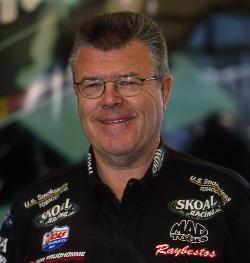 Ed "Ace" McCulloch
Doug Herbert took what he believes is the final step to improving the performance of his Snap-on Top Fuel dragster on Monday, hiring Ed "Ace" McCulloch as team manager/tuner.
McCulloch, a former Top Fuel and Funny Car driver, will be returning to Top Fuel after tuning Funny Cars for almost four years.
"It's certainly a very welcome change for me to go from Funny Cars to dragsters," said McCulloch, "and I am really excited to be going to a single-car team. It will be good to focus on just one car."
McCulloch, from Indianapolis, worked with Don Prudhomme's Funny Car team from 2000 to mid-2003, the last two-plus years with a two-car team.
Herbert began the 2003 NHRA season thinking he had an opportunity to finish in the top five. But the team experienced a variety of mechanical misfortunes and the Cherryville driver slipped from seventh to ninth in points.
"We are pleased to have McCulloch on our team," Herbert said. "I have always had the utmost respect for him as a driver and tuner. We both have the same goals - winning races and championships - and he is a great addition to our team. We believe he can take us to where we want to go, which is up in the standings."
Herbert added that Ron Douglas will remain as crew chief and Jim Brissette returns as the team consultant.
"I know everybody wants instant success whenever someone new comes on board," McCulloch said. "But Doug and I agree that one of the most important things we must do is concentrate on winning rounds. When you win rounds, then you win races, and when you win races, then you can win championships.
"I'm also looking forward to working with Ron Douglas," continued McCulloch. "He's going to be a key part of our team."
McCulloch and his new boss raced each other four times in Top Fuel, Herbert winning once; and it was a victory to remember.
"We ran 4.880 seconds, which was the quickest elapsed time ever, in the first round at Pomona (Calif.) in 1992 and Ed was in the other lane. But he came back to whip us in the final round of the U.S. Nationals at Indianapolis later that year," Herbert recalled.
McCulloch retired from driving at the end of the 1993 season with 22 NHRA national event wins, 18 in Funny Car and four in Top Fuel. He also won six U.S. Nationals titles, five in Funny Car (1971-72, 1983, 1988, 1990, 1992). He has tuned four different drivers to10 victories, six in Funny Car (Ron Capps 5, Tommy Johnson Jr. 1) and four in Top Fuel (Doug Kalitta 3, Scott Kalitta 1).




NHRA: 10 Most Recent Entries [ top ]

Jun 19- NORWALK - Fact Sheet
Jun 19- BRISTOL - Mickey Thompson Top Fuel Harley Series Championship Points
Jun 18- Farewell to the Mongoose Part III
Jun 18- BRISTOL - Lucas Oil Drag Racing Series Wrap Up
Jun 18- Mark Oswald Named 2018 Legend of Thunder Valley
Jun 18- BRISTOL - Sunday Pro Mod Wrap Up
Jun 18- BRISTOL - Special Awards
Jun 18- BRISTOL - Pro Mod Championship Points
Jun 18- BRISTOL - Sunday Video
Jun 18- BRISTOL - Championship Points