Sat, 13 Dec 2003, 12:11 PM



One on One with Ken Scheepers



Courtesy of NHRA Communications
Photo copyright 2003 BME Photography.com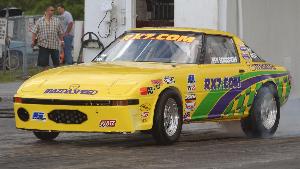 Ken Scheepers
Ken Scheepers, driver of the RX-7.com All Motor Mazda, has developed into one of the toughest All Motor drivers in the land. The South African native, who got his start in the Street Tire category, credits 2001 NHRA Street Tire champion Ari Yallon and rotary engine expert Chris Ott with much of his success. Scheepers drove his bright yellow 1979 Mazda RX-7 to three victories in 2003, including his first career NHRA victory this April in Florida. In this Q&A session, Scheepers talks about the challenge of competing in the All Motor category, the All Motor RWD/FWD debate, and perhaps a move to the Modified category in the future.
Q: How long have you been involved in sport compact racing?
SCHEEPERS: This is my third year in the professional class. I started out with the NHRA import drag racing when it first started in 2001 with a Street Tire car.
Q: You began in the Street Tire class, what was that experience like?
SCHEEPERS: It was a lot of fun initially. When we first started, the car was really heavy. It still had air conditioning and power steering and all that stuff. It really got me interested in drag racing for the first time.
Q: How did you get involved with drag racing?
SCHEEPERS: Chris Ott and Ari Yallon of Rotary Performance and RX7.com got me started. I had a second-generation 1987 turbocharged RX-7. At the time, I wanted to modify it or buy a new car, a sports car, or build something that had a lot of horsepower. The decision was made at the time that modifying the RX-7 was a better bang for the buck then buying a new car and then trying to do something to it since they had all the experience with RX7s.
Q: How important were Chris (Ott) and Ari (Yallon) to your racing career?
SCHEEPERS: Extremely, I would never have been able to do this without their help. There's no question. I go over there whenever I build a motor and we dyno and we tune the car. He's just a phone call away whenever I need him. Chris has been absolutely fantastic as far as helping me.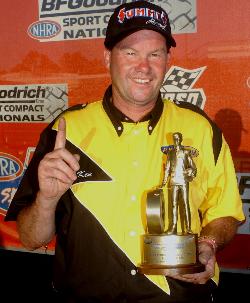 Scheepers with his first Wally.
Q: Did you have any prior racing experience?
SCHEEPERS: Not drag racing. I raced motocross in South Africa while in high school all the way through the early 1980s. I moved to the United States in 1985. I took off sailing for two and a half years when I was 28 before that. I'm 48 now. This is keeping me young, I love it. It's exhilarating to me. The people here are all so nice. They really like helping out. It's a great environment.
Q: When you won that first 'Wally' this April at Moroso Motorsports Park, what was that feeling like?
SCHEEPERS: It was an incredible feeling. I certainly wasn't expecting it. But to come out and run so well was really a function of probably three or four things. We had all off season to prepare the chassis and Jesus Padilla came along with the motor. That's really what did it, quite honestly. Then we've been able to improve on that motor by applying newer technology than he was running at the time. So, that's why we've beaten him at his game. It's just that we've applied new technology and I think he'll be up there with me in the very near future.
Q: Is there a rivalry between you and (Jesus) Padilla?
SCHEEPERS: The only rivalry we have is when we're at the light together. That's the only time. I'll call and speak to him on a very regular basis. We share information. We share what we're doing, very, very detailed stuff that most racers would never do. I can't tell you how wonderful it feels to be able to have a fierce competitor as he is and still build a motor for me, help me out, tell me how to tune it and then apply the new technology. That's really what's done it.

Scheepers vs Padilla
Q: How do you feel about the advantage the RWD cars have over the FWD cars?
SCHEEPERS: I think because just for the fact that the RWD cars, when you launch the weight transfers from the front to the rear and puts all the load on the tire, is obviously better than the FWD. When a FWD car launches, it's transferring back and getting off of the tire. So, we do have an advantage, I don't question that at all. But I think that if the tech guys proceed the way they started by lightening up the FWD guys and leaving us where we're at or maybe just taking a few more pounds off, I think that the racing is going to be very, very close.
Q: How disappointing was it to finish second behind Scott Mohler in 2003?
SCHEEPERS: I was disappointed, yet I had a sense of great accomplishment. We proved how tough we were until the mid-season rule changes, so it was out of my hands. There was nothing I could have done about it because I felt that the rule changes were unfair. My car has no torque and when they added those 50 pounds, it was really tough to get my Mazda moving.
Q: What are you thoughts on the rule changes heading into the 2004 NHRA sport compact season?
SCHEEPERS: Next year will let me take 100 pounds out of my car and some other All Motor guys are going to have to add some weight, so it's going to be a lot more competitive next season. If I get a two or three-tenths holeshot like I did at many races last year, I'll be able to win the race. Sometimes I had really good holeshot and still got beat by three-tenths.
Q: What is your long-term racing goal?
SCHEEPERS: I would love to be able to continue racing and perhaps build an RX8 for the 2004 season, then maybe move into Modified. I think I have enough experience and my driving ability is very, very good. My reaction times speak for themselves. I think I could do pretty well in Modified if things work out.




Drag News: 10 Most Recent Entries [ top ]

Mar 21- Hot Sun and Hotshots Abound at NMCA Season-Opener in Florida
Mar 12- PDRA Unveils Classic Graphix Pro Mod Challenge
Mar 12- Schwing America Becomes Title Sponsor of PDRA Pro Outlaw 632
Mar 10- BAKERSFIELD - Nostalgia Funny Car Final, Round 4 Eliminations
Mar 10- BAKERSFIELD - Nostalgia Top Fuel Final, Round 3 Eliminations
Mar 10- BAKERSFIELD - AA/Fuel Altered Final, Round 3 Eliminations
Mar 10- BAKERSFIELD - Classic Funny Car Final, Round 3 Eliminations
Mar 10- BAKERSFIELD - Nostalgia Rear Motor Top Fuel Final, Round 2 Eliminations
Mar 10- BAKERSFIELD - Junior Fuel Final, Round 3 Eliminations
Mar 10- BAKERSFIELD - A FUEL Final, Round 3 Eliminations