Mon, 15 Dec 2003, 10:39 AM



And What Do You Want For Christmas?



By Bob Frey



With less than two weeks remaining until Christmas, I think it's time to begin planning on what to give that special drag racing fan on your list this year. OK, so it's way past time for planning, it's time for action. And, being the elf-like guy that I am (no comments, please) I thought I'd give you a hand, you know, kind of point you in the right direction. So, having said that, here goes…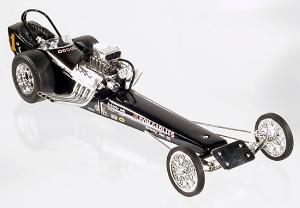 1320's Swamp Rat XI-A
To begin with, if you're into diecasts and/or collectibles, I have a couple of suggestions. First of all, I just got the latest dragster from the good folks at
Thirteen-Twenty, Inc
., and it's a beauty. Featuring the first in their "New Digger's Series," the new car is the "Swamp Rat 6A" black car of "Big Daddy" Don Garlits. As good as their earlier cars were, the new look is simply amazing. For those of us who enjoyed the early days of the sport, these cars are a must. All right, so the new "Swamp Rat" car won't be released until January, but the 1320 guys have lots of other great cars in stock and ready to ship and you can see their full line, and pre-order some of the new cars at
www.1320inc.com.
Another one of the great companies that makes a spectacular product is Milestone Development Group. These guys, headed by the ingenious and very creative Tom West, are producing the bigger, more detailed 1:16 scale cars and their current lineup includes dragsters and funny cars. While they don't have their own web site yet, you can check out their products at a variety of the team sites that are included in the production, among them are www.tonyschumacher.com (for the Whit Bazemore, Gary Scelzi and Tony Schumacher cars), and you can contact Donnie at rollingo@oakley.com (for the Scotty Cannon cars).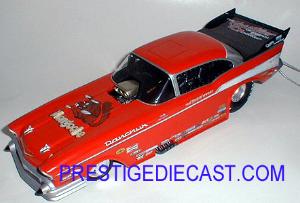 Tom McEwen '57 Chevy Funny Car
One of their fine distributors who has a great selection of the Milestone cars, including the soon to be released Tom McEwen '57 Chevy Funny Car that you can pre-order, is Prestige Diecast and you can find them at
www.prestigediecast.com
. That's a great site to check for lots of ideas, good stock and immediate shipping. Of course you can find the full line of
Action Collectibles,
including most of the current teams and almost all of the John Force collection by checking out their site at
www.action-performance.com
. At their site you'll also be able to find a complete list of Action distributors and one's got to have just what you're looking for. And, for all of the NHRA merchandise, including shirts, hats, jackets and more for almost all of the top teams, just go to
www.nitromall.com
, it's just like being at the track. And let's not forget the folks at
Racing Champions
, who have one of the more diverse collections of diecast cars, trucks, trailers, transporters and specialty items that you'll find anywhere. Just go to
www.racingchampions.com
and see what I mean. Of course once you have these cars, you'll want to store them and display them nicely (so you don't have to dust them all the time like some people do), and for that I can highly recommend Giovanni Plastics. At
www.giovanniplastics.com
you'll be able to find display cases for every size model, from the 1/64
th
up to the 1/24
th
size and that includes transporters, multi-car cases and more. So after you order you cars, order your display case or cases.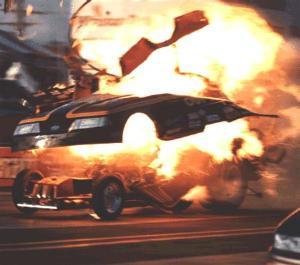 One of the 80,000 photos on Auto Imagery.com
Now, if you'd like something a bit different, may I suggest a trip to the
Auto Imagery
site where you'll be able to find pictures of just about any drag racer you want and that includes pros and sportsman. Dave Kommel and Rick Shute have been around the country's drag strips for a lot longer than even they'd like to admit and believe me when I tell you that if you're looking for a picture of your husband's car, or your boyfriend's, or both, (wait a minute, that's not right), they'll have it and it will be a show stopper. Just go to
www.autoimagery.com
and see what I mean. And if you want something really, really different, something for that hard (or impossible) to please guy on your shopping list, just go to
www.goyda.com
. Mike Goyda is the best collector of hard to find drag racing memorabilia that I know of and he's got some things that'll please every person on your list. Among some of the items you'll find there are the hard to find Hurst '64 US Nationals album, souvenir programs from almost every NHRA national event, original artwork from some of drag racing's best artists and much more. Mike even has some of the original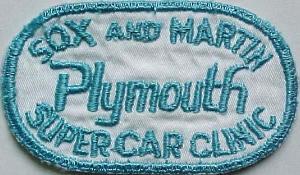 Sox & Martin Performance Clinic Patch
artwork by John Jodauga, including some of those classic 1970's Bill "Grumpy" Jenkins press kits and they are unbelievable. Believe me, is there's a drag racing fan on your list, Mike has something that'll please them. I know because that's where I told my wife to shop for me….And
of course I can highly recommend a copy of the Darrell Gwynn book, "At Full Throttle" for everyone and you can find that at
www.darrellgwynn.com
. If they still have some of the limited edition hard back books, get one of those because they're really special. And check out a couple of the beautifully framed items that Darrell has on his site because they're bound to make any drag racing fan smile.
Now that I've taken care of all of you, how about if I give Santa a couple of suggestions for some of our favorite drag racers? Ready, here goes…
Dear Santa:
There are some drag racers who have been very good this year and I'd like you to be extra nice to them by giving them exactly what they need. Now, just in case you didn't get their letters yet, let me help you out.
For John Force….a driver. Any driver, just get it over with.
For Darrell Gwynn….a deal because nobody deserves it more.
For Melanie Troxel….a deal because we deserve it.
For the Pro Stock drivers….a couple of hundredths, they'll need it.
For Greg Anderson…you can skip his house Santa, Greg already has everything. And I mean everything!!
For Clay Millican and his team….a sponsor that will put them on the full NHRA tour.
For the Harley-Davidson Pro Stock Bikes….a win.
For the Pro Stock Bike class… a Christmas tree with nothing but green lights (hey, that's right up your alley).
For Dean Skuza….a national event win and a trip to the World Series of Poker…in that order.
For Bucky Austin…a throttle cable and another trip to Maple Grove.
For Santo Volpe…a ride, any ride.
For Jeg Coughlin….a practice tree with a bad relay (hey, the other drivers made me say that).
For Tony Pedregon…a good year so he can silence his critics.
For POWERade….Jackie Becke. OK, so that's for all of us.
For NHRA…a drought.
For Don Prudhomme….(see Greg Anderson)
For Mike Dunn….another great year with ESPN, after he returns from driving in Australia.
For Tony Bartone…a win for Jim Dunn (And Santa, if I were you, I'd make sure you take care of this one, if you get my drift).
And for drag racing fans everywhere, another great season with record-setting performances and point's battles that all come down to the finals in Pomona in every class.
That's about it, Santa, good luck and drive safely.




NHRA: 10 Most Recent Entries [ top ]

Jun 20- NORWALK - Event Preview
Jun 20- NORWALK - Tim Wilkerson Knows Summit Racing Equipment NHRA Nationals Ideal Place for Turnaround
Jun 20- NORWALK - Thursday Schedule
Jun 20- Summit Racing Equipment Continues Sponsorship of NHRA Summit Racing Jr. Drag Racing League
Jun 20- NHRA Summit National Championship Drawing To Be Held In Norwalk
Jun 19- NORWALK - Steve Torrence Hopes to Go Back-to-Back at Summit Racing Equipment NHRA Nationals
Jun 19- NORWALK - Fact Sheet
Jun 19- BRISTOL - Mickey Thompson Top Fuel Harley Series Championship Points
Jun 18- Farewell to the Mongoose Part III
Jun 18- BRISTOL - Lucas Oil Drag Racing Series Wrap Up