Tue, 16 Dec 2003, 04:27 PM



The Truth About Mike Dunn…and More



By Bob Frey
Photo by:Auto Imagery Inc.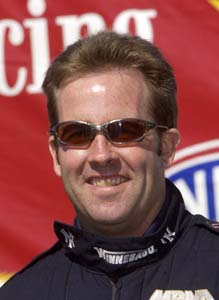 Mike Dunn
Well, as expected, most of the readers of this column caught on to the fact that apparently,
Mike Dunn
had inked a deal to drive a Top Fuel car next year and that assumption most likely came from the little tease that I included in one of my updates last week. And, while Mike will probably drive a TF car next year, it's not the one that most folks thought. Mike has not signed on to drive for John Force (no one has, yet)but he has been fitted for one of the old
Joe Amato
race cars that is now owned by a gentleman from Australia who wants Mike to drive it at the new Sydney, Australia race track after the first of the year. Mike, who is very excited about the possibility of driving again, got together with the man when
Glenn Mikres
called him and told him about the deal.
Did you know
that Mike and Glenn were actually on the same team in the early 80's? If you knew that and you knew that the car was the famous
"Bear Town Shaker"
then you should go to the head of the class. And if you jumped to the conclusion that Mike was driving for John then you may have to stay after school…..By the way, Mike and his good friend,
Whit Bazemore
(who also isn't going to drive for John) will be in Florida next week for a little bike trek that's known as "Hell Week." Imagine this, Mike and Whit and some of their close personal friends going on an 800 mile bicycle ride in eight days over the holidays. The organizers of the tour have attracted as many as 250 riders for their ride in Texas and now they'll try to duplicate that in Florida. Good luck to Mike and Whit and ride carefully, and if we hear anything from John we'll let you know….Still on the topic of John, despite what you may have heard or read elsewhere
Cory McClenathan
is also not one of the candidates for the job in Yorda Linda. Cory is still hoping to drive for the
Darrell Gwynn
team next season, but if that doesn't work out (meaning if they don't get all the funding they need) he would entertain other job offers. Cory, one of the good guys out there, needs to be on tour, but then again, so does Darrell Gwynn and that team.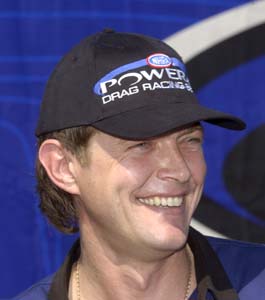 David Grubnic
Now, from the remember where you heard it first department, look for
David Grubnic
to be back on the tour next year. David, who has driven a number of cars over the past few seasons, could be added as a third driver to one of the top rated Top Fuel teams out there. Now it shouldn't be hard to figure this one out since there aren't a lot of TF teams that already have two cars, so you do the math….The Kalitta team is already working on their plans for next season and
Rahn Tobler
has fit right in with the team at their shop in Michigan.
Jim Oberhofer
told me that Rahn is such a delight and that he expects him to be a great addition to the team.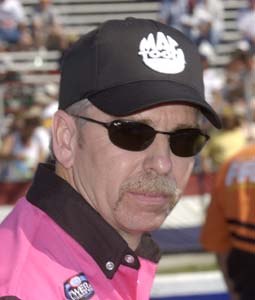 Rahn Tobler
Now that I think about it, doesn't the Kalitta team have two top fuel cars? Hummmm….And it's interesting how things come full circle, isn't it? When you think about it, if memory serves me correctly, the only job interview that Rahn may have ever had before the most recent one with
Connie Kalitta
was probably years ago when he was interviewed by Connie Kalitta. Rahn did such wonders with
Shirley Muldowney
throughout her career and I fully expect the Kalitta cars to both finish in the top five in points next year and it wouldn't surprise me to see one of the cars win the championship. With Rahn handling the tuning chores on one of the team Kalitta cars we can only hope that Shirley will be at a lot of the races next season….Another team the deserves some mention is the
Carrier Boyz
Top Fuel car. With
Paul Romine
announcing that he won't be with CARQUEST next year, it would appear that the seat is open on the Tennessee-based car. Let me tell you, the way that car ran at the end of the season it would be a nice ride for someone, and while the team is talking with at least two drivers right now, nothing is set in stone so you could see some movement there real soon. Good luck to
Mark
and
Andy Carrier
and
Jimmy Walsh
and let's hope we hear something from them in the near future.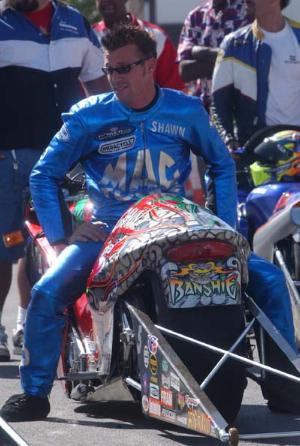 Shawn Gann
The Pro Stock Bike class has been the subject of a lot of speculation lately and I can put one rumor to rest, and that's the one that had
Shawn Gann
and his dad retiring. When I asked Shawn about it today he was caught completely off guard and told me that he has his deal with
MAC Tools
again next year and that he and his dad are moving full speed ahead with plans for 2004. During the off-season they do build a lot of engines for street bikes as well as spending a lot of time working on their own stuff. And
did you know
that they also help
Shaun Carlson
, of Mopar Sports Compact fame, with the turbo units on his car? Those Gann's are pretty creative and they should give
Geno Scali
a real run for his money next year….Watch for
Brian Olson
to drive for
David Raybourn
next year in the west coast SS/AA hemi Dart. Brian, who has competed in Super Stock and Competition Eliminator, will drive the car at Mission Raceway, at the Sportsman Nationals and at the big go in Indy. Should be fun to watch those big honkin' hemis in 2004…..And one more thing, that little "elf" picture with my story earlier this week was trick photography, or photo shop or one of those computer deals because even I would never dress up like that. OK, for the folks at DRAW I would, but not for anyone else.




NHRA: 10 Most Recent Entries [ top ]

Jun 19- NORWALK - Fact Sheet
Jun 19- BRISTOL - Mickey Thompson Top Fuel Harley Series Championship Points
Jun 18- Farewell to the Mongoose Part III
Jun 18- BRISTOL - Lucas Oil Drag Racing Series Wrap Up
Jun 18- Mark Oswald Named 2018 Legend of Thunder Valley
Jun 18- BRISTOL - Sunday Pro Mod Wrap Up
Jun 18- BRISTOL - Special Awards
Jun 18- BRISTOL - Pro Mod Championship Points
Jun 18- BRISTOL - Sunday Video
Jun 18- BRISTOL - Championship Points