Fri, 19 Dec 2003, 10:37 AM



Robert Patrick returns to IHRA Sunoco Pro Stock in 2004 with Strong Desire to Win Championship



Courtesy of Bobby Bennett, Harley Communications


Photo by:Auto Imagery, Inc.





FREDRICKSBURG, Va. -
After several years of running 500-inch Pro Stockers, former IHRA Sunoco Pro Stock standout Robert Patrick is excited about returning to what he considers his home in the mountains - mountain motors, that is. The 32-year old Patrick, a second-generation drag racer from Fredericksburg, Va., will be making his first appearance on the IHRA Hooters Drag Racing Series since 1997.
Patrick cites the IHRA's twelve-race schedule as a major factor in his decision to return to the series.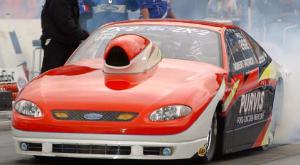 Robert Patrick
This is like a homecoming of sorts for us," added Patrick. "I really like the people at the IHRA. There is a great group of racers out there and looking forward to mixing it up with them. Family really means a lot to me and the birth of my daughter convinced me to look in this direction. The schedule works out perfect for us and with the sponsorship programs that we have in place, it will all work out fine."
Patrick left the IHRA tour at a time when the GM cars were dominant. He returns to a fraternity dominated by the Blue Oval gang. Being in a Ford is something that comes natural for Patrick, whose family operates the Purvis Ford dealership in Fredericksburg. That is why Patrick summoned award-winning engine builder Jon Kaase to prepare the big-inch Ford powerplant to go in his Jerry Bickel Ford Escort. Patrick feels that he has a strong combination.
"I feel like we have as good a chance as any of the leading teams out there," explained Patrick. "I am very excited to be working with Jon Kaase. He is a great engine builder. Kaase built one of my engines back in 1992 and we were still winning races with it four years later. The IHRA Pro Stock class is a very tough class and we're coming in prepared for a serious battle."
Patrick's drag racing career began in the IHRA Top Sportsman division dating back to 1991. One year later, the 21-year old Patrick and his father Eli made the jump to the mountain motor Pro Stock division. Their first national event victory came during the 1993 season at the World Nationals in Norwalk, Ohio. Patrick enjoyed much success at Norwalk Raceway Park as he also added victories in 1995 and 1996. In four of six seasons, Patrick finished in the top ten of points. His best effort was in 1994 when he ascended as high as second. Patrick reached ten final rounds, winning eight times.
Patrick's return to the IHRA Hooters Drag Racing Series tour began the planning stages in late 2002.
"We actually ran a limited schedule last year," added Patrick. "I think there's a wealth of talent in the IHRA Pro Stock class. This is going to be a tough battle. These guys are as tough as any Pro Stock racers out there, NHRA or IHRA."
Patrick's 2004 tour will be made possible through sponsorship from Purvis Ford, EZ Care Vehicle Service Contracts and Automotive Development Group.




IHRA: 10 Most Recent Entries [ top ]

Apr 24- Racers Receive Prizes at IHRA Summit Sportsman Spectacular Opener
Apr 24- Comeaux, Hughes Make History at IHRA Summit Sportsman Spectacular
Mar 21- 2018 IHRA Summit Sportsman Spectacular Series on April 20-22
Feb 26- Weather-Related Construction Delays Postpone IHRA Xtreme Raceway Park Opener
Feb 16- IHRA Summit Sportsman Spectacular Schedule Announced
Feb 15- New York Track Finds Value for Racers with IHRA Agreement
Feb 15- IHRA Summit Sportsman Spectacular Debut Only One Month Away Now is the Time to Pre-Enter
Feb 15- Summit Texas Location is a Racers' Paradise
Feb 15- Canadian Track Makes Large Commitment to IHRA Drag Racing
Jan 27- Mid-Michigan Destination Joins IHRA Family