Sat, 20 Dec 2003, 03:05 PM



Steppin' Up Into The Big Time!!



By Bob Frey
Photo by:Auto Imagery, Inc.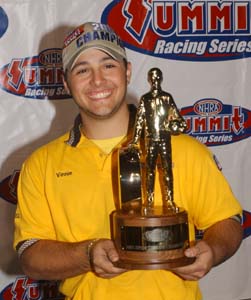 Vinnie Cicerale
The folks at NHRA will be more than willing to tell you about the Jr. Drag Racing program and how good it is for the kids, but if they ever want a spokesman for the class all they have to do is call Vinnie Cicerale. Vinnie, at the ripe old age of 18 (he'll be 19 on December 31), competed for nine years in the Jr. dragster program and was more than moderately successful. Then, in his first full year of racing "the big car," as he calls his 1983 Monte Carlo, he qualified for the Division 1 bracket finals for the Island Dragway team, went to California and won the Summit Racing E/T Series national championship in the Sportsman eliminator. "Racing in the Jr. program taught me a lot of things, "Vinnie said. "It gave me lots of experience racing, taught me how to concentrate and how to run at the top end of the track." And whether you're in the Jr. program or competing in any bracket class, all of those things are very important, especially if you want to be a winner.
Vinnie's trip to California and the Summit Racing E/T finals wasn't his first, despite his youth and inexperience. "We went there last year with my brother, Frankie, and it was just not a good experience," he said. "The rain, the ever-changing schedule, running on Monday and watching Frankie lose in round one just wasn't what we were hoping for." After that Vinnie, his brother and mom and dad all wondered if and when they would ever get another shot at the championship. Well, it didn't take them long. Trailing in the points at his home track, Island Dragway in New Jersey, Vinnie needed to go to the money round in each of the last four weeks of the season just to earn at shot at the D-1 bracket finals and he managed to do just that. "I actually raced Frankie in one of the finals and he beat me," said Vinnie. Well, at least they kept it all in the family. At Cecil County, home of the bracket finals, Vinnie got a couple of lucky breaks in the early rounds and as the day progressed he kept asking himself, "Can this be happening?" It was, and after a win in round five, a bye run in the semis and a final round win over Bob Larrison, another Island Dragway regular, Vinnie began to pack his bags for California. Oh, there was that one little detail to be worked out, they didn't know how to get the car out west. "For a while it looked like I was going to have to borrow a car out there, but at the last minute we got some help from one of our close friends, Glenn Winzer." Glenn, one of the regulars on the Division 1 scene, has been a friend of the Cicerale family for years and he's the guy who towed the car out west last year for Frankie. "My dad had to go visit Glenn and he mentioned that because of his schedule we didn't have a way to get the car out west and that's when Glenn offered to drive again." Winzer and Scott Gardner, another family friend, both offered to load the '83 Chevy on their truck and make the drive west and it turned out to be a great move for everyone. "In addition to everyone in my family, I have to thank Glenn and Scott because they thought I had a real chance if I drove my own car. It's nice when you have friends like that."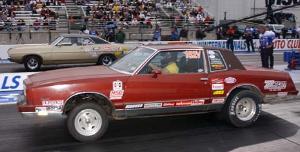 Cicerale (near lane) defeated Jeff Seither in the final.
The Cicerale family arrived in California before Glenn and Scott got there with the car, so by the time they showed up everyone was all psyched up and ready to go. "My brother gave me lots of advice and since he was here the year before we knew a lot of things that we should do and not do," Vinnie said. One of the things that he did was go through his usual pre-run ritual each time that he went to the line. "Dad takes my hand, tells me he loves me and wishes me God-speed. Mom wishes me luck and tells me never to get cocky if I win or upset if I lose and my brother always tells me to run my own race." His brother also has a rather unorthodox salute on the line that got a lot of people's attention. "He always tells me that I'm number one, and he does it in a rather unusual way, if you know what I mean," Vinnie said, "and it does get a lot of comments from folks. But it works for us." That salute and a little luck worked for Vinnie on race day and when I asked him to rate his performance he said, "I'll give my top end driving a 9, and my starting line reactions a 5 or 6." Young, successful and honest, Vinnie's parents have to be proud of him. That's because his reactions were less than stellar in the first two rounds. An "070" light in the first round wasn't great, but still managed to get him off the line first, while an "060" number in round two was slightly better but didn't matter since his opponent fouled out. Then in the final round, after the now-famous "You're #1 salute" from his brother, Vinnie and Jeff Seither, his final round opponent, came of the line at about the same time and when Jeff broke out, Vinnie was the champion.
Vinnie is very quick to thank a lot of people for his win. "First of all I have to thank God for giving me the talent and ability to do this. All my family and friends deserve my thanks because I simply couldn't do it without them. My dad, for getting us into this sport that we love, and my mom for her love and support and for picking up the pieces when we let down. Frankie really helped me learn to drive and to win and I can't say enough about Glenn and Scott and what they did for us and mean to us, both in our racing endeavors and as friends. The Landolfi, DiMino and Biondo families, Jim and Lynda Jack, the Racer's For Christ chaplains in Arizona and Dan and Clair Luterza, the chaplains in D-1 were very helpful. And I'd like to say a special word of thanks to our Island Dragway track manager, Tony DeMarcky, who flew out just to watch us along with John, the starter at our track. Summit was great, too, it was just a nice experience." There's that word again, experience, and we've heard that a lot from a young man who is just about to turn 19. Maybe that Jr. dragster program really works.
Vinnie also wanted to thank his best friend, Mike, who "is like another brother to me. He helped me win the track championship at Englishtown in my Jr. car last year." Also, special thanks to his girl friend, Heather. "She was there for me and she was the first one I called after each round. I dug through my pants for my cell phone and called her as I was turning off the track to let her know that I'd won." He also wanted to dedicate the win to his grandmother who passed away earlier this month and his late Uncle Ed. He would also like to thank his Aunt Norma who has supported him and his brother in all of their racing efforts.




NHRA: 10 Most Recent Entries [ top ]

May 26- CHICAGO - Fact Sheet
May 26- CHICAGO - Tony Schumacher Aiming for Sixth Career Win at JEGS Route 66 NHRA Nationals
May 25- BOWLING GREEN - Stock Eliminator Class Eliminations Qualifying
May 25- BOWLING GREEN - Super Stock Class Eliminations Qualifying
May 25- BOWLING GREEN - Friday Wrap Up
May 25- BOWLING GREEN - Competition Eliminator Qualifying, Friday Order
May 25- BOWLING GREEN - Stock Eliminator Qualifying, Friday Order
May 25- BOWLING GREEN - Super Stock Qualifying, Friday Order
May 25- BOWLING GREEN - Top Dragster presented by RacingRVs.com Qualifying, Friday Order
May 25- BOWLING GREEN - Top Sportsman presented by RacingRVs.com Qualifying, Friday Order