Wed, 24 Dec 2003, 12:33 PM



Not A Creature Was Stirring



By Bob Frey
Photo by:Auto Imagery, Inc.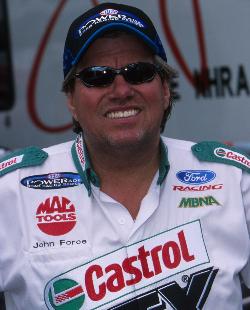 John Force
Now I know that it's Christmas week and that at this time of the year not a whole lot takes place in the drag racing world, in fact, next to the holiday celebrations not much gets done in the corporate world, either. Having said that, it looks like the expected
John Force
announcement and the AT & T announcement (if there is one!) will not take place until after the first of the year. And despite what you may have heard or read elsewhere on the wonderful world of the internet, I can just about guarantee you that there has been no decision made in the John Force camp about the replacement driver for
Tony Pedregon.
I will also reiterate my long-standing opinion that
Gary Densham
will return to the fold although that's not a mortal lock at this time, either. We all know that there have been dozens of guys who have spoken to John, or to whom he has spoken about the job and while the field has been narrowed down, the final name has not been decided upon. Hey, at least it will give us something to look forward to after the holidays.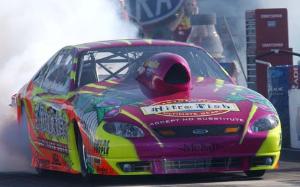 Scott Geoffrion
As far as I'm concerned the big story this off-season has to be in the Pro Stock class where several teams have decided to park their rigs. As mentioned here a few weeks ago,
Hurley Blakeney
is in limbo right now and is leaning towards not racing next year,
George Marnell
has announced that he isn't racing next year and several other teams look like they could be on the sidelines. The big question is, did
Greg Anderson
demoralize the class that much this year? You know what, maybe he did and it's only going to get tougher for the gang this coming year. Why do I say that? Well, according to my sources, not only are Greg and
Ken Black
going to bring out their second car next year with
Jason Line
driving, but they're also looking at additional cars, or at least chassis designs, to see what works best on each track. I say that because their truck is currently at the shop of
Jerry Haas
and will be loaded with new cars almost as we speak. The car that Greg ran last year was a
Bickel
car and, obviously, it ran very well, but in an effort to stay one step (or one more step) ahead of the pack, they will test both models before the start of the year and go from there. Meanwhile, a couple of other teams that finished in the top ten last year don't even have one car yet for 2004. It should be interesting….Since I mentioned Hurley Blakeney already, I'd like to point out something about the Ford Pro Stockers. Now as far as I know, Ford gives their Pro Stock teams exactly nothing, as in zero, zip, zilch, nada. In fact, if my sources are correct, the teams that ran Ford Pro Stock cars this year, and that would be Hurley and
Robert Patrick
, actually paid more this year for blocks and heads than they did last year. Now if all that's correct, am I the only one that finds it odd that the Ford motor sports catalogue featured three pictures of the Ford Pro Stock cars in it? After all, aren't these independent teams and not factory cars? And wouldn't it be great if the blue oval guys did get behind the Pro Stock class and helped them out even a little bit? Hurley's car was certainly very competitive last year and
Bob Panella's
shop made a lot of horsepower and they did it all on their own, so imagine what the cars and teams could do with a little boost from the factory and I'm mot talking about a lot, just a little.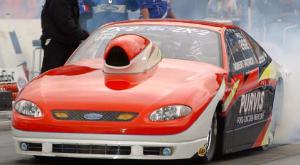 Robert Patrick
The Pro Stock class needs Fords in it and we need the factory to help out those who are willing to run their cars. I remember the old Thunderbolt Fords, the heyday of
Bob Glidden
and the great
Frank Iaconio
years when he drove a Ford and I'd love to see that kind of involvement again by Ford and so would the guys who run them, or would like to run them. And let's hope that Hurley gets that little bit of financial help that I think he needs to stay out there. There's not
a nicer guy than Hurley and I, as a fan, will miss it if he,
Scott Geoffrion
and the Fords aren't on the tour next year. By the way, while it may be too late for Christmas, there is an original Ford Thunderbolt on e-bay right now that you can buy for a mere $500,000. Imagine what a Ford Pro Stock team could do with 500 grand!!
I saw an ad on the website for Southwestern International Raceway that they are looking for a track manager. Dave and Kathy Danish are not there anymore and they will be missed and I wish them the best of luck in their future endeavors. I also noticed that the test sessions of the pro fuel cars are going to be in Las Vegas, Phoenix and Tucson in consecutive weeks, which brings up the question, how many fuel cars will be willing to test at all three tracks in three weeks and then go right to Pomona for the Winternationals? Not a lot, in my opinion, and I hope it doesn't dilute the talent at all three places. While it's nice to have the test sessions, one of the tracks may have to look at altering the dates or schedules. Southwestern International's test dates are currently, February 13-15, and that's the weekend before the season starts in California which could affect a lot of the team's decision. Let's hope it all works out well for the tracks and the teams….In my column last week I mentioned the great die cast cars that are made by the folks at Milestone Development Group, well, I just happened to get one of the Clay Millican "Werner Transportation" dragsters in the mail the other day and it is spectacular. It may be a little late for Christmas, but these things would make great gifts for the drag racing fans in your life and they're a whole lot cheaper than that Ford Thunderbolt. Now I know what you're thinking, you're thinking that I'm plugging this because the guys at Milestone sent it to me free, well, that would be incorrect. I got mine as a gift (and not from them) so I can honestly tell you that it is wonderful without any fear of a conflict of interest. I love anything that promotes the sport and these "adult collectibles" do that in a really special way.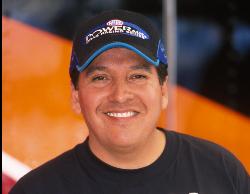 Frank Pedregon
Still no word on what brother
Frank Pedregon
is going to do next year, when the
Jerry
Toliver
deal is going to be announced or exactly what bodies he will be using, although all the money seems to be on Toyota….And it's nice to see
Wes Cerny
and
Cruz Pedregon
back together. Wes is one of the great minds in the sport and he should do well with Cruz.
Did you know
that Wes Cerny was part of the team that set the Top Fuel national record thirty-one years ago this month? The famous
Walton, Cerny
and
Moody
car set the record at the
"Last Drag Race"
at Lions Drag Strip in December of 1972 at a blistering 6.13 seconds. And
did you know
that the car was supposed to be in the final round of that historic race but couldn't make it so it was replaced by the car driven by
Jeb Allen
? It didn't make any difference, though, as
Carl Olson
beat him and won the last drag race of 1972. I can't wait for the first drag race of 2004. Have a happy holiday and a wonderful, safe, peaceful new year.




NHRA: 10 Most Recent Entries [ top ]

Jun 19- NORWALK - Fact Sheet
Jun 19- BRISTOL - Mickey Thompson Top Fuel Harley Series Championship Points
Jun 18- Farewell to the Mongoose Part III
Jun 18- BRISTOL - Lucas Oil Drag Racing Series Wrap Up
Jun 18- Mark Oswald Named 2018 Legend of Thunder Valley
Jun 18- BRISTOL - Sunday Pro Mod Wrap Up
Jun 18- BRISTOL - Special Awards
Jun 18- BRISTOL - Pro Mod Championship Points
Jun 18- BRISTOL - Sunday Video
Jun 18- BRISTOL - Championship Points