Fri, 26 Dec 2003, 02:59 PM



Goodbye, Good Friend!



By Bob Frey


Photo by: BME Photography.com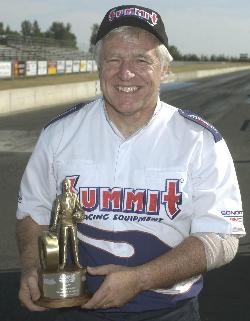 John Lingenfelter
It is with great sadness that we report the passing of John Lingenfelter. John, who was injured in an accident in October of 2002, died on Christmas day at the age of fifty-eight.
John Lingenfelter will be remember as one of the great pioneers, innovators, creators and drivers in the history of racing, and not just drag racing. While most folks will remember him as one of the most gifted sportsman drag racers of all time, some will recall his days racing at Bonneville, building the "Sledgehammer" engine for the Calloway Corvette, racing in Pro Stock and building some of the best Chevrolet engines of all time. You often hear people say that a certain person "wrote the book" on a particular topic, well, when it came to small-block Chevrolet engines, John Lingenfelter actually did write the book. Called, "Modifying Small Block Chevrolet Engines," this book became the bible for anyone who wanted to build or improve a small block Chevrolet.
I am very fortunate to be able to say that I knew John long before he became famous in the world of motor sports. I first met him at an IHRA race back in the early 1970's when he was running a Ford, yes, a Ford in Pro Stock and I can remember thinking at that time that this guy was someone special. I was there to see him make it to the final round in Pro Stock at IHRA's biggest race, the Springnationals in Bristol, Tennessee, in 1974. At that race John had the second quickest car in the class and he made it to the final round in a field that included Bob Glidden and Ronnie Sox among others. And while he didn't win, he did show everyone that this quiet, soft-spoken guy from Indiana could make a car run with the best of them. I also came to realize over the years that no matter how his car performed or where he finished you could always count on seeing that infectious smile and that boyish little grin that seemed to give off the impression that he knew something that you didn't. And he did. John knew how top make anything run and even more importantly he knew how to make friends where ever he went.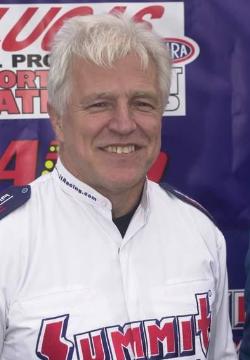 In the 1970's I spent some time working with Jesse Ballew at Ohio Valley Raceway just outside of Louisville and he would tell me some stories of the great battles that he had with John Lingenfelter. These two guys were so competitive on and off the track and I even watched them have a competition once to see who could squeeze a pair of vice grips the hardest with one hand. John, who went to Penn State and had the body of a Nittany Lion's linebacker, was pretty strong and he'd win more often than not. Afterwards, he and Jesse would sit around and talk about Chevy engines and how to make a small block car run times and speeds that most people thought were impossible. More recently, at a race in Kansas, I talked to John after a particularly tough loss in his Competition Eliminator dragster, and rather than dwell on the race, John just smiled that quirky smile and said how happy he was with the car's performance. He told me about some changes that he had planned for the car and he said how fast he thought this combination could go, and while I have to admit that I didn't follow all of the technical talk, this time it was my turn to smile because I knew the car would do exactly what John said it would.
In the world of NHRA racing, John did dabble in Pro Stock in the early 1980's but his big moment came at the U.S. Nationals in 1986. It was there that John would qualify number one at the top of the quickest Indy Comp field in history and then he would go on to win the race, beating the likes of Bill Maropulous, Al Weiss and Vinny Barone in the process. It was also at that race that John ran a spectacular 6.962 which made him the first driver in Competition Eliminator history to take a gasoline burning, carbureted car into the six-second zone. The Nationals' win that year was one of three times that John won the biggest race in drag racing, coming after his Super Stock title in 1972 and his other Competition Eliminator championship in 1978. In all he went to the final round at an amazing thirty-two NHRA national events, winning fourteen times.
Besides his drag racing accomplishments, John also achieved notoriety in other forms of motor sports and his exploits were documented in over one hundred different articles in virtually every car magazine in the country. In addition to all of his success on the drag strip, John also took a Pontiac Firebird to Bonneville in 1989 where he proceed to go 298 miles per hour with it, and he competed in the famous Nevada Silver State Classic in 1990 where his car averaged over 157 miles per hour for the ninety-three mile course. From his earliest days of improving the small block Chevrolets to his most recent ventures with twin-turbo charged Corvettes, H2 Hummers and Escalades, John Lingenfelter was without equal and he will be greatly missed.
The viewing for John will be held on Sunday at the Zwick & Jahn Funeral Home, 520 N. 2nd Street in Decatur, Indiana, with the funeral to be on December 29th at the Bridge Church, 1403 Winchester Road in Decatur. He is survived by his wife, Cynthia, and two daughters.




NHRA: 10 Most Recent Entries [ top ]

Apr 26- CHARLOTTE 1 - Jim Whiteley Looking Forward to More Four-Wide Racing During E3 Spark Plugs NHRA Event
Apr 26- CHARLOTTE 1 - LE Tonglet Banking on Another Strong Showing at NGK Spark Plugs NHRA Four-Wide Nationals
Apr 26- Al-Anabi Performance Named Presenting Sponsor For E3 Spark Plugs NHRA Pro Mod Drag Racing Series Race
Apr 26- NHRA Dodge HEMI® Challenge at U.S. Nationals to Celebrate 50th Anniversary of Mopar-powered 1968 Super Stock Cars
Apr 26- CHARLOTTE 1 - Jack Beckman Making Most of Opportunities Approaching NGK Spark Plugs NHRA Four-Wide Nationals
Apr 26- HOUSTON -Through the Lens of Ron Lewis
Apr 24- CHARLOTTE 1 - Steve Torrence Enjoying Four-Wide Success Heading to NGK Spark Plugs NHRA Four-Wide Nationals
Apr 24- CHARLOTTE 1 - Fact Sheet
Apr 24- Kalitta Motorsports Welcomes NASCAR Stars to the SealMaster Track Walk in Charlotte
Apr 24- zMAX Dragway Celebrates 10th Anniversary