Mon, 29 Dec 2003, 08:51 AM



One on One with Vinny Ten



Courtesy of NHRA Communications
Photo copyright 2003 BME



Photography.com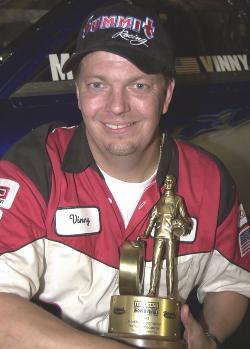 Vinny Ten
Ten, driver of the Vinny Ten Racing 1995 Toyota Supra Modified-entry, made a splash at the final two NHRA Summit Sport Compact Drag Racing Series events of 2003. At the K&N Fall Nationals at Raceway Park in Englishtown, N.J., the New York driver not only raced to his first career NHRA victory, but set both ends of the Modified category performance records at 7.71 seconds at 177.32 mph. Ten followed up his triumph in the Garden State three weeks later by winning his second consecutive race at historic Pomona Raceway, which vaulted him to a third place finish in the Modified points standings. In this Q&A session, the vociferous, brash Ten talks about winning his first NHRA race, meeting the founder of the NHRA, Wally Parks, and his rivalry with 2003 NHRA Modified champion Cesar Febus.
Q: How long have you been involved in the sport compact scene?
TEN: Since the beginning. We were the first-ever Pro Mod in import drag racing, if you will. We started racing in 1993 with a customer's car. In 1997, we came out with our own car. At that point we went to the first organized import drag race at Atco (N.J.) Raceway in 1997. Prior to that, nobody had come close to running in the 10s and we ran 10.68 (seconds) twice, once at 136 (mph), the other at 137 (mph) and we won the event. From that point on, it's just been an evolution of the car, the sport, the people involved and here we are at Pomona Raceway in December with a track rental by Toyota.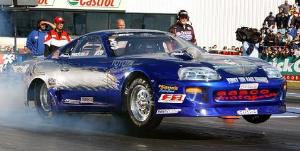 Ten launches hard.
Q: You're still running the same Supra you ran at that first race at Atco in 1997, correct?
TEN: Yep. We got that car out of a junkyard. It was a stolen/recovered car. I purchased the car for $4,000 and I've been building it ever since. Right now I'm really hoping that Toyota comes out with another "super car" because it's an older body style that hasn't been made in a long time. It's still a gorgeous car. We'd like to step into a new super car of some sort.
Q: Did you think you would ever make consistent seven-second passes with the car?
TEN: You know, we were having this conversation over breakfast one day and if you would have come into my shop in 1993 or 1994 and told me that you're one day going to make 1,250 horsepower on gasoline with no methanol or nitrous, I probably would have thrown you out and told you to stop wasting my time. So, no way I thought that, but it's a great place to be. The one nice thing about going to import or sport compact events is that you're going to see something new every time because the sport is new. You'll continue to see records made and records broken.
Q: What do you think is the maximum performance we'll see out of your Supra?
TEN: My goal for next year is to get it in the 7.20s. I think the Modified class is going to be a super tough class next year because it is a stepping-stone to go into the Pro RWD class. It showcases the drivers and their ability. It's a great class to run before you move up to Pro and really spend the big bucks. I know of a lot of cars that are being prepared right now for this class. So, I'm very excited because we want to see more competition in the class.
Q: When did you open Performance Factory?
TEN: We were in New York City on the corner of Washington and Charles in 1992 and there was no such thing as import racing or sport compact racing. It was just what can we take from the American market as far as turbos. We were actually putting like Buick Grand National cheater turbos on Hondas back then. Also, whatever we could do to the Supra, the 7MG at the time. It was just an incredible time because there was just a lot of fever, but not a lot of parts.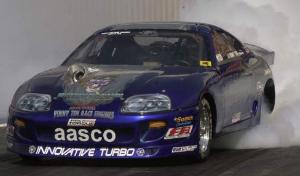 Ten does burnout.
Q: Did you ever think this scene would grow this big?
TEN: I always hoped that it would. I guess I went into business for growth purposes, so I thought it would grow, but I just didn't know how it would grow. Like, I didn't think accessories would be bigger than performance. If someone would have said we're going to sell $250,000 worth of light bulbs a year, I would have never believed you. As an engine builder you've got to really sweat to build a motor. It's a little easier to sell accessories.
Q: Why did you close Performance Factory and decide to go racing full-time?
TEN: There's a couple of reasons that really implemented that decision. One was 9/11. We were three miles outside of 9/11 and we didn't cater to the lower echelon consumers. We more catered to the middle manager, accountant, lawyer, stock broker and people that walked around with about $100,000 worth of disposable income. It wasn't so much that 9/11 took us out, but the surrounding economy in New York City. In 10 months, 300,000 people lost their jobs and that just had a devastating effect on luxury item purchases. I put about $80,000 into the business to try and keep it going and I could have kept it going, but I wasn't happy anymore. I felt like I had accomplished everything that I wanted to accomplish with Performance Factory as far as custom cars, factory cars, high-end cars, mile race cars, quarter-mile race cars, street cars. It really forced me to evaluate if I really wanted to go racing and I really did and I really wanted to make it a full-time effort, which I hadn't done in the past. Now that I did give a full-time effort, I'm the IDRC champion, a three-division record holder with nine No. 1 qualifiers and seven wins. That's a great season for me, a privateer.
Q: You won your first NHRA race at Englishtown in October, what was that feeling like?
TEN: It's just an indescribable feeling when you win a "Wally." There is no other feeling that comes to mind when you do that. It's still the premier event to win, an NHRA race. I didn't get a chance to meet Wally Parks that day, but at the award's banquet at the NHRA Museum I did. It almost brought me to tears because this is what I always dreamed of. Then to win it at Pomona again, I couldn't believe it. We went into the sand traps on our first pass down the Mecca, not the way I wanted to start my weekend off, but we dusted ourselves off and came back and won the event.
Q: What win was more special, E-Town, your home track, or Pomona?
TEN: The win at Englishtown was special, but the win here at Pomona was something else because Tom Compton was there and he handed me my trophy. I also got to meet Wally Parks. It was really a dream weekend. To come from so far away, then wind up in the sand traps, then to just get yourself together and win, that was more special. It was nice to win at my hometown track in front of my girlfriend and everything, but it was definitely more special to do it at Pomona. I know my New York fans aren't going to like that, but it's true.
Q: Were you disappointed that the showdown with NHRA Modified champ Cesar Febus didn't happen?
TEN: I was very, very disappointed. I'll tell you why. I like Cesar and (crew chief) Jorge Juarbe. I think they're great guys. I want to preface this by saying that we're good friends. I've got his phone number, he has mine, but I am a racer and if I've got to drive 3,000 miles to prove that I'm the best racer then that's what I'm going to do. He had nothing to lose as far as racing me, the championship was wrapped up. I don't think he was prepared properly at Englishtown. It would have been a phenomenal showdown for the fans. Toyota versus Nissan. Vinny versus Cesar. Single-turbo versus twin-turbo. Gasoline versus Methanol. U.S.A. versus Puerto Rico. I mean all the drama in the world was there. You didn't need any hype, everyone knew and it just faltered at Englishtown. I came to Pomona, not to win the race, but to beat Cesar because I want to beat the best. I beat every other champion that was out there. I want the opportunity to beat the best and if he's the best, that's the guy I want to race. I was very disappointed and I told him that he should have brought the car out. This is for the fans and for the crowd. It's not about us. It's for us to have the best show possible. So, I was disappointed.
Q: What are your plans for the 2004 season?
TEN: Next season is going to be another rigorous schedule, anywhere from 15 to 20 events. Much like we did this year. Now, we're going to focus on the next championship. We got the IDRC title, but we're gonna see which championship is going to be available for us to win because we'd love to win this NHRA championship.




Drag News: 10 Most Recent Entries [ top ]

Jan 17- New Ownership and Management for Kansas International Dragway
Jan 17- FuelTech Signs as Presenting Sponsor of Season-Opening PDRA East Coast Nationals
Jan 17- Lucas Oil, Pat Musi Racing Engines & Musi Racing Continue Longtime Partnership for 2019
Jan 17- RAI on Home Territory at Sydney Dragway this Weekend
Jan 17- Nearly $400,000 on the Line at $40 Grand Nationals & No Box Bonanza
Jan 16- McClelland, Murphy, and Hicks Aim to Defend Southern California Championship Titles
Jan 11- Firecracker Bracket Nationals Return to Byron Dragway, July 5-7, 2019
Jan 08- Team Aruba Readies for 2019 Tour, Including Four NHRA Nationals
Jan 07- Rapisarda Autosport International Star Sanford Leads 400 Thunder Championship
Jan 02- Rapisarda Autosport International Chase New Year Glory