Wed, 25 Apr 2007, 11:26 PM



Marco Abruzzi at Home in Top Sportsman



By Jim Samuel


Photo copyright 2007 BME Photography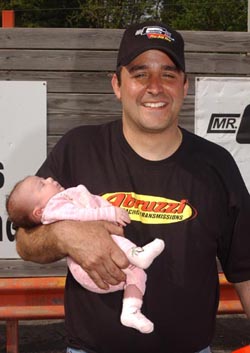 Marco Abruzzi
Marco Abruzzi has found his home in drag racing and that home is called Top Sportsman.
It's a class that Abruzzi enjoys. It's also a class that has allowed him to earn two IHRA world championships in the past four racing seasons. To Abruzzi, Top Sportsman is the perfect combination of everything he likes about drag racing.
"I love bracket racing, I like door cars and I like going fast," Abruzzi says. "Top Sportsman is my favorite class."
For those who aren't familiar with the class, Top Sportsman racing combines the roots of Pro Mod racing with bracket racing. The cars are based on passenger car body styles with no limits on engine displacement or body alterations, much like Pro Mod cars. During eliminations, each driver must provide a dial-in ET and race to that dial-in, just as in bracket racing. In IHRA racing, the 48 quickest cars make the field for eliminations while other sanctioning bodies include any car that had an ET of 7.99 seconds or lower during qualifying.
Like many racers, Abruzzi got his first exposure to drag racing when he was a boy and his father would take him to the race track. "My dad had been dragging me to the races since I was a little kid," Abruzzi says. But even though he spent a lot of time at the drag strip, that was not where the younger Abruzzi had his first taste of motorized competition.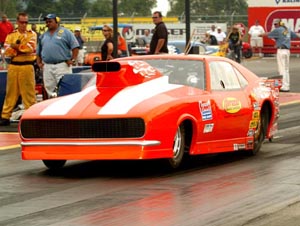 Marco Abruzzi
Instead, Abruzzi got his start racing in the dirt and on two wheels. "I started racing in motocross," Abruzzi says, adding that he raced motocross for a couple of years before he got his driver's license and a 1973 Chevy Camaro. After he got the Camaro, it wasn't long before the 16-year old Ohioan started taking it down the quarter-mile.
After a year of racing his street Camaro, Abruzzi and his father decided to get serious about racing and bought 1966 Chevelle that was already set up as a bracket racer. The pair raced that car for several years, constantly modifying and improving it during the off seasons.
"I started with a bracket car. It was a '66 Chevelle," he says. "I had that car three or four years. When we started with it, it was a back half and when I sold it, it was a chassis car."
After that, Abruzzi moved on to a 1990 Chevy Lumina before settling on the first-generation Camaro for his Top Sportsman car. His current car is a 1,250 horsepower 1968 Camaro. Like his other cars, Abruzzi's Camaro has been modified throughout the years and now sports a Tim McAmis chassis and a 698 cubic inch engine that was put together by Koffel's Place. The engine's power gets to the rear wheels through a Powerglide transmission that was built by Abruzzi Racing Transmissions.
If the name looks familiar, that's because Abruzzi Racing Transmissions is the family business. Founded in 1957 by Abruzzi's grandfather, the business is located in Warren, Ohio and now includes an OEM shop and a racing transmission shop that Abruzzi and his father started about 10 years ago. Today, that racing transmission shop builds high performance transmissions for drag racing and monster trucks.
"I'm the third generation in it (the business)," says Abruzzi. "My grandfather started it in 1957 and my dad is retiring this year. I've worked here my entire life."
While running the family transmission shop places great demands on his time, it also gives Abruzzi the schedule flexibility to race that those in regular, nine-to-five jobs might not have.
"If you want to race, I've set up my life perfectly," he says. "My wife works a regular job and can't set her schedule the way I do."
Abruzzi may leave the shop building on weekends to go to the races, but that doesn't mean he forgets about his business. Instead, he takes the business with him and repairs transmissions at the race track.
"If a guy breaks at the track and doesn't have a spare transmission, I'll work on it for him," Abruzzi says, crediting crew chief Brian Sexton with giving him the time to work on transmissions at the track, instead of working on his own race car.
"I just get in and drive," Abruzzi says. "I have more time than you can imagine." One thing Abruzzi says he does not have the time for is to travel greater distances to compete or to move up into a professional class of racing.
"I looked into Pro Mod a few years ago," he says. "But we didn't do it because we all work so hard during the week."
Abruzzi also limits his racing to tracks in the eastern half of the United States. "Anything east of the Mississippi is fair game," he says, adding that he races mostly at IHRA national events and division races but also plans to enter a few NHRA races this year. "I am going to run some NHRA Division 3 races this year," he explains.
The demands of everyday life not only affect where Abruzzi races, they can sometimes throw a kink into even the best paid plans.
The 2006 season is just one example.
"2006 was a wild year," he says. "I had a lot going on and I had a brand new car. When I went to (the season opener at) Quaker City, I had one run on it."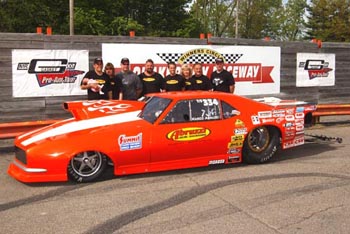 Abruzzi and crew celebrate Quaker City runner-up.
Abruzzi was runner up at Quaker City and went on to score runner-up finishes at the next two races he entered. Then, he went on to record a couple of wins in the first part of the season, all with a new car.
"Then, one of my crew guys quit to build a house," Abruzzi said. "I only won a few rounds after that. We had a problem with the car and we couldn't find the cause. We finally got it fixed at Norwalk."
Abruzzi went into the season finale at Rockingham with the championship almost clinched. "There was one fellow left who still had a shot," he says. "It was one of those deals where he had to win the event and I had to go out before the second round." When that racer lost in the first round and Abruzzi made it to the fourth round of eliminations before losing to Dewayne Silance, Abruzzi clinched his second IHRA national title.
Though Abruzzi has come a long way since he started drag racing , he still has the 1973 Camaro that he drove on his first trip down the track.
"You talk to older guys about their first car and they all say 'I wish I still had it.' Well, I still have mine," Abruzzi says. "I haven't laid a finger on it in 20 years."




IHRA: 10 Most Recent Entries [ top ]

Mar 21- 2018 IHRA Summit Sportsman Spectacular Series on April 20-22
Feb 26- Weather-Related Construction Delays Postpone IHRA Xtreme Raceway Park Opener
Feb 16- IHRA Summit Sportsman Spectacular Schedule Announced
Feb 15- New York Track Finds Value for Racers with IHRA Agreement
Feb 15- IHRA Summit Sportsman Spectacular Debut Only One Month Away Now is the Time to Pre-Enter
Feb 15- Summit Texas Location is a Racers' Paradise
Feb 15- Canadian Track Makes Large Commitment to IHRA Drag Racing
Jan 27- Mid-Michigan Destination Joins IHRA Family
Jan 27- Mississippi Track Reaches Sanctioning Agreement
Jan 16- Michigan Track to Host IHRA Summit Sportsman Spectacular