Tue, 27 Feb 2007, 10:18 PM



The Important Things In Life



By Bob Frey


Photo copyright 2007 Auto Imagery, Inc. and BME Photography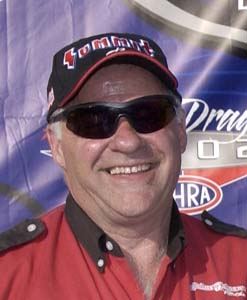 Roy Johnson
OK, so
Kenny Bernstein
had a big shake up on his team,
JR Todd
and his
Skull Shine
team are looking for a new leader,
Ashley Force
went across the center line,
John Force
lost in the first round,
Allen Johnson
didn't qualify in Pro Stock,
Greg Anderson
was shut off on the starting line,
Del Worsham
didn't qualify at his sponsor's race and
Jason Line
lost the final round on a holeshot. But you know what? None of that really matters when you look at the really important things in life.
Roy Johnson
had a heart attack at the track and almost died, and when you're having health problems like that, none of those other things seem really important.
Roy
was taken to the hospital where he received incredible treatment, treatment that probably saved his life. "The people at the hospital were unbelievable,"
Roy
's son, Allen, told me this morning. "I've never seen anything like that place. They are the best." The hospital,
Chandler Regional Hospital
, has a reputation as one of the best facilities in the country when it comes to cardiovascular care and Allen couldn't say enough about the care and attention that his dad received. "Something like this really opens your eyes," he said. "These people are so good at what they do and they gave dad the best care in the world." Allen went on to say that an incident like this also opens your eyes to the community that we live in. "I couldn't believe how great everyone was. When dad came out there were about fifty or seventy-five people in the lobby that he could see. It was just so good to see all of our friends there." As I spoke with him, Allen and his dad and family were getting on
Ken Black's
private plane to fly home to
Tennessee
. When the incident first happened
Don Schumacher
sent his plane to
Tennessee
to pick up
Roy
's wife and family to bring them to
Arizona
. I mention this to illustrate what a close family the drag racing community is. When they are racing everyone wants to beat the other person, but when the need arises everyone wants to help the other person. And I'm sure that neither Ken Black nor Don Schumacher care if anyone knows what they did in this situation but I thought it warranted mentioning to illustrate what kind of people we have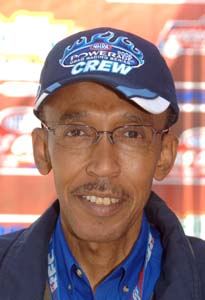 Lynn Nickerson
in our sport. Surprisingly, at least to me, Allen said that he will be in
Gainesville
in two weeks and he hopes to begin another long qualifying streak. "Dad got about another fifteen or twenty year warranty thanks to the folks at the hospital," Allen said. "He still has some work to be done in a couple of weeks but for now he's doing well and we're all very thankful for that. We also want to thank everyone for their thoughts and prayers." ....While I'm on this subject I want to add that I spoke with
Lynn Nickerson
today and he sounded good. Lynn, the Division 4 announcer and all around nice guy, has been fighting some serious health problems for a while now and has been undergoing chemotherapy treatments that have really drained him. He's in the hospital but hopes to get released very soon and he is still planning on being at the national event in
Houston
next month. Please keep
Lynn
in your prayers, I know he'll appreciate it..Roy Johnson and Lynn Nickerson are doing well today and those are the important things in life!!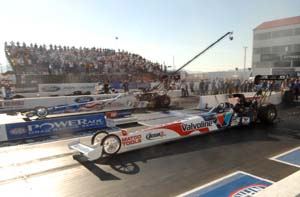 Fuller vs. Troxel
With
Melanie Troxel
and
Hillary Will
in the Top Fuel field, Ashley Force in the Funny Car field and
Erica Enders
in Pro Stock,
did you know
that it marked the first time in drag racing history that we have had a female driver qualify in all three pro classes at the same race?...
Rod Fuller
won the Top Fuel race in Phoenix becoming only the third dragster driver to ever win that race in consecutive years. With his win Rod now has four in Top Fuel, the same number as the great
Blaine Johnson
. He also has nine final rounds, the same number as
Blaine
and his top speed run was the third of his career, the same as Blaine Johnson. I only mention those things because if you're driving a Top Fuel car and you can have your name mentioned in the same sentence as Blaine Johnson you know that you're doing well.As a fan you had to love the run between Melanie Troxel and
Brandon Bernstein
in round two. Both drivers had their cars smoke the tires and get out of shape and Melanie recovered while
Brandon
, out of power, tried to coast to the finish line ahead of her. Melanie did a wonderful job of keeping her car off the center line and she saved the run for her team. Nice job, Mel...
Did you know
that when Rod faced Melanie Troxel in the final round it was the first time in the history of the event that the same two drivers made it to the final round in consecutive years? Rod, who credited "Canadian Power" for the win, won for the fourth time and he took over the points lead for the first time in his career.
Did you know
that Rod is the thirty-seventh driver to hold the lead in the history of Top Fuel? The reference to
Canada
comes from the fact that Rod's crew chief is
Rob Flynn
, a Canadian. Whatever the reason for his success it appears obvious that Rod is a very talented driver since he seems to win with who ever is calling the shots. Rob Flynn, meanwhile, is getting a good shot as the top guy on a very good team, one that is owned by
David Powers
, and he's making the best of it. The
Valvoline
team went to the semi-finals in
Pomona
before going to the winner's circle in
Phoenix
and that's a very good start. Of course, with the new "Countdown" system, the main thing is to be in the top eight spots by Labor Day and, after two races, guess who is not in that group in the dragster field?
Doug Kalitta
, and the
MAC Tools
team are off to a slow start but that isn't anything new for the team.
Did you know
that Doug won exactly one round at the first two races last year and he won exactly zero rounds at the first two races in 2005? Don't worry about the "Big Red" team, they'll be OK....In addition to Doug's round one loss in Arizona, his teammates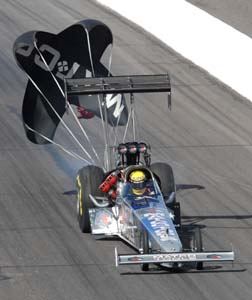 Whit Bazemore
in the dragster class,
David Grubnic
and Hillary Will, along with
Scott Kalitta
in the
Toyota
Funny Car also failed to get out of the first round. I'm pretty sure that's not the way
Connie Kalitta
wanted to spend his 69
th
birthday..
Whit Bazemore
in the other TF car that is owned by David Powers, had another good weekend with a semi-final round appearance. Whit, driving for
Matco Tools,
lost to Rod for the second straight race, but before that he looked very good. With
Lee Beard
as the crew chief, that team will be in the top eight for a long time and they should contend for the championship later this year....With Rod winning from the number two qualifying spot it continues a trend that seems to occur almost every year in
Phoenix
.
Did you know
that in the twenty-three years at Firebird Raceway the winner in Top Fuel has come from the top half of the field an amazing twenty times? By the way, speaking of Firebird Raceway, let's give
Charlie Allen
and his crew some credit for giving the teams a very good track on which to race. The NHRA Safety Safari has to get a lot of credit, too, and together they gave the teams a good racing surface that produced some amazing times. Of course it was at this track eight years ago tomorrow (February 28), that
Tony Schumacher
made the first 330 mile per hour run in drag racing history, so I guess the track has been good for a long time....It will be interesting to see who replaces
Jimmy Walsh
on the Skull Shine team for JR Todd. Jimmy certainly got everyone's attention with his performance over the past fourteen races and he is now facing his biggest challenge as he moves over to the Funny Car class. It's a tough situation for JR, too, since he and Jimmy seemed to be in a really nice comfort zone for the past year or so. I will tell you this, if I had a boy I would tell him to grow up and learn how to tune a fuel car because the folks who can do that at the top level can almost name their price. Good luck to all parties involved. I will also say this, if I had a fuel car and needed some immediate help I would be glad that I still had
Paul Smith's
phone number.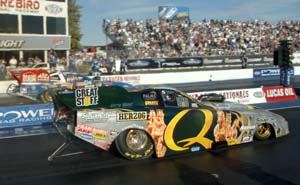 Pedregon vs. Hight
Tony Pedregon
and his
"Q"
team won in
Phoenix
for the first time and they did it in convincing fashion. Tony qualified number two behind
Robert Hight
, and then set the record at 4.659 en route to the win.
Did you know
that this is the first time that the Funny Car elapsed time national record has been set in
Phoenix
? And
did you know
that this is the first time in his career that Tony has set the record?...Robert Hight ran low elapsed time for the second consecutive race and, for the second consecutive race he came up short in the final round. Still, his 4.636 might be the run of the year so far. Of course his 4.646 in
Pomona
was the run of the year after one race.
Jimmy Prock
, Robert's crew chief, just makes wacky power and they're going to win their share of races together. Robert qualified number one for the sixteenth time but he has only converted three of those into wins..When Robert and Tony met in the final round it was the second straight race this year where the top two Funny Car qualifiers have met in the final round.
Did you know
that it is only the fourth time in the history of the
Checker, Schucks, Kragen Nationals
that the top two drivers have squared off in the Funny Car final round? It's also the third time that the number two guy won the race and it marked the eighth straight year that the top qualifier in FC did not close the deal....If you watched the ESPN television show, or read a few other web sites,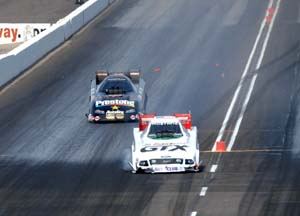 Ashley Force
you know that John Force lost in round one at back-to-back season opening races for the first time since 1989.
Did you know
in '89 the same guy,
Tom
Hoover
, beat John in round one at both of those races? John will be OK, I'm sure, and he'll be in one of those final eight "countdown" spots.
Did you know
that right now John is not in the top ten in points? I'll bet that new system is starting to look pretty good right about now, isn't it? Only kidding. John and his
Castrol
team still have to be considered the team to beat this year and until the other teams mathematically eliminate him he is a threat to win it all...Ashley Force's journey into the other lane in round one had to get a lot of attention both on television and in the printed press and rightfully so. Ashley is the focal point of a great deal of attention this year and, as such, you have to take the good with the bad. Having said that, let every Funny Car (or Top Fuel) driver who hasn't hit the timing blocks raise his or her hand. Just what I thought, I don't see a lot of hands going up. I'll say the same thing that I said after Erica Enders crashed her car during testing two years ago, everyone does it. In fact, if you go back just a few years, Robert Hight and
Eric Medlen
both did it and Ashley's dad, John, made a career out of doing it in his early years. Ashley will get over it and she'll do well, just like Robert, Eric and her dad. Let's face it, everything that she does this year, good or bad, will be magnified because of who she is.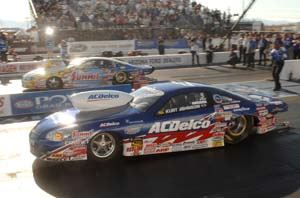 Johnson vs. Line
Kurt Johnson
won the Pro Stock title when he beat Jason Line in the final round and that's the 36
th
win of his career. With the win Kurt runs his streak to thirteen years in a row in which he has won at least one event.
Did you know
that next to John Force's streak of twenty years in a row, KJ has the second longest streak among active professional drivers in the sport? When KJ got the win it kept the number one qualifier from winning again in
Phoenix
.
Did you know
that in the past fifteen years the number one qualifier in Pro Stock has only won the race one time at Firebird Raceway? And that's weird because in the first eight years of the race the top guy won every time in Pro Stock. Go figure!!...Kurt won the race on a holeshot which means that five of his last six final rounds have been decided right on the starting line. Of that total he won four of them. Kurt had some cute little signs for Roy Johnson on the driver's side window of his car in each round. They ranged from "Get Well Roy," to "Sorry Roy" after he beat the Mopar of
Richie Stevens
in round two. Richie, by the way, uses power from Roy and Allen Johnson's engine shop..
Rodger Brogdon
continues to impress as he qualified for his second straight race, and as impressive as he was Erica Enders was even more so, after all, she beat Rodger in round one. Still, both teams need to thank
David Nickens
for giving them the power to run with the best Pro Stock teams in the sport.
Warren Johnson
had a .132 reaction time
in round one and I can't seem to figure that out. WJ had a .135 in
Pomona
and he's way too good for that to happen at back-to-back races. The
GM Performance Parts Pontiac
is running well and the "Professor" should be a factor all year long once he gets that little starting line glitch figured out....I tried to tell Jason Line about the number one jinx in Phoenix but he went ahead and qualified at the top of the pack anyway. Jason has qualified number one twelve times but has only won three times from that top spot. Along with
Greg Anderson
, the
Summit Racing Pontiacs
certainly seem like the best cars from a performance standpoint and maybe it will take a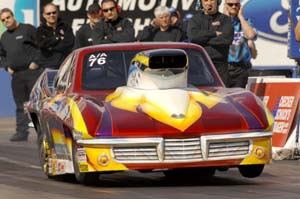 Vinny Deceglie
holeshot or a mechanical problem to keep them from winning the title again....
Jeff Perley
, who had been with Greg and Jason for years, was at the race and he was hanging with the
Mountainview Tire
folks in the sportsman pit area. Jeff was seen on the starting line with
Vinny Deceglie
and
David Beckley
when they ran their cars and I guess he helped since David made the quickest run in the history of the class with his A/AA Corvette.
Since I already mentioned Vinny, did you know that when he didn't qualify this weekend it ended a streak of almost 100 races in which he had made the show? That includes both national and divisional races and I don't care what class you're in, making the field at one hundred races in a row is something special. Vinny will start a new streak this weekend at the Lucas Oil race at Firebird..Jody Lang just missed making history when he lost in the final round by one-thousandth of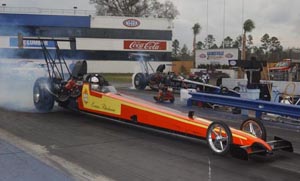 Bill Evans
a second. Jody broke out by that slim margin in the finals and it kept him from becoming the first driver in history to win Super Stock at the first two races of the season....A couple of the top, young drivers in our sport won the other sportsman classes and that included
Brad Plourd
, who beat Lang,
Shawn Langdon
in Super Comp,
Matt Constant
, with the
Chase Chevrolet
truck in Super Gas and
Jeff Jackson
in Super Street. Jeff won his second CSK race in his classic 1968 Mustang and he'll look to repeat this weekend when he is back at Phoenix for the Division 7 opener..
Jay Payne
won his second race of the young season when he stopped
Bob Newberry
at the Division 2 Lucas Oil race in Gainesville, Florida, and congratulations to
Bill Evans
who won his first divisional race in Top Alcohol Dragster at Gainesville.




NHRA: 10 Most Recent Entries [ top ]

Jul 13- INDY 1 - Sunday Videos
Jul 12- INDY 1 - Sunday Wrap Up
Jul 12- INDY 1 - Summary of Eliminations in Top Fuel
Jul 12- INDY 1 - Summary of Eliminations in Funny Car
Jul 12- INDY 1 - Summary of Eliminations in Pro Stock
Jul 12- INDY 1 - Summary of Eliminations in Pro Stock Motorcycle
Jul 12- INDY 1 - Summary of Eliminations in JEGS Super Quick
Jul 12- INDY 1 - Summary of Eliminations in Oakley Motorsports Top Sportsman
Jul 12- INDY 1 - Summary of Eliminations in Oakley Motorsports Top Dragster
Jul 12- INDY 1 - Championship Points