Tue, 27 Feb 2007, 08:38 PM



Bernstein Hires Jimmy Walsh as Crew Chief For Monster Energy/Lucas Oil Funny Car



Courtesy of Susie Arnold


Photo copyright 2007 Auto Imagery, Inc.





LAKE FOREST, Calif. --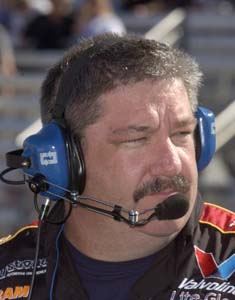 Jimmy Walsh
Six-time NHRA champion Kenny Bernstein announced today that Jimmy Walsh will assume the duties as crew chief of his Monster Energy/Lucas Oil Dodge Charger Funny Car. Walsh will be accompanied by right hand man, Danny DeGennaro.
Walsh spent 20 seasons with Joe Amato's race team before joining Dexter Tuttle's organization as crew chief for J.R. Todd. In 2006, Walsh tuned Todd to three Top Fuel victories as well as a win at the 2007 season-opening CARQUEST Auto Parts Winternationals.
"We are thrilled to have Jimmy and Danny onboard," said Bernstein. "Jimmy has a long-time professional association and friendship with Tim and Kim Richards, who are the crew chief and assistant crew chief on our Budweiser/Lucas Oil dragster.
"We know that Tim will work closely with Jimmy and the two will trade information which should do nothing but benefit us on the Top Fuel and Funny Car side. We are anxious to make some big performance strides for our sponsors and fans."
"This is a big opportunity to work with both Kenny and Timmy," said Walsh. "Timmy is like my mentor and Kenny has always had a first-class operation. I think we will have fun doing good things together.
"The Funny Car will be a learning experience, but Tim has quite a bit of Funny Car knowledge and I think working together, we will see what the car is asking for and make good performance decisions."
Bernstein, who has enjoyed a friendship with former crew chief Ray Alley since the 1960s, appreciates all the effort that Alley and Johnny West put into the organization and building of the Monster Energy/Lucas Oil team.
"Ray was dedicated to this project and told me from the beginning that he would always be there for me until I could find someone to take over the crew chief responsibilities," said Bernstein. "Ray has always played an important role in my life and we will always remain friends. He has been a great mentor over the years.
"On Saturday in Phoenix Ray reiterated he'd stay until another crew chief could be found.
"With Tim and Kim's help we were able to secure Jimmy Walsh.
"As far as Johnny West is concerned, you can always count on him to dig in and do whatever trench work is necessary and we are grateful for his help. With Jimmy bringing Danny along, however, that was a working relationship that secured the top two spots.
"I know Ray and Johnny put forth every effort and invested countless hours and we would like to recognize all their dedication and hard work."
The remainder of the Monster Energy/Lucas Oil team will stay intact.




NHRA: 10 Most Recent Entries [ top ]

Jul 12- INDY 1 - Summary of Eliminations in Top Fuel
Jul 12- INDY 1 - Summary of Eliminations in Funny Car
Jul 12- INDY 1 - Summary of Eliminations in Pro Stock
Jul 12- INDY 1 - Summary of Eliminations in Pro Stock Motorcycle
Jul 12- INDY 1 - Summary of Eliminations in JEGS Super Quick
Jul 12- INDY 1 - Summary of Eliminations in Oakley Motorsports Top Sportsman
Jul 12- INDY 1 - Summary of Eliminations in Oakley Motorsports Top Dragster
Jul 12- INDY 1 - Championship Points
Jul 12- INDY 1 - Bonus Points
Jul 12- INDY 1 - Oakley Motorsports Top Sportsman Final, Round 4 Eliminations