Sun, 25 Feb 2007, 08:40 PM



Pedregon, Fuller and Johnson Earn Victories at Checker Schuck's Kragen NHRA Nationals



Courtesy of NHRA Communications


Photo copyright 2007 Auto Imagery, Inc.





CHANDLER, Ariz. --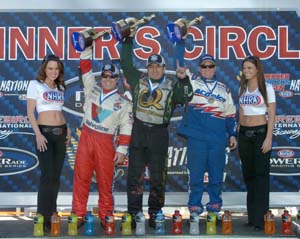 Fuller, Pedregon and Johnson
Former NHRA POWERade Series Funny Car champion Tony Pedregon set a national elapsed time record en route to his 33rd career victory Sunday to highlight a record-setting weekend at Firebird International Raceway.
Rod Fuller and Kurt Johnson also scored victories at the Checker Schuck's Kragen NHRA Nationals presented by Castrol, the second of 23 events in the NHRA POWERade Drag Racing Series Countdown to the Championship.
Pedregon's opening-round run of 4.701 seconds certified his 4.659-second qualifying time within the required 1 percent, making it an official NHRA record worth 20 bonus points in the POWERade standings. He then defeated Robert Hight in the final round to add the race trophy to his collection.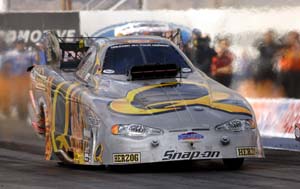 Tony Pedregon
"This weekend was just a little reminder that when conditions are good and with the way (NHRA) prepares the tracks these days that just about any place can hold a national record," said Pedregon, who became the first Funny Car driver to set a national performance elapsed time record at the quarter-mile track near Phoenix. "Anytime you can qualify well, set a national record, and win the race with the two quickest cars in the class going at it in the final, I'd say it's a great weekend. The fans sure got their money's worth."
Pedregon's memorable weekend in the Q-Racing Chevy Monte Carlo helped him move up to second place, just six points behind Hight, who took over the top spot from Pomona winner Gary Scelzi with his second straight runner-up finish.
Fuller raced to his second straight Top Fuel victory at this event, once again defeating Melanie Troxel in a rematch of last year's final round. He powered his Valvoline/David Powers Homes dragster to a 4.490-second run at 327.19 mph to claim his fourth career victory and take the series points lead for the first time in his career.
Rod Fuller
"I got to the final and we're in the same lane as last year against Melanie again and I was thinking how much I love Arizona," Fuller said. "Then I thought about the streak and you know streaks are gonna end at some point. But in the end it all worked out for us. I feel really blessed and lucky, especially when they told me we were in the points lead. I've never had that before."
Johnson claimed his 36th Pro Stock victory by driving his ACDelco Chevrolet Cobalt to a performance of 6.694 seconds at 206.67 mph. Runner-up Jason Line's Summit Racing Pontiac GTO was quicker with a 6.676 at 207.85 mph, but he came up one hundredth of a second short at the finish line due to Johnson's quicker reaction time at the start.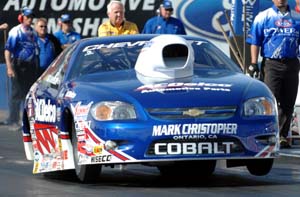 Kurt Johnson
The victory extends Johnson's NHRA streak of winning at least one race per year to 13 seasons.
"It's a relief," said Johnson, a three-time winner at this event. "If nothing happens for the rest of the year I can say I won Phoenix and remember I enjoyed a cold beer afterwards. Some times you work just as hard as always but you don't get the wins. It's a tough class."
Johnson's win catapulted him up to third in point standings. Line moved into the series lead, 1 point in front of teammate Greg Anderson.
The NHRA POWERade Series Countdown to the Championship continues with the 38th annual ACDelco NHRA Gatornationals, March 15-18 at historic Gainesville Raceway in Florida.
Sunday's final results from the 23rd annual Checker Schuck's Kragen NHRA Nationals presented by Castrol at Firebird International Raceway. The race is the second of 23 in the NHRA POWERade Drag Racing Series:
Top Fuel -- Rod Fuller, 4.490 seconds, 327.19 mph def. Melanie Troxel, 4.536 seconds, 325.61 mph.
Funny Car -- Tony Pedregon, Chevy Monte Carlo, 4.803, 326.32 def. Robert Hight, Ford Mustang, 9.723, 84.75.
Pro Stock -- Kurt Johnson, Chevy Cobalt, 6.694, 206.67 def. Jason Line, Pontiac GTO, 6.676, 207.85.
Competition Eliminator -- Alan Ellis, '23-T Ford, 6.710, 199.40 def. Wayne Ramay, Dragster, 7.094, 187.31.
Super Stock -- Brad Plourd, Calais, 9.241, 140.04 def. Jody Lang, Malibu, 10.949, 119.84.
Super Comp -- Shawn Langdon, Dragster, 8.892, 165.15 def. Rock Haas, Dragster, 8.871, 161.56.
Super Gas -- Matthew Constant, S-10, 9.902, 157.54 def. Kevin Kleineweber, Corvette, 9.888, 152.28.
Super Street -- Jeff Jackson, Mustang, 10.892, 148.62 def. A.J. Percival, Dart, 10.862, 138.24.




NHRA: 10 Most Recent Entries [ top ]

Jul 12- INDY 1 - Oakley Motorsports Top Sportsman Final, Round 4 Eliminations
Jul 12- INDY 1 - JEGS Super Quick Final, Round 5 Eliminations
Jul 12- INDY 1 - Oakley Motorsports Top Dragster Final, Round 4 Eliminations
Jul 12- INDY 1 - Top Fuel Final, Round 4 Eliminations
Jul 12- INDY 1 - Funny Car Final, Round 4 Eliminations
Jul 12- INDY 1 - Pro Stock Final, Round 4 Eliminations
Jul 12- INDY 1 - Pro Stock Motorcycle Final, Round 4 Eliminations
Jul 12- INDY 1 - JEGS Super Quick Round 4 Eliminations
Jul 12- INDY 1 - Oakley Motorsports Top Sportsman Round 3 Eliminations
Jul 12- INDY 1 - JEGS Super Quick Round 3 Eliminations