Thu, 22 Feb 2007, 11:38 PM



You're The One That I Want



By Bob Frey


Photo copyright 2007 Auto Imagery, Inc. & BME Photography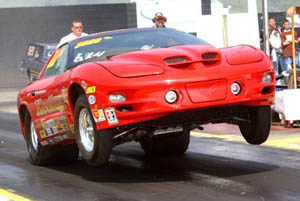 Roger Keeling
It may not be a well kept secret but I love to go to New York to see a Broadway show, any show, but I really like the musicals. Ironically, a couple of other guys who work on the NHRA tour do, too. Gary Gerould and Paul Page, who work on the ESPN television shows, are also big Broadway fans. In fact, in Pomona we sat around and talked about the latest shows and which ones are worth seeing, after all, at about a hundred bucks a ticket you want to make sure that you're getting your money's worth. Now I'm not sure but there probably weren't a lot of other folks at the races in Pomona who were also planning to catch a musical on their next available weekend.
Roger Keeling is a drag racer who lives in West Virginia and he has been racing for a very long time, and until recently, musicals weren't big on his mind, either. "My son, Derek, is on a television show where they are looking to cast the two lead parts in the Broadway revival of the musical 'Grease.'" The show, which takes its name after one of the big songs in the show, is called, "Grease, You're the One That I Want" and it currently airs on NBC at 8 P.M. on Sunday night (as they always say, check your local listings). The two who are chosen, one girl and one guy, will get the lead parts that were originally played in the movie by Olivia Newton-John and John Travolta. "Over 7,000 kids showed up across the country for the opening tryouts," Roger said. "And Derek has made it down to the final five. To say that we're excited would be an understatement."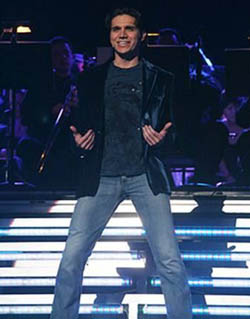 Derek Keeling
Derek, who has his roots in the NHRA Jr. Drag Racing program, is a graduate of the University of Kentucky where he majored in theater. "He has always loved performing and being in front of people," Roger said. "He used to race in a Jr. Dragster, in fact, we had the first Jr. car in West Virginia. But he grew up and soon he was too big for the car so he decided to take up track in high school." Derek, who won several Jr. Dragster events, ran track and cross country in school before being sidelined by an injury. All along, though, he still had thoughts of making it to New York. "He went away to school and did very well, graduating with honors before moving to New York." And while Derek had his sights set on Broadway, his dad had his sights set on a 'Wally.' "I've been racing for a long time and I would love to win an NHRA national event. But I still enjoy it as much as I did when I first got started." Roger started out with a Ford Galaxie with a 352 engine and a two barrel carburetor. "It wasn't that fast but it was a lot of fun." From that humble beginning Roger, now fifty-nine years old, moved up the food chain and he had his best year overall in 1981. "I won the IHRA World Championship back in 1981 and that was really special. In fact, Bob, you presented me with the trophy at the banquet in Nashville." Roger went on to mention how I was wearing a cowboy outfit and a really huge hat, and he said that he still has pictures of it. "I do, too," I told him. "And every time my wife wants to embarrass me she brings out the pictures and shows them to my grandkids. So let's move on."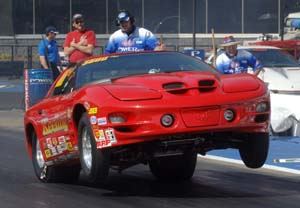 Like almost everyone's racing career, Roger's has had its highs and lows and one of the lows came a long time ago. "I had just purchased the championship car from Greg Stanfield, the one he won four titles with. I raced it at a points race in Florida and then took it up to Gainesville where I lost on Saturday night. When we came out the next day the entire rig, truck, trailer and car were gone. It had all been stolen. I had exactly six runs on the car." While that may have been enough to keep most racers down, Roger rebounded and since then he has raced a series of cars and he is now running a car in the GT/CA class, a 2002 Firebird that constantly qualifies near the top of every Super Stock field. "After the theft I was stunned by how many people offered their assistance and help including people I had never even met before. It's things like that that make this a great sport." Now, as his son looks to reach the pinnacle of his chosen profession, Roger would like to get some more help. "After each performance they open up the phone lines and the viewers can vote for their favorite performer. You can vote up to two hundred times per phone line so you know that we've been busy dialing. We have everyone around here voting and we're asking for help from anyone we can. This would be huge for Derek." I imagine if the drag racing community could help Roger after his car was stolen, a little thing like a vote for Derek should be a snap. "We have everyone here in town calling in and he could use all the support that he can get. We'd really appreciate any votes that could come from the drag racing community."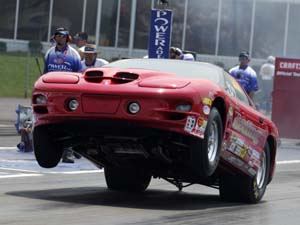 Like most sportsman racers, Roger holds down a full time job that occupies a great deal of his time. "I sell heavy equipment in and around West Virginia. I deal with a lot of contractors and mining operators and I've been doing it for years and I really enjoy it." And, like a lot of aspiring actors, Derek has a job that helps him live in New York while going from audition to audition. "He lives in an apartment with some other guys and they're all looking for that big break. Getting a job in New York is a lot like trying to win an NHRA national event. By that I mean there are hundreds, maybe thousands trying to do it and you need everything to fall perfectly into place. That's what we're hoping happens for Derek." Roger's wife's name is Sandi, which, ironically, is the name of the female lead in "Grease." Derek is going for the role of Danny, the role that Travolta made famous. "They gave each kid a nickname for the show and they call Derek 'Wholesome Danny' because he is just your All American kid." Ironically, Roger and his wife were in California for two weeks to watch the show and they were only a few miles away from Pomona during the running of the Winternationals. "I would have loved to get to the race but we had to go watch the show. On our way home we saw a lot of the big rigs leaving town and we knew some of them were leaving as winners, while others were not." And even though Roger feels that Derek is the best on the show, he knows how show business works, and it can be tough. "Last week, for example, Derek had a few bad notes at the beginning of his song and that hurt him a bit. It's kind of like going to the starting line at the races where everything has to go right if you want to win."
While Derek is in the competition, Roger's start to the 2007 drag racing campaign will be put on hold, but he intends to run a pretty full schedule after that. "My first national event will probably be Bristol and then I'll hit most of the Division 3 points races this year." Of course that could all change depending on how Derek does in the next few weeks. "We know he's got what it takes now we just have to see if he's the one America wants." The next show airs this Sunday and the voting lines are open right after the show ends. You can vote by phone or on line. I think I'll call Gary and Paul and get them to vote.
To find out more about the show you can go to http://www.nbc.com and click on "Grease."




NHRA: 10 Most Recent Entries [ top ]

Jun 30- Lucas Oil to Sponsor Summernationals at Indianapolis
Jun 25- Tickets on Sale for 2020 Southern Nationals
Jun 25- Houston Raceway Park to Transform into Drive-In Theater for First NHRA Race Since Lockdown
Jun 25- NHRA Northwest Nationals Canceled Due to State and County Restrictions
Jun 25- Toyota to Serve as Associate Sponsor of Tony Schumacher in Indianapolis
Jun 25- Wally Parks NHRA Motorsports Museum to Reopen July 1
Jun 24- E3 Spark Plugs Named Title Sponsor of July 11-12 NHRA Indianapolis Event
Jun 24- Cory McClenathan to Return for NHRA Indy Double-Header with DSR
Jun 22- AAA Texas Fall Nationals Expects Championship Field In October
Jun 22- Crew Chief Doug Kuch Returning to Foley Lewis Racing