Tue, 20 Feb 2007, 10:20 PM



At Least It Shouldn't Rain



By Bob Frey


Photo copyright 2007 Auto Imagery, Inc. and BME Photography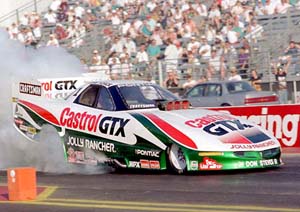 Force in '95.
With one race down and the
NHRA POWERade
tour heading to
Firebird Raceway
in Phoenix for the 23
rd
running of the
Checker, Schuck's, Kragen Nationals
, we should be sure of one thing...it shouldn't rain this weekend. After all, this is the desert we're headed too, isn't it? OK, so maybe it's not the actual desert but I like our chances of getting through the weekend without rain and that's more than we can say for the
Pomona
event. And believe me, having three days of racing with no rain makes for a much better weekend for everyone. I've always said that my idea of a good race is one that ends on the day that it is supposed to end. Let's hope that holds true in
Phoenix
. One thing that we know will be true, as much as any track we go to during the year you can expect the unexpected in
Phoenix
. Don't believe me, then just ask
John Force
or
Del Worsham.
John came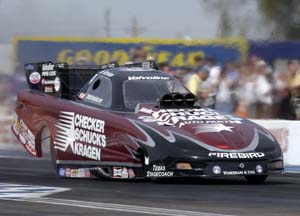 Del Worsham in '02.
to this race in 1995 accused of having traction control devices on his car and when he hadn't qualified after three rounds you heard a lot of "I told you so" comments from the other competitors. John then limped into the field in the #12 spot and then, on Sunday, he beat
Brad Platt, Chuck Etchells, Al Hofmann
and
Tom Hoover
to win the event. It should also be noted that at that event John kept his qualifying streak alive at 128 consecutive races....For his part,
Del
faced a similar situation in 2002. At his sponsor's race, after three rounds of qualifying, the best
Del
could do was a 5.864. But after the final round of qualifying he had vaulted the CSK car into the field at the number ten spot. On Sunday,
Del
did the same thing John had done years earlier, he won the race.
Del
beat
Gary Scelzi, Gary Densham, Scotty Cannon
and John Force to get the win. Like I said, expect the unexpected at Firebird Raceway.
Did you know
that those two Funny Car drivers, John and
Del
, are the only ones to win more than once in
Phoenix
? John has done it a stunning eight times while
Del
had recorded wins in 2002 and 2004. Other than that, the race has been won by a dozen other Funny Car drivers, but none of them did it more than once?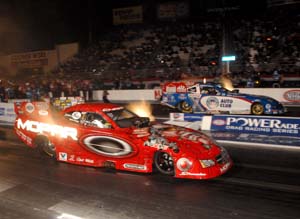 Scelzi vs. Hight
Gary Scelzi
and his
Mopar / Oakley Dodge
team are coming into
Phoenix
in the lofty number one spot in the points and it will be interesting to see how he does at Firebird Raceway.
Did you know
that in the history of the Funny Car class only five drivers have opened the season with consecutive wins? And
did you know
that it hasn't been done since 1997 when John Force did it? Before that you have to go all the way back to 1983 when
Frank Hawley
opened the year with three consecutive wins to find the last time a FC driver went four rounds at each of the first two races of the season. Gary had a great car in Pomona where he was the number one qualifier and set top speed before going out and winning it all on Sunday....
Robert Hight
, who was in the other lane, actually in both lanes, in the Funny Car final in Pomona, really showed me something on that run. Sure he crossed the center line but he also pulled the car back and still got to the finish line ahead of
Gary
and that's some driving job. Robert is a great asset to the sport and he has to be reckoned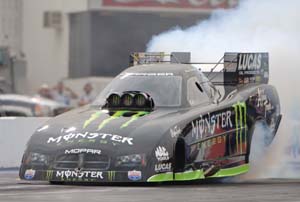 Kenny Bernstein
with at every race this year. If I were racing in the Funny Car class I would say that Robert has, in my opinion, one of the cars that would scare me every time it comes to the line. By that I mean he is a threat to run low elapsed time and top speed on every pass and if I'm in the other lane, that scares me....If you look at the drivers who qualified for the FC field in Pomona and then look at the ones who failed to make the show, where do you see the changes coming this weekend? Think about it, you had really good teams and tour regulars like Del Worsham,
Gary Densham
and
Tony Bartone
missing the field. You also had
Kenny Bernstein
making a very good run of 4.847 and not qualifying while
Terry Haddock, Grant Downing
and
Bob Bode
also missed the cut. Now, if you think that and two or three of those non-qualified drivers will get in this weekend who do they bump out? I'm telling you that some of the regular drivers on the tour will miss the cut at least once this year and that could include John Force. John's heroic qualifying run in
Pomona
was something special but you have to wonder how long John can keep that streak going. With a lot of great cars and drivers at every race someone has to be left outside, and with every point being very important as we head toward the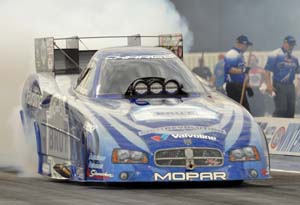 Ron Capps
"Countdown" later this year, the first two days of every national event should be really exciting. I'm not sure that they can be as exciting and dramatic as Saturday in
Pomona
but remember where you heard it first, very few Funny Cars will go through the year by qualifying at every event.
Did you know
that last year there were only five drivers who made every Funny Car field? Three of them were from the Team Force camp which just goes to show you how good they are. The others were
Ron Capps
and
Tommy Johnson
. In 2005 we had eight drivers make every field and in 2004 there were nine and it will be interesting to see how many make all twenty-three starting assignments this year....Tommy Johnson is the defending event champion in Phoenix and the
Skoal Chevrolet Impala
has to be considered a factor this weekend. Tommy has a little mini-streak going since he has won one of the first two races in each of the last two years (
Pomona
in 2005 &
Phoenix
last year) and he would love to extend that streak to three years. Tommy ran 4.748 in qualifying in
Pomona
and all that got you in the quickest field in history was ninth place and not even lane choice.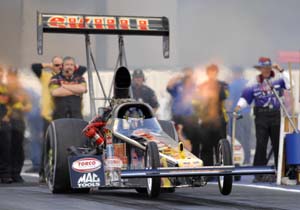 JR Todd
Since the fuel classes both put up record qualifying numbers in
California
,
did you know
that at the CSK race in 1997 we saw the quickest field in Top Fuel history up to that time? Would you believe we had a bump spot of 4.802 and we were stunned when
Dave Promnitz
ran 4.804 and failed to qualify? In the bottom half of that record setting field were
Tony Schumacher, Larry Dixon, Doug Herbert, Cory McClenathan
and
Eddie Hill
among others. That's a pretty stout field, isn't it?...The same situation exists in the dragster class as in the Funny Car class and that is, if
Clay Millican
and
Morgan Lucas
, for example, qualify this week who will they bump out?....
Rod Fuller
won the race last year and he looked very good in Pomona. If Rod wins the race he will be bucking a trend that has only seen two drivers win in consecutive years in Top Fuel in
Phoenix
...
Dick LaHaie
did it in 1986 & '87 and
Brandon Bernstein
did it in 2003 & 2004. Speaking of
Brandon
,
did you know
that he and Larry Dixon both won their first TF race at this event? Brandon in 2003 and Larry did it in 1995 and for both of them the win came in only their second start in Top Fuel....
JR Todd
and
Jimmy Walsh
will try to make a little history this weekend by winning the first two races of the season. As strange as it may be to believe,
did you
know
that in the history of the sport only two drivers have opened the season with TF wins at the first two races? Gary Scelzi did it in 1997 and
Gary Ormsby
did it in 1989, but other than that, nobody has won eight straight rounds to begin a year. Amazing, isn't it? So, like I said, good luck to JR, Jimmy and the rest of the
Dexter Tuttle
team this weekend. Of course, looking at what they did in Pomona, it wouldn't surprise me to see JR repeat this weekend, and anyone who thinks they won't be in the final eight for the "Countdown" has to be dreaming...Tony Schumacher leads the list of winners at Phoenix with three in the dragster class while six others have all won the event twice, and of that group only Cory and Brandon are still active...The Top Fuel record has been set three times at Firebird Raceway and Cory McClenathan has done it twice. The driver of the
Fram
Top Fuel car, and the only active driver who lives in
Arizona
, set the mark in 1994 (4.742) and again in 1998 (322.92 miles per hour). The other driver to do it in a dragster was Kenny Bernstein who record a stunning 4.664 at this race back in 1996. At the time that was the quickest run in the history of the sport.
Did you know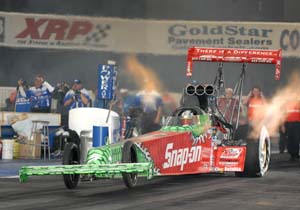 Doug Herbert
that Kenny is also the only person to have won in Phoenix in both of the fuel classes?...After his disappointing first round loss in Pomona Doug Herbert has made a crew change on the
Snap-On Tools
dragster and that means that
Doug Kuch
will not be the crew chief on the car,
Jim Brissette
will be. Jim, who was inducted into the
International Motorsports Hall of Fame
last year, has been with Doug for a while and they seem to have a very good relationship and you need that in the ultra-competitive world of Top Fuel.
Doug Foley
, as I was finishing this story, announced that he has re-signed Doug
Kuch
to his team, and everyone lived happily ever after!!....
Connie Kalitta
turns 69 this weekend. Happy birthday to one of the truly greats of the sport. I hope I'm enjoying life as much as he is when I'm that age. Connie, of course, will always be remembered for the great start that he had to the 1967 season.
Did you know
that Connie won the NHRA, AHRA and NASCAR Winternationals all in 1967? He's done a lot of other things too, including getting the last #1 qualifying spot of his career in
Phoenix
in 1997. That's right, Connie was the number one guy at the race with the quickest Top Fuel field in history. He also had a wild ride in
Phoenix
in 1996 when he had a tire go flat in the lights and had to bring the car to a safe stop on just three good tires. If you want to know more about that run ask Larry Dixon, he was in the other lane.
Rodger Brogdon
I know that testing is one thing and racing is another thing altogether but my eyes will be on
Rodger Brogdon
when he makes his first run in
Phoenix
. Rodger, under the guidance of
David Nickens
, reportedly ran 210 miles per hour at
Houston
this past weekend. Granted, conditions were excellent, but still, to run 210 is something special. If Rodger makes the field this weekend, which I think he will, he could turn into one of the really neat stories of 2007.
Did you know
that David Nickens won this race five years in a row in Competition Eliminator?...While there have been fourteen drivers to win in each of the fuel classes, only a dozen have been to the Firebird Raceway victory lane in Pro Stock. That's probably because we have had a lot of multiple winners in
Arizona
.
Bob Glidden
(5),
Darrell Alderman
and
Warren Johnson
(3 each) and
Kurt Johnson
and
Jim Yates
with two apiece. And yet, with all of those multiple winners,
did you know
that only Bob and Jim ever won the race in consecutive years?...The track record is 6.671 in Pro Stock and was set by
Greg Anderson
last year and that should get blown away in the first session on Friday. It should. Greg, by the way, looked awesome in
Pomona
and this week will be very interesting for the
Summit Racing Pontiac
. Greg won the race in 2003 and was runner-up to Warren Johnson last year and he has got to be the odds on favorite this weekend, at least until someone shows me that they can run with him. And drive like him. Greg's reaction times were great in
Pomona
and that's just what the class needs, Greg with a great car and great reaction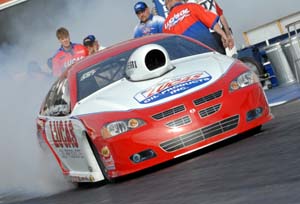 Larry Morgan
times....A sleeper in the filed could be
Ken Koretsky
who told me in
Las Vegas
that he thought he had a car that can qualify in the top five this year. In Pomona he was, let's see, oh yeah, number five, but that darn red light got him in round one and I know he wants to do better this weekend....The same situation exists in Pro Stock as the other professional classes and that is, if a non-qualifier from Pomona is going to get in who is going to get bumped out?...
Larry Morgan
should be counted on for a starting spot this week despite his troubles in Pomona.
Did you know
Larry's DNQ at the Winternationals marked the second consecutive race where he failed to qualify? He missed the bump at the final race in 2006 and now at the first race of '07. The last time Larry went two straight races without getting in the field was back in 2003. Larry is one of the best in the sport and he'll rebound this weekend and the
Lucas Oil
car should be in on Sunday but, like I said, then who's out? It should be fun, don't you think?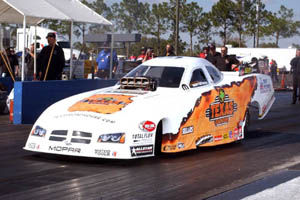 Marty Nothstein
Congratulations to
Marty Nothstein
and the
Parker Racing
team, also known as the
Texas Roadhouse
team, for winning in Top Alcohol Funny Car at the Division 2 race in
Bradenton
this past week. It's Marty's first win of his drag racing career and, believe me, it won't be his last. With additional help from
Dent Wizard
and
Matco Tools
, and with a crew that includes
Frank Parker, Rob
and
Tom Cunningham, Tom Krebaum, Tom
and
Nancy McVey, Tony Gulley
and
Brad and Jeff Eldred,
this is a very good team that could make a lot of noise in the alcohol funny car ranks this year. En route to the win Marty also recorded his personal best with a run of 5.627 and I can't wait to see him in
Gainesville
...
Morgan Lucas
won the Top Alcohol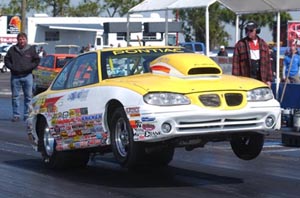 Anthony Bertozzi
Dragster class in
Houston
when he beat
Spencer Massey
in the finals. Morgan is going to make a strong run for the
Lucas Oil Championship
in the
Lucas Oil
dragster and a lot of the credit has to go to
Steve Boggs
the crew chief...And
Anthony Bertozzi
gets special mention for winning Super Stock in
Bradenton
. Anthony is off to a great start and his win over
Peter Biondo
goes along with his three wins, that's right, three wins at the IHRA
Summit Racing Equipment
Pro-Am series opener in
Immokalee, Florida
. Anthony...you're the man!....And finally, it is with deep regret that I report the passing of
Jim Merten
who
died earlier this week. Jim was co-owner of the
C & M Engineering
A/D and he could always be seen in his wheelchair near the starting line watching the car run, and run it did. With
Scott Chamness
driving, the team set the national record in A/D at a sizzling 6.55. Jim will be greatly missed. Cards can be sent to C & M Engineering,
110 Mooney Drive, Suite 8
,
Bourbonnais
, IL., 60914.




NHRA: 10 Most Recent Entries [ top ]

Jun 30- Lucas Oil to Sponsor Summernationals at Indianapolis
Jun 25- Tickets on Sale for 2020 Southern Nationals
Jun 25- Houston Raceway Park to Transform into Drive-In Theater for First NHRA Race Since Lockdown
Jun 25- NHRA Northwest Nationals Canceled Due to State and County Restrictions
Jun 25- Toyota to Serve as Associate Sponsor of Tony Schumacher in Indianapolis
Jun 25- Wally Parks NHRA Motorsports Museum to Reopen July 1
Jun 24- E3 Spark Plugs Named Title Sponsor of July 11-12 NHRA Indianapolis Event
Jun 24- Cory McClenathan to Return for NHRA Indy Double-Header with DSR
Jun 22- AAA Texas Fall Nationals Expects Championship Field In October
Jun 22- Crew Chief Doug Kuch Returning to Foley Lewis Racing