Thu, 15 Feb 2007, 08:52 PM



They Think I'm Nuts!!



By Bob Frey


Photo copyright 2007 Auto Imagery, Inc.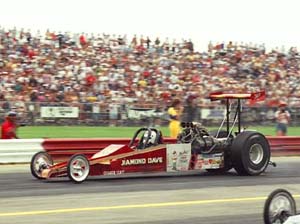 "Diamond" Dave Miller
As long as I can remember I have always liked people who did things a little differently from the crowd. I loved Jim Dunn's rear-engine funny car and was amazed at the Syndicate twin-engine Top Fuel dragster. The Hartley family, before they had a Top Fuel car that upset Tony Schumacher at the Winternationals, had a twin engine car that ran on nitrous oxide and Scott Weis used to run a fuel-injected funny car in the alcohol class. Don Kohler and "Diamond" Dave Miller took Top Fuel racing to extremes while John Peters had the Fright Train Top Gas dragster, Tommy Ivo had four engines in his car and Vinny Deceglie has a million cubic inch Sonny Leonard engine in his Corvette. OK, so maybe it's not a million inches but you get the idea, it's different. From the first time I saw a supercharged and a flip-top funny car, if it was going against the grain I liked it. That's probably why I really appreciate what Lee Davidson has done with his car in Super Comp.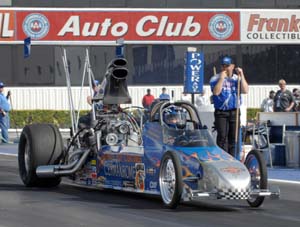 Lee Davidson
If you are a regular follower of the sport you know that, historically, the average Super Comp car is a rear-engine, big block Chevrolet powered dragster. And, with the exception of a wing here or a supercharger there, most of the Super Comp cars look alike and there's a reason for that, it is a proven formula in the 8.90 category. It may be an over simplification but a big block engine with the driver seated in the middle of the car makes for a very consistent race car, and that's why most of the winners in the class chose that particular type of vehicle. Most, but not Lee Davidson and his wife, Debbie, who have a car which is, well different. "When I first brought out the car people would come by, take a look at it and say 'You're nuts.' I heard that a lot." And, in the interest of fair reporting I have to say that the first time I saw the car that was my impression. Actually my first impression was that this is a really neat car and then I thought that the guy driving it must be nuts. "I've driven a lot of cars," Lee said, "and this one really gives you a sensation of speed. We actually built it to use two engines but NHRA wouldn't let us do that." The car, which is considerably shorter than the average Super Comp dragster, does have a 480 cubic inch engine with a supercharger and one four barrel carburetor. "Most of the cars with a supercharger have two carburetors but we just use one." That one carb comes from the shop of carburetor wizard, George Rupert. "He's a genius when it comes to these things and it's a big reason why our car runs so consistently. And Les Figueroa and John Spar helped us a lot with the supercharger. I couldn't have done it without them."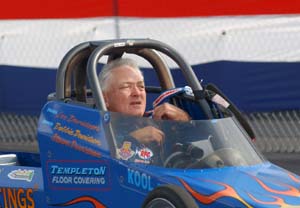 Lee Davidson
Lee Davidson has been around cars for a long while and some of them were almost as unique as his dragster. "My dad worked for Chrysler in the experimental department," he said. "We used to have some very interesting cars to drive. Once we had a 1965 Chrysler station wagon with a 426 engine and a four speed. My mom drove a 440-six pack car to work." With a history like that it's easy to see why Lee wanted to do something different in his drag racing career. "I started drag racing cars and then switched over to race boats but they got very dangerous and I decided to go back to racing cars." Initially he bought the former Safeway Sandblasting alcohol dragster and converted it to a Super E car to run at the west coast tracks. "Most people didn't think it would work because they thought it was too long for a car in that class but we made it work." After that he had a more conventional 1956 Chevrolet and, eventually, he and west coast standout Steve Federlin traded cars and he made the move to Super Comp. Then after running a traditional car for years, Lee got together with his son, Steve, who worked with Robert Stirling, one of the premier chassis builders in the sport, and they came up with this design. "I've had this car since 2003 and I'm still in the process of trying to get it to run consistently. I had a different idea for the car at first and I wanted it to be a fully enclosed car with a canopy like a fighter jet has. And I wanted it to be completely streamlined but there were some ideas we had that NHRA wouldn't go along with," Lee said. Still, in its current form, Lee believes the car may be on the cutting edge in the class. "Once we start going rounds and winning races I think people will take notice and it will be more than just a novelty." Despite its appearance Lee says that the car is extremely safe. "When I first brought it out at Sonoma a few years ago they weren't going to let me run it. I had to make a half-track pass to show them that it handled well. It has a thirty inch crash box, that I don't intend to use, but if something happens I'll be well protected." One of the disadvantages of the car, according to Lee, is the fact that he sits so close to the starting line in it that he has a tendency to red light. "My wife is the throttle stop person and she tells me how to set it up for each run and she yells at me when I red light." When I asked Lee if Debbie ever said he was nuts for running the car he said, "Many times." After being married for thirty-seven years if that's the worst Lee hears he's way ahead of the game!!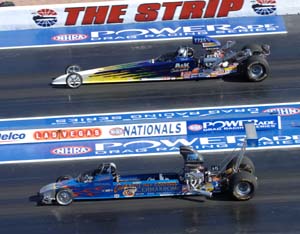 When they're not racing or trying to perfect their radical race car, Lee and Debbie operate a company called Kool Products. "We make custom vests that you wear under your driving suit to help you stay cool when you're at the track. I can't stand the heat and I came up with this idea about ten years ago." A lot of the west coast racers use the vests during the season and Lee says that there are also other applications besides racing. "Senior citizens use them when they walk and we sell them to MS patients who need to stay cool. We sell them to construction workers and we have one that Cal Trans uses. They have a lot of applications." If you would like to learn more about the vests you can contact Lee at
koolracer01@yahoo.com
. This summer, Lee and Debbie will travel to the Midwest to show off both their car and their products. "We'll race and camp in the Midwest in an effort to get more racers to look at the vests. Plus we'll get to race at some tracks where we have never been." In the perfect world Lee would like to go to Maple Grove and, eventually, Englishtown. "Englishtown, with its history and tradition, would be my dream track. I'd love to run there at least once."
Lee Davidson's car is not the work of one man. "My son, Steve, and Robert Stirling helped it become a reality and I have had the help of a lot of folks, like George and Les and John. Plus, Tom Prock at Venolia Pistons has been a big help. He had a lot to do with the engine and the combination that we run." And if the car isn't unique enough already, Lee has some other ideas for it in the future. "I'd still like to put two engines in it and then match race it," he said. "But for right now I'd just like to get it running well and win a race." With the determination that he has there's no doubt that Lee will accomplish that goal, and then he can go in the record books with others, like Jim Dunn's car, as racers who did things their way. Even if everyone else did think they were nuts!!




NHRA: 10 Most Recent Entries [ top ]

Jul 10- INDY 1 - Saturday Schedule
Jun 30- Lucas Oil to Sponsor Summernationals at Indianapolis
Jun 25- Tickets on Sale for 2020 Southern Nationals
Jun 25- Houston Raceway Park to Transform into Drive-In Theater for First NHRA Race Since Lockdown
Jun 25- NHRA Northwest Nationals Canceled Due to State and County Restrictions
Jun 25- Toyota to Serve as Associate Sponsor of Tony Schumacher in Indianapolis
Jun 25- Wally Parks NHRA Motorsports Museum to Reopen July 1
Jun 24- E3 Spark Plugs Named Title Sponsor of July 11-12 NHRA Indianapolis Event
Jun 24- Cory McClenathan to Return for NHRA Indy Double-Header with DSR
Jun 22- AAA Texas Fall Nationals Expects Championship Field In October