Wed, 14 Feb 2007, 03:02 PM



What A Way To Start The Season



By Bob Frey


Photo copyright 2007 Auto Imagery, Inc.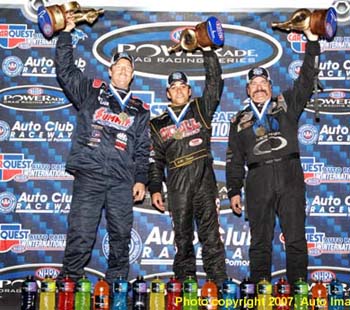 Anderson, Todd and Scelzi.
With forty-six previous Winternationals in the books I'm sure there had to be one that had more excitement and drama than the one this past weekend but I have to tell you, I can't think of it. Other than the rain that dampened the track on Sunday, the 47
th
running of the
CARQUEST Auto Parts
Winternationals
was about as good as a race can get and the action that the fans saw during qualifying on Saturday was unbelievable. In the end
JR Todd, Gary Scelzi
and
Greg Anderson
came home the winners in the pro classes and they are now the leaders in the first season of the "Countdown to the Championship." If race number one was any indication of what we can expect this year, then I can't wait for the other twenty-two. It's going to be fun.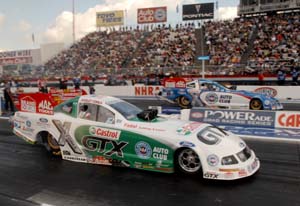 A. Force vs. Hight
As you might imagine, a lot of the attention this weekend was centered
around
Ashley Force
and her debut in the fuel Funny Car class. In all my years in the sport I can't think of any driver, race or single incident that attracted more media and fan attention than Ashley did this past week. She was everywhere. Aside from all of the hype that accompanied her arrival into the class, she was also part of the drama on Saturday when the final round of qualifying rolled around. By now I'm sure you all know how it played out but I have to tell you that if you weren't in
Pomona
you really can't appreciate how thrilling it was. First she was in, then her dad bumped her out, and then she got back in the field. At first it looked like she was going to race her dad in round one and then it was
Ron Capps
and eventually, after
Gary Scelzi's
stunning run to the top, she was paired with her teammate,
Robert Hight
. "It's the first time that my niece won't be cheering for
me
," she said. In the end Ashley raced Robert who beat her en route to a final round appearance against the
Mopar / Oakley Dodge
of Mr. Scelzi. After getting an advantage off the starting line in the final, Robert drifted near and then over the center line and was disqualified giving the win to GaryThe two basically shared all of the highlights in the stats department with
Gary
winning the race and setting top speed while Robert recorded the low elapsed time with a staggering 4.646 which just happened to be the quickest run in the history of the Funny Car class. Ironically that run was a bit too quick and Robert wasn't able to back it up for the national record, but it still showed everyone who has the quickest car on the planet and he'll be tough to beat all year long..Gary's win was his fourth at the season opening race and it came in his third different class.
Did you know
that he won the Winternationals in Top Alcohol Dragster and Top Fuel before his FC win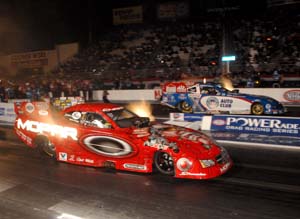 Scelzi vs Hight
this weekend? And how about the roster of drivers that he has beaten at
Pomona
in those four wins?
Gary
beat
Rick Santos, Joe Amato
and
Tony Schumacher
to go along with his win over Robert. Now that's a very impressive list of drivers to beat isn't it?
Gary
joins
Kenny Bernstein
and
Don Prudhomme
as the only drivers to win the Winternationals in both of the fuel classes and that's just one more thing that he can add to his already impressive resume. After a sub-par season last year I have to believe that a win like this has to make
Gary
, his crew chief
Mike Neff
and everyone on the team feel great. After running 333.49 miles per hour it sure looks like the Dodge has a whole pile of power and, like Robert,
Gary
should be a factor all year long and he looks like a lock for one of the eight spots in the "Countdown." That top speed number, by the way, was the twenty-third of his FC career and that's seventh best in the history of the class. Like I said, it was a nice start to the year for the former champion..
John Force
, who qualified on his last chance on Saturday, lost in round one and that's not normally a good omen for him.
Did you know
that this is the third time in the last five years that John has lost in round one at
Pomona
? The other two happened in 2003 and 2005 and what do those years have in common? Right, John didn't win the championship in either of those years. Still, if anyone wants to bet against the
Castrol Ford
making another run at the championship this year make sure you look me up at the races because we just might be able to work out a wager. John's 4.709 run, the one that put him in the
field,
gets my nod as the "run of the year" so far. There was so much pressure on John and his team on that run and they responded like the true champions they are..Even though he didn't qualify Kenny Bernstein and his
Monster Energy Drink Dodge
looked good on his final pass. Kenny went 4.847 and just missed the field which, by the way, was the quickest in Funny Car history. His DNQ ended Kenny's consecutive qualifying streak at ninety-one races so I guess he'll just have to start another one next week in Arizona..Speaking of energy drinks,
Jerry Toliver
announced that he is returning to the Funny Car wars and we could see him as early as the Arizona race, but more than likely his first race back will be in Florida in a few weeks. Maybe even more stunning than his announcement was the fact that
Dale Armstrong
is going to be his team manager and, at least in the beginning, his crew chief. When that was announced in the press room in
Pomona
on Saturday the members of the press actually applauded. Now what does that say about Mr. Armstrong?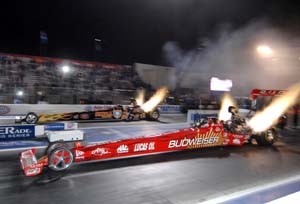 Bernstein vs Todd
While the Funny Car class got a lot of attention this week the Top Fuel teams certainly did their part to make this a great race, and nobody did more than JR Todd. The reigning "Rookie of the Year" didn't miss a beat during the off season as he won his fourth race in only his twentieth race. With
Jimmy Walsh
tuning the
Dexter Tuttle
-owned car, JR went out and put three 4.40 runs on the board after his first round 4.699 against
Melanie Troxel.
With the win JR becomes the point's leader for the first time in his career.
Did you know
that in the entire history of the TF class JR is only the 36
th
driver to lead the class in the points? And if you want to know how important it is to lead the points after the first race,
did you know
that in the last seven years the driver who led the points after the Winternationals went on to win the POWERade championship four times? And the way JR ran this weekend I have to think that he's in the chase for the long haul. I spoke with a lot of very knowledgeable people during and after the race and they all said that Jimmy Walsh has done a great job with that team and his stock has gone way up, and in a sport where the "A list" crew chiefs are hard to find, it looks like we have a new addition to the list. As I mentioned, the win was the fourth for JR and he's done that in only twenty races, and as good as that is, and make no mistake about it that is good,
did you know
that there are a couple of dragster drivers who got off to better starts in their careers? Both Gary Scelzi and
Brandon Bernstein
won four races in just ten starts while
Larry Dixon
won four races in his first fifteen races. Any way you look at it that puts JR and his team in some pretty good company doesn't it? JR won the race from the number five qualifying spot and that's the first time that a Top Fuel driver has done that since
"Big Daddy" Don Garlits
did it in 1973..Like John Force in the FC class, the reigning POWERade champion in Top Fuel also lost in the first round.
Tony Schumacher
, who qualified number one, was beaten by
Joe Hartley
in the first round which means the champ left town in ninth place. Joe Hartley by the
way,
is in eighth
Cory McClenathan
place. Besides recording the big upset, which was his first round win over Tony, I would like to congratulate Joe and his wife,
Carrie
, on the impending arrival of their first child later this spring.
Did you know
that Tony's number one spot was the 36
th
of his career and that moves him into second place on the all time list behind only
Joe Amato
(56)? Qualifying number one may not be all it's cracked up to be for the
Army
team.
Did you know
that Tony qualified at the top of the field thirteen times last year? And do you know how many times he won from the number one spot?
Twice.
And
did you know
that he lost five times in the first round after qualifying number one last year? Strange, isn't it
?...
.
Cory McClenathan
set top speed in the dragster class at a career best number of 334.07. The new look
Fram
dragster ran well during qualifying before falling to
Whit Bazemore
in round one. With his big speed Cory is now in fifth place on the all time list for top speed in the dragster class.
Did you
know
that the last time Cory set top speed was back at Brainerd in 1999
?...
The TF field was the quickest in history and that's getting to be standard operating procedure at the
Pomona
track.
Did you know
that four of the last five times that we have had a record-setting dragster field it happened at
Auto Club Raceway at Pomona
?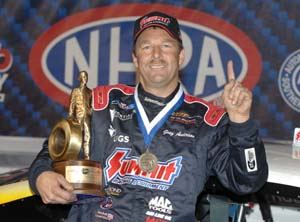 Greg Anderson
Greg Anderson swept the Pro Stock class and, in the process, won his 44
th
national event. Greg was the top qualifier, he set low elapsed time and top speed, and even though it's the third time in the last four years that he has done that it really doesn't happen often at the Winternationals.
Did you know
that only three other drivers have swept the race in Pro Stock?
Ronnie Sox
did it in 1971,
Warren Johnson
in 1993 and
Bob Glidden
did it three times. I know it's only one event but the
Summit Racing Pontiac
looked awesome and the "Countdown" may be the only thing that keeps Greg from running away with the title this year. Just for the record this is the sixteenth time that Greg has swept an event and taken all of the honors in Pro Stock.
Jason Line
, the defending series' champion, lost in the semi-finals but not before he got a new
Harley-Davidson
motorcycle. In fact, the folks from H-D surprised all of the POWERade champions with a new motorcycle and that was quite a surprise for all of them. In fact, and I know this is hard to believe, when he was told about the gift during the pre-race festivities, John Force was speechless. Really..
Rodger Brogdon
made the starting lineup in Pro Stock and that's quite an accomplishment for a driver making his first start in Pro Stock. With power from
David Nickens
, Rodger qualified 12
th
and beat
Ken Koretsky
before losing to
David Connolly
. All in all I would have to think that it was a very good debut for Rodger...
Greg Stanfield
and his
PiranaZ
team continue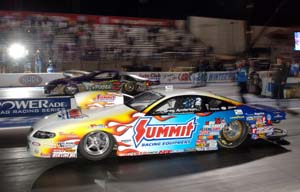 Anderson vs. Stanfield
to impress with their consistent performances. Greg lost in the final round but not before taking out
Kurt Johnson, V.
Gaines
and
Jason Line
. I spent some time in the lobby of my hotel on Friday night just listening to Greg Stanfield,
Tom Martino
and
Larry Morgan
talk about Pro Stock and I have to tell you it was more entertaining than some
Las Vegas
shows that I've attended. I also got to meet and spend some time with
Dwayne Rice
and his wife and son and I thoroughly enjoyed meeting them. Dwayne is fully committed to this new venture and I wouldn't be surprised if he made the field in one of his next few starts. Of course that begs the question, who will he bump out
?....
Justin Humphreys
was in the field until the last round of qualifying and I have to believe that he was pleased with his initial outing in the class. The former sport compact champ should also be a factor and, the way I see it, that means that some of the tour regulars will be on the outside looking in (to coin a phrase) at some of the upcoming events. Stay tuned...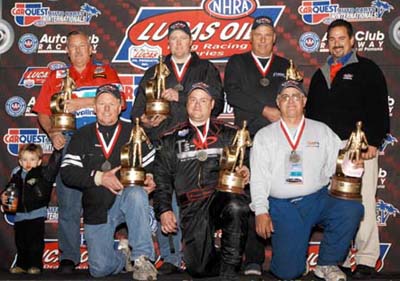 The Sportsman Winners
The sportsman action at
Pomona
was superb with a little something for everyone. We had first time winners, huge upsets, fantastic performances and one driver breaking a twenty-four year drought.
Brandon Johnson
, along with his dad, Mike, switched to the fuel injected dragster this year and proceeded to go out and win their first race with the new combination. Along the way they ripped off runs of 5.246 and 267 miles per hour. In the final the Johnson family beat
Mark Niver
who was having his best national event weekend ever. It was the classic case of "too bad one of those guys had to lose.".
Jay Payne
won his second consecutive Winternationals and he joined a select group in the process.
Did you know
that since the alcohol cars split into two classes, dragsters and funny cars in 1981, only three other drivers have won consecutive season-opening races?
Chuck Beal
did it in 1982 & '83,
Pat Austin
in '88 & '89 and
Bob Newberry
in 1991 & 1992. Now let's see if Jay can keep up the pace and add a TA/FC title to his dragster crown..
Frank Manzo
came away empty handed for the second consecutive year at Pomona despite having the best car. He was the top qualifier and set low elapsed time and top speed (the fastest run ever at 264.23) but fouled away his chances in the semi-finals. It's the second straight year that Frank came to
Pomona
and lost on a red light start.
Clark Holroyd
and
Tibor Kadar
matched up in another final round, their third in the last year. Clark won this one and, together with his win in
Las Vegas
at the end of 2006, that's his second national event win in the last three national events.
Randy Fabbro
, who won the 1982 Golden Gate Nationals, won for the first time in national competition since that '82 race.
Did you know
that at the 1982 race that he won Randy ran right on the 9.90 index twice in eliminations? And guess how
may 9.90's he ran this weekend
? Right, two! Randy ends the fourth longest drought in national event competition, where he is behind
Ken Montgomery, Ralph Hope
and
Al Vanis
..
Tom Yancer
won his first national event and
Jody Lang
his eleventh at
Pomona
. Jody's win came in Super Stock, his first in that class, to go along with nine wins in Stock and one in Super Gas.




NHRA: 10 Most Recent Entries [ top ]

Jul 10- INDY 1 - Saturday Schedule
Jun 30- Lucas Oil to Sponsor Summernationals at Indianapolis
Jun 25- Tickets on Sale for 2020 Southern Nationals
Jun 25- Houston Raceway Park to Transform into Drive-In Theater for First NHRA Race Since Lockdown
Jun 25- NHRA Northwest Nationals Canceled Due to State and County Restrictions
Jun 25- Toyota to Serve as Associate Sponsor of Tony Schumacher in Indianapolis
Jun 25- Wally Parks NHRA Motorsports Museum to Reopen July 1
Jun 24- E3 Spark Plugs Named Title Sponsor of July 11-12 NHRA Indianapolis Event
Jun 24- Cory McClenathan to Return for NHRA Indy Double-Header with DSR
Jun 22- AAA Texas Fall Nationals Expects Championship Field In October