Mon, 12 Feb 2007, 12:28 AM



Scelzi, Todd and Anderson Earn Victories At CARQUEST Winternationals



Courtesy of NHRA Communications


Photo copyright 2007 Auto Imagery, Inc.





POMONA, Calif. --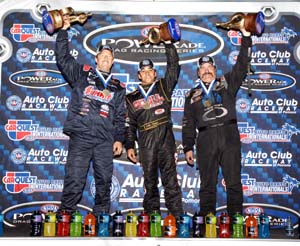 Anderson, Todd & Scelzi
Four-time series champion Gary Scelzi quickly erased memories of a disappointing 2006 season by winning Sunday's CARQUEST Auto Parts Winternationals after final-round opponent Robert Hight crossed the centerline.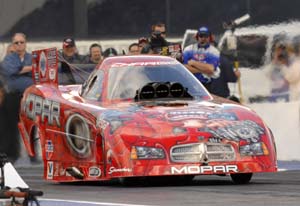 Gary Scelzi
Reigning Rookie of the Year J.R. Todd also found Pomona's winner's circle, while three-time Pro Stock champ Greg Anderson successfully defended this race title from one year ago.
After it appeared that Hight had beaten Scelzi for the Funny Car title, NHRA officials quickly determined that Hight's Auto Club Ford Mustang touched the centerline, resulting in automatic disqualification per NHRA rule. It was Scelzi's 34th NHRA win and ninth in Funny Car.
It was a well deserved victory for Scelzi's team as the four-time series champion had trouble with his parachutes in the semifinals and ended up in the sandtrap. As his final-round run of 4.716 at 332.26 mph proved, the crew got his Mopar Oakley Dodge Charger R/T repaired in time.
"We didn't think we had anything for [them] in the final," Scelzi said. "We thought we'd try to run a high 4.6 and see what happened. I didn't see him until 700 feet and then he just went right by me. I saw the win light in his lane and it was a letdown. The guys on the radio told me he beat me on a holeshot and here I was thinking I'd cut a good light. Then they said he was DQ'd and I thought that was a really cruel joke to play on me."
After a dramatic day of qualifying on Saturday, both John and Ashley Force lost in the opening round.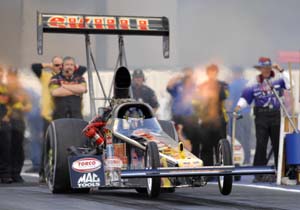 J.R. Todd
Todd's victory was his fourth in 20 career Top Fuel starts. This one was extremely impressive as he followed up a 4.699-second, first-round pass on a freshly-washed track with a pair of 4.47s and a 4.482 at 324.98 mph in the final round.
"I never expected things to happen as suddenly as it has for me," Todd said. "It's pretty surprising to me, to be honest. When you have a guy like [crew chief] Jimmy Walsh in your corner you're going to be good. That guy is the first one in the shop every day and the last one to leave each night. He's relentless."
Last July in Denver, Todd became the first African-American to win a Top Fuel race. Since then he has won four times in five final rounds in those 12 starts.
"Last year was kind of a Cinderella deal for us but by the end of the year we weren't surprised by our performance any more," he said. "This year we're for real and I think all the other teams know that now."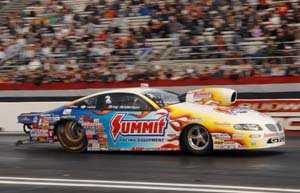 Greg Anderson
After struggling at times last year with his starting line procedures, Anderson was impressive here with a .020-second reaction time average on the day. In the final he powered his Summit Racing Pontiac GTO to a 6.651 at 207.05, while Stanfield trailed all the way with a 7.001 at 163.65, also in a GTO.
"It just shows how messed up in the head you can get at times because I haven't driven like this in two years," Anderson said. "This place is magic for me. That was our sixth win here. When it's 60 degrees like it was today we just love it because you can pour all your power into the track and show off what you built over the winter. It looks like we did just a little bit better job than everyone else."
The NHRA POWERade Series Countdown to the Championship continues with the Checker Schuck's Kragen NHRA Nationals, Feb. 23-25 at Firebird International Raceway near Phoenix.
POMONA, Calif. -- Sunday's final results from the 47th annual CARQUEST Auto Parts Winternationals at Auto Club Raceway at Pomona. The race is the first of 23 in the NHRA POWERade Drag Racing Series:
Top Fuel -- J.R. Todd, 4.482 seconds, 324.98 mph def. Brandon Bernstein, 11.397 seconds, 71.36 mph.
Funny Car -- Gary Scelzi, Dodge Charger, 4.716, 332.26 def. Robert Hight, Ford Mustang, broke.
Pro Stock -- Greg Anderson, Pontiac GTO, 6.651, 207.05 def. Greg Stanfield, GTO, 7.001, 163.65.
Top Alcohol Dragster -- Brandon Johnson, 5.405, 267.37 def. Mark Niver, 21.170, 59.20.
Top Alcohol Funny Car -- Jay Payne, Chevy Camaro, 5.779, 249.67 def. Sean Bellemeur, Camaro, broke.
Super Stock -- Jody Lang, Chevy Malibu, 10.900, 114.53 def. Jimmy DeFrank, Pontiac Grand Am, 9.055, 150.21.
Stock Eliminator -- Clark Holroyd, Chevy Nova, 10.426, 123.27 def. Tibor Kadar, Pontiac Firebird, 12.084, 105.99.
Super Comp -- Tom Yancer, Dragster, 8.930, 170.28 def. Justine Jeffrey, Dragster, 8.899, 171.40.
Super Gas -- Randy Fabbro, Chevy Nova, 9.908, 153.23 def. Fred Kondrotas, Pontiac Trans Am, 9.895, 147.92.




NHRA: 10 Most Recent Entries [ top ]

Jul 13- INDY 1 - Sunday Videos
Jul 12- INDY 1 - Sunday Wrap Up
Jul 12- INDY 1 - Summary of Eliminations in Top Fuel
Jul 12- INDY 1 - Summary of Eliminations in Funny Car
Jul 12- INDY 1 - Summary of Eliminations in Pro Stock
Jul 12- INDY 1 - Summary of Eliminations in Pro Stock Motorcycle
Jul 12- INDY 1 - Summary of Eliminations in JEGS Super Quick
Jul 12- INDY 1 - Summary of Eliminations in Oakley Motorsports Top Sportsman
Jul 12- INDY 1 - Summary of Eliminations in Oakley Motorsports Top Dragster
Jul 12- INDY 1 - Championship Points