Sat, 10 Feb 2007, 10:58 PM



John Force Keeps Streak Going, Ashley Force Qualifies For First Event



Courtesy of NHRA Communications


Photo copyright 2007 Auto Imagery, Inc.





Schumacher, Scelzi and Anderson Earn Top Qualifying Honors



POMONA, Calif. --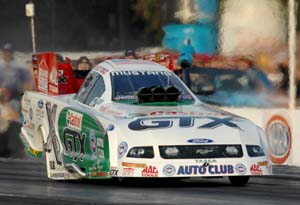 Ashley Force
John Force kept his NHRA record qualifying streak alive at 393 races, while his daughter Ashley qualified for her first NHRA POWERade Drag Racing Series event Saturday at Auto Club Raceway at Pomona.
Drama was high as the elder Force needed his best run of the weekend to make the starting lineup at the CARQUEST Auto Parts NHRA Winternationals. He produced a miracle run and in the process bumped his rookie daughter from the 16-car order. However, on her final qualifying attempt she also powered her Castrol/Auto Club Ford Mustang to a career-best performance and earned her first starting position.
Tony Schumacher, Gary Scelzi and Greg Anderson were the No. 1 qualifiers in their respective categories at the season-opening event, the first of 23 races in the NHRA POWERade Countdown to the Championship.
Ashley will race teammate Robert Hight in Sunday's 11 a.m. eliminations, while John will square off against longtime nemesis Cruz Pedregon. John was relieved about keeping the record going, but was ecstatic about Ashley's performance.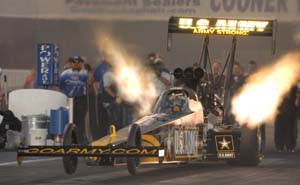 Tony Schumacher
"She's a little trooper and smoked it right on down the track," the 14-time world champ said. "It's the greatest show on earth and all I wanted was to be in the show and I wanted her to be in. This is a great day. She's learned the drill. I believe in the long run she's going to be a great star for her sport. I took a chance and today she proved that she can hold her own. I am proud of her. Look at the other girls out there. It's great."
Ashley overcame her nerves and was able to post a 4.790 on the high-stakes final qualifying attempt. She is the 10th woman to compete in a Funny Car in NHRA history. She hopes to become the first woman to win in the 7,000 horsepower category.
"This day has been so intense," Ashley said. "It's easy to say that you aren't going to be nervous and go up there and do your normal routine. I was so conflicted watching (dad) in front of me. I wanted him to get in the show, but I didn't want to get bumped out. The numbers thing was in my head too. Thankfully everything worked out. It couldn't have been any better. I am glad all of us are in the show. I am excited to race against Robert. The only thing I know is that for the first time ever my little niece (Hight's daughter Autumn) is not going to be rooting for me tomorrow."
Six-time NHRA champion Kenny Bernstein failed to qualify in his return to Funny Car competition.
Schumacher posted a 4.472 at 331.36 mph in his U.S. Army dragster to lead the quickest Top Fuel field in NHRA history. It was Schumacher's 36th career top qualifying effort. His dragster was consistent all weekend, producing times of 4.502, 4.483, 4.485, and a 4.472.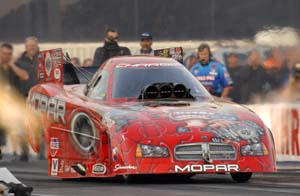 Gary Scelzi
"Running four passes in a row like that is more impressive to me than being No. 1 qualifier," said Schumacher, a four-time winner at this facility. "We've had great moments here and we'd like to have another one tomorrow. It means a lot to leave the first race of the year with a win."
Schumacher, who had a dramatic ending to his championship quest here last November, appreciated the drama that unfolded today in Funny Car.
"Days like today make you stand up and watch," Schumacher said. "I'm still a fan at heart and it was fun to watch every pass out there, especially in that last round. I tell everyone that I'm just a big a fan of this stuff as they are. I really am. If you didn't like watching that last session, I guess you don't like drag racing."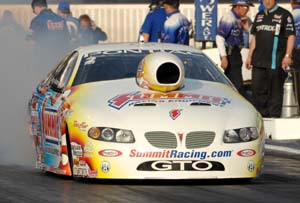 Greg Anderson
Scelzi also led the quickest field in his category, powering his Mopar Oakley Dodge Charger to a career-best performance of 4.692 at 333.49 mph.
"To have a racecar that goes down the racetrack four times with the slowest of those passes being a 4.75 feels so good I can't even describe it," Scelzi said. "I don't want to jinx myself, but usually when you go through qualifying like that you tend to have good Sundays."
Three-time world champ Anderson set a track speed mark in leading the Pro Stock field with a 6.634 at a track record speed of 209.04 mph in his Summit Racing Pontiac GTO.
"We've had a great weekend so far," Anderson said. "I guess the only thing that would be better is if we were a part of the Force family. It's exciting watching what's happening with that group and it's just as fun for us racers as it is for the fans. I'll be watching that class tomorrow just like everyone else."




NHRA: 10 Most Recent Entries [ top ]

Jun 30- Lucas Oil to Sponsor Summernationals at Indianapolis
Jun 25- Tickets on Sale for 2020 Southern Nationals
Jun 25- Houston Raceway Park to Transform into Drive-In Theater for First NHRA Race Since Lockdown
Jun 25- NHRA Northwest Nationals Canceled Due to State and County Restrictions
Jun 25- Toyota to Serve as Associate Sponsor of Tony Schumacher in Indianapolis
Jun 25- Wally Parks NHRA Motorsports Museum to Reopen July 1
Jun 24- E3 Spark Plugs Named Title Sponsor of July 11-12 NHRA Indianapolis Event
Jun 24- Cory McClenathan to Return for NHRA Indy Double-Header with DSR
Jun 22- AAA Texas Fall Nationals Expects Championship Field In October
Jun 22- Crew Chief Doug Kuch Returning to Foley Lewis Racing