Fri, 9 Feb 2007, 09:08 AM



There Must Be A Lot Of Money In Worms!!



By Bob Frey


Photo copyright 2007 Auto Imagery, Inc.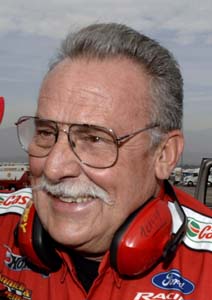 Jerry Darien
In all of the interviews that I have done over the years I have never had anyone say these words to me... "I had a worm farm." That is, not until I spoke with Jerry Darien. "I lived back in Colorado and I had three pits where I grew the worms. I'd feed them and then sell them to the fisherman. It was a nice little business for a kid." Growing up in a small town with his family Jerry did more than just grow worms, he learned a lot about cars and what makes them run. "My sister had a 1954 Ford and she gave it to me when I turned fifteen and my brother had a car that wasn't running too well and he gave that to me and I'd work on them." He also got to drive around with his dad and he even remembers being behind the wheel of a John Deere tractor when he was only four years old. "I wasn't actually driving it, my dad was. It would go about four miles per hour but at that age I thought it was cool." When not growing his worms Jerry would take the cars he got from his siblings and put them together into one good, finely tuned machine. "When I was old enough to drive legally I went down to the drag races near home. I took the '54 that I got from my sister and put a 312 in it from a '57 Ford, threw three carbs on it and thought I was hot. What I was was cannon fodder for the real racers at the track. Oh they just loved seeing me coming." Jerry raced his car at some of the classic Colorado tracks like Continental Divide, Rocky Mountain Raceway and Bandimere Speedway. "I was there the day John Bandimere Sr. opened the track," he said.
Jerry Darien at Denver 1978
After high school, when he realized that he couldn't raise worms forever, Jerry was trying to decide what to do for a living. "I didn't intend to become a teacher but I did. Then one day we had a job fair and some folks came out from California and they were looking for teachers. I looked at the map and I said, Irwindale is here, Orange County is there and Lions is over there and I knew that's where I wanted to live. Heck, it was warm and there were drag strips all around, what more could I want? I wanted to race and I wanted to get out of the snow so I moved to California." Once in the Golden State Jerry taught a little bit of everything and raced a little bit of everything. "I taught a little metal shop, some wood shop, some auto classes and even a little math." In one of his classes he and his students built a dragster that they took to the track. "We built the car in my shop class and the kids were really enthused about it. When they're enjoying what they're doing they learn in spite of themselves. It was a little 283 engine on gasoline that did about twelve seconds and went about ninety miles per hour." On that fateful day when the class debuted the car, Jerry said that they went to Irwindale and in one afternoon all thirty one kids in the class made a pass down the track. "The next day the school district impounded the car." Maybe he should have taught them how to raise worms!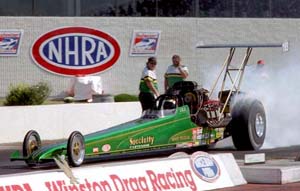 Gary Scelzi at Indy in 1995.
In between classes, which he taught for almost thirty years, Jerry continued to go to the races and he continued to move up the food chain. Of course when you start with a twelve second dragster that's not hard to do. In the mid 1970's Jerry's car of choice was a fuel injected small block Chevrolet which he ran for a couple of years. After that he went to Northern California to buy the engine from a fuel burning hydroplane. "It was an injected Donovan engine and I turned the pan around and pointed the headers in the right direction and we were all set. Unfortunately, at my intelligence level I could never make it work." Maybe he should have called one of those thirty one kids from his class. After the Donovan experiment Jerry got a call from a friend of his who had a late model engine in a car that his driver had "wadded up a couple of times." With the advent of the Pro Comp class Jerry bought the car and his real driving career began. "We had pretty good success with that car," he said. "We went to the finals at Pomona and we won the big PDA race. Actually we had a really good year in '76." As the sport progressed and cars got quicker and faster Jerry did everything he could to keep up. "We had a car that was 225 inches (wheel base) and then got a new one that was 242 inches. That was a big difference." The car may have been different but the results weren't, Jerry kept winning. "We won the Winternationals with that car and then the big thirty-two car field at Bakersfield and the Division 6 championship. Yeah, that was a good car." The driver wasn't bad, either. Over the course of his driving career Jerry went to the finals at four nationals events, winning the 1981 Winternationals, along with a dozen final rounds on the divisional level. But, as the sport got a little more complicated Jerry realized that it was going to be tough, if not impossible, for him to continue to do everything on the car. "I was building it, tuning it, driving it, driving the truck to the track and all of that stuff," Jerry said. "When I started getting clobbered on the track I knew I had to do something, and since it was easier to find someone to drive the car than it was to find someone to work on it, I decided to step out and look for a driver."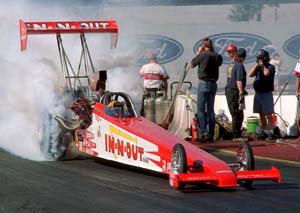 Melanie Troxel at Phoenix 1999
While Jerry is most recently associated with Ashley Force, he has had quite a litany of drivers for him over the years. Among those who have been taught by him are Morgan Lucas, Brandon Bernstein, Melanie Troxel, Shane Gay, Frank Pedregon, Gary Scelzi, Troy Buff, Paul Jones, Steve Faria and one of his first drivers, Larry Sutton. "Everyone asks me who the best driver was and I tell them the same thing, and that is that each driver had their own different strong points. They each brought a little something extra and special to the team." And even though he has worked with a lot of drivers over the years, Jerry admits to having special feelings when Ashley Force announced that she was turning pro. "Most of the others drove for me for a year or two but Ashley was with me for three years. I don't know if I'm getting old or what but I have to tell you I was getting a little emotional when she rolled the car into the trailer at Pomona last year. She had been driving for three years and we had made over five hundred runs together. And then at his open house in December, John (Force) comes over and gives me a championship ring and tells me that I'm family and he thanks me for all I did for his kid. That was very special."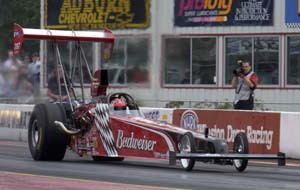 Brandon Bernstein at Seattle 2001.
With the 2007 season upon us Jerry Darien is getting ready for his latest pupil, or should I say pupils, to take over the driving chores. "Chris Perl has been with me for a while and he'll drive the car at Pomona and at a few of the west coast races this year. After Pomona Lindsey Wood will drive it back east and at the Gatornationals." Jerry hadn't even met Lindsey until she came to drive the car at the Las Vegas test session. "We heard that she was interested in driving and we talked to her father at the PRI show and said let's give it a shot. She's a nice young kid and she's very meticulous." Jerry told Lindsey the same thing that he has told all of his drivers over the years, and that is, you'll never get in trouble shutting the car off and bringing it back in one piece. "I told her that as soon as the car feels uncomfortable, shut if off and we'll try it again." Those words have helped many a young driver become very good young drivers and there's no reason to expect that Lindsey and Chris won't do the same.
Throughout most of his career Jerry has had the help and support of Ken Meadows. "We've been partners for a long time. It's just that in the early years he was a silent partner, now everyone knows him." He has also had the support of his wife, Debbie, who has watched him teach some of the best drivers in the sport. And, along the way, he also managed to operate his company, Specialty Fasteners. "I still pick up my mail there and make all of my calls there but I'm basically out of the business." But one business he isn't out of is that of teacher. "It's been very rewarding," he said. "I've had a good career and it's nice to be able to give something back to the sport. There have been lots and lots of people who have helped me and been very good to me over the years. There are a bunch of those people who have made me look like I had money when I didn't." And who knows, when he retires, if he does, he can always go back to the worm business.




NHRA: 10 Most Recent Entries [ top ]

Jul 10- INDY 1 - Saturday Schedule
Jun 30- Lucas Oil to Sponsor Summernationals at Indianapolis
Jun 25- Tickets on Sale for 2020 Southern Nationals
Jun 25- Houston Raceway Park to Transform into Drive-In Theater for First NHRA Race Since Lockdown
Jun 25- NHRA Northwest Nationals Canceled Due to State and County Restrictions
Jun 25- Toyota to Serve as Associate Sponsor of Tony Schumacher in Indianapolis
Jun 25- Wally Parks NHRA Motorsports Museum to Reopen July 1
Jun 24- E3 Spark Plugs Named Title Sponsor of July 11-12 NHRA Indianapolis Event
Jun 24- Cory McClenathan to Return for NHRA Indy Double-Header with DSR
Jun 22- AAA Texas Fall Nationals Expects Championship Field In October