Tue, 6 Feb 2007, 12:02 PM



One on One with Rod Fuller



Courtesy of Ted Yerzyk


Photo copyright 2007 Auto Imagery, Inc.





PITTSBORO, Ind. --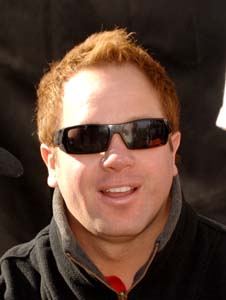 Rod Fuller
Rod Fuller is one of the more polished competitors in the sport of drag racing. The veteran racer has collected victories in four different categories, including three in Top Fuel. Last season, Fuller and his David Powers Motorsports-owned Valvoline team surprised many winning two races on the way to a fifth-place finish in the Top Fuel division. Now, the Las Vegas resident is part of a two-car team with Whit Bazemore and the Matco Tools dragster joining the Powers camp. As Fuller enters his second full season as a Top Fuel driver, he divulges how he acquired his catchy nickname, and discusses the upcoming 23-race NHRA POWERade Drag Racing Series, which begins on February 8 in Pomona, Calif.
Q: How did you get the nickname "Hot" Rod?
FULLER: My uncles raced in the 60s in the St. Louis and Chicago areas. My mom always wanted to race and when I was born, she knew I was going to be a race car driver. She wanted to name me Hot Rod Fuller. My dad was like, you're not naming my boy Hot Rod Fuller on his birth certificate. They compromised and chose Rod. She told the doctor I would be a race car driver and on my birth blanket it says Hot Rod Fuller. A lot of people think I came up with the nickname when I started racing. I've had it since birth. When I was growing up and playing sports like football and baseball and soccer, that's what everyone called me. It's been with me forever and it's a part of me.
Q: You've won races in four different categories, Stock, Super Comp, Super Gas and Top Fuel. What's your favorite class to compete in?
FULLER: I really enjoyed Super Gas. When I first started, I had a '27 T-Roadster. I call it the car that made my career because it was the car I started winning some races in. I gained confidence and it put me at a level where I could afford to race. That helped acquire the Valvoline sponsorship and let me run national events and be out there on a full-time basis. That car was a lot of fun.
Q: How did you adapt to going from an 8.90 (second) car to a Top Fuel dragster?
FULLER: I adapted quickly. When I first came over, my guys were betting on how soon I'd lift when I first got in the car. Richard Hogan told me to run it to 330' and the first time I hit the throttle, it didn't startle me. I went to 330 feet. All my crew guys were impressed. I always tell people that a race car driver is a race car driver. You can stick them in any kind of race car and they'll do well. This is what I love to do. The thing about a Top Fuel car is the concussion when you hit the throttle. That's what takes the most getting used to.
Q: Who is your favorite opponent?
FULLER: Doug Kalitta. I feel like he brings out the best in me and he is the best. Like Rick Flair used to say, if you want to be the best, you have to beat the best. I like running Kalitta. He's very fair and when you race him, you know there won't be games. He's a straight-up racer and I respect that.
Q: Last season, you snuck up on the class with a fifth-place finish. What's in store for 2007?
FULLER: We were in six final rounds counting the (Top Fuel) Shootout and our goal is to improve on our final-round win percentage. My goal is to win four races and I think that's a realistic goal. We could have gotten it last year had we caught some breaks and didn't have parts failure. I'd like to make another six or seven finals. I really think we can fight for a championship this year. I have no reason not to believe that after what we did last season. We did well at testing in Phoenix and I have a great team. And I think having a teammate will benefit us. I don't see any reason why we can't fight for the championship.
Q: Are you excited to have Whit Bazemore join the team?
FULLER: I am excited to have a teammate. It's not competition, but more to have someone to compare yourself with and talk with. That will be helpful to me. I can say I felt this or it did that and I'll have someone to talk with. I think we'll both benefit from sharing information with each other. I think being competitive will make both of us better drivers.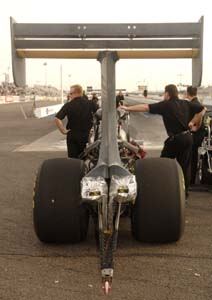 A look at the monostrut wing.
Q: You debuted the next generation monostrut wing during the National Time Trials. What are your thoughts on it?
FULLER: It makes things exciting. You can engineer things, but you really don't know how it reacts until it hits the track. You have to be on top of things. I always wanted to be a fighter pilot growing up, and to have the opportunity to do something for the first time is really cool. One of my favorite movies when I was a kid was called The Right Stuff. It was about test pilots and astronauts in the 60s and 70s. That's what I felt like. When I made the first pass, the team was so excited. I feel like we're going to advance and better the sport. It's been run before, but this is the latest version of it and I think it will make the sport safer. I'm excited about the monostrut.
Q: How is your relationship with crew chief Rob Flynn?
FULLER: Rob and I have very identical personalities. I don't think you can find a better fit for a crew chief for me. We're both out here for the love of the sport. We both want to succeed. We communicate well with each other. I come back after a run and I can tell him what I felt and what the car did, and he gets me involved in the tune-up. I think that will help our race team. That's only going to make us stronger. Communication is very important.




NHRA: 10 Most Recent Entries [ top ]

Jul 10- INDY 1 - Saturday Schedule
Jun 30- Lucas Oil to Sponsor Summernationals at Indianapolis
Jun 25- Tickets on Sale for 2020 Southern Nationals
Jun 25- Houston Raceway Park to Transform into Drive-In Theater for First NHRA Race Since Lockdown
Jun 25- NHRA Northwest Nationals Canceled Due to State and County Restrictions
Jun 25- Toyota to Serve as Associate Sponsor of Tony Schumacher in Indianapolis
Jun 25- Wally Parks NHRA Motorsports Museum to Reopen July 1
Jun 24- E3 Spark Plugs Named Title Sponsor of July 11-12 NHRA Indianapolis Event
Jun 24- Cory McClenathan to Return for NHRA Indy Double-Header with DSR
Jun 22- AAA Texas Fall Nationals Expects Championship Field In October