Sun, 4 Feb 2007, 11:00 PM



Kenny Bernstein Earns Funny Car License at Firebird International Raceway



Courtesy of Susie Arnold



CHANDLER, Ariz. --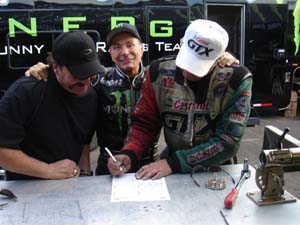 Scelzi, Bernstein and Force
Six-time NHRA champion Kenny Bernstein today completed the required runs at Firebird International Raceway necessary to obtain his Funny Car license. NHRA rules state that a competitor must make two runs of 250 mph or faster and two runs of 5.50 seconds or quicker.
On January 29, Bernstein clocked 5.312 seconds at 209.85 mph in his Monster Energy/Lucas Oil Funny Car and made a second run at 5.146 seconds, 271.13 mph.
After waiting for rain showers to subside for the past two days, Bernstein today fulfilled the final speed requisite with a run of 5.94 seconds at 296.89 miles per hour.
Bernstein's license was signed by John Force and Gary Scelzi, who together with Bernstein account for 24 NHRA championships. (Force, 14; Scelzi, 4; Bernstein 6)
"Fulfilling the license requirements is a huge relief," said Bernstein. "Because we're a new team coaxing a new race car down the track coupled with two days of rain delay, I was beginning to get a little nervous.
"I want to especially thank John Force, who is a great champion with a great heart. John watched us struggle with tire shake over the weekend and was so gracious to send Austin Coil, John Medlen and Bernie Fedderly, a great part of his brain trust, over to lend us assistance. Without their help, and that of Gary Scelzi, I don't know if we would have accomplished what we have today.
"Also, we want to extend a big thanks to all the drivers over the weekend who were so helpful and supportive. I am proud to be a member of the NHRA drag racing family and humbled by all those who came to our aid.
"Now our team can turn their focus to other areas to prepare for the season-opener at Pomona.
"The team has worked untold hours to get our Monster Energy/Lucas Oil Funny Car on the ground and down the drag strip. They deserve a big tip of the helmet."
This just in: On the last pass, February 1, 2007 Kenny clocked his quickest time yet, at 4.83 seconds/321 mph.




NHRA: 10 Most Recent Entries [ top ]

Jul 13- INDY 1 - Sunday Videos
Jul 12- INDY 1 - Sunday Wrap Up
Jul 12- INDY 1 - Summary of Eliminations in Top Fuel
Jul 12- INDY 1 - Summary of Eliminations in Funny Car
Jul 12- INDY 1 - Summary of Eliminations in Pro Stock
Jul 12- INDY 1 - Summary of Eliminations in Pro Stock Motorcycle
Jul 12- INDY 1 - Summary of Eliminations in JEGS Super Quick
Jul 12- INDY 1 - Summary of Eliminations in Oakley Motorsports Top Sportsman
Jul 12- INDY 1 - Summary of Eliminations in Oakley Motorsports Top Dragster
Jul 12- INDY 1 - Championship Points