Sat, 3 Feb 2007, 11:34 AM



You Can Keep That Little Orange Block, Alexis!



By Bob Frey


Photo copyright 2007 Auto Imagery, Inc.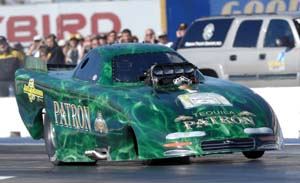 Alexis DeJoria
With all of the attention that has been and will be focused on Ashley Force this year I would like to point out that she won't be the only female driver who could make news in 2007. Recently I wrote about Lindsey Wood and her jump into the Top Alcohol Dragster ranks and now I'd like to introduce you to Alexis De Joria, the latest woman to try her hand in the alcohol ranks. Ironically, as she tries to make her mark in a Top Alcohol Funny Car she will be sponsored by one of the hottest brands in the spirit world, Patron Tequila. "My dad and a friend of his started the business, Patron Spirits," Alexis told me at the recent Las Vegas test session. "They also make Pirate Rum and several other products but the Patron brand is the one that has really taken off." Close followers of other forms of motor sports may know the Patron brand from its sponsorship of Kevin LePage in NASCAR and Scott Sharp in the IRL. "This will be their first entry into drag racing," Alexis noted, "and everyone is very excited about it." Almost as excited as the drag racing community is to have this twenty-nine year old behind the wheel of an alky car.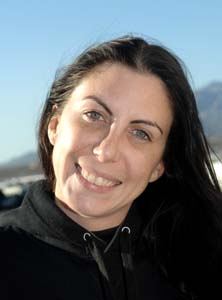 Alexis DeJoria
While Ashley Force attempts to become the first woman ever to win a national event in the Fuel Funny Car class, Alexis will attempt to become only the second one to accomplish that fete in the Top Alcohol Funny Car class. "I've always been attracted to the Funny Cars," she said. "I always had a fondness for the Funny Cars ever since the first time I saw them at a national race several years ago. I liked the way they looked from the outside and kept thinking how neat it would be to drive one. When I finally got to sit in one I was comfortable right away. I said to myself, I can do this." The car she is running right now is a former Vern Moats car, but the team will upgrade around mid-season to a new state-of-the-art Ford Mustang. "Eventually I want to run a fuel car but I have a lot of learning to do first." That learning will begin this year and she'll do it with a very talented team. "Jack O'Bannon owns the car and Randy Anderson is the crew chief," she said between runs in Vegas. "I met them while I was racing Super Comp and I got to get an up close look at their operation. Sean (O'Bannon, Jack's son) has been very nice and Randy has been very supportive so far." Now if only she could get her dad to be as enthused as she is about the leap to a Funny Car. "He came to Texas last year and when I showed him a Funny Car he just looked at it and said, 'That's where the driver sits? In there? You're not going to drive one of these.' As you can imagine, I had a little work to do." Fortunately for Alexis, as she and her dad walked back to the pits Ashley Force was sitting on their golf cart and Alexis knew she had an ally. "I asked her to talk to my dad. I told him that her father races one of these cars and he wouldn't let his daughter run it if they weren't safe. After that he came around and now he fully supports me." Having her father support her is, obviously, very good for Alexis and it's good for the sport. You see, her dad is John Paul De Joria, the founder of the Paul Mitchell line of hair care products, one of the most successful companies in the country. "As you can imagine he keeps pretty busy but it was nice to get him to the track last year so he could see what I want to do."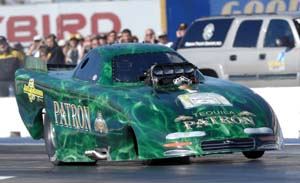 In 2006 Alexis joined the growing list of women who have won an NHRA national event. "I just started racing Super Gas at the beginning of last year and then, after a few races, I stepped up to Super Comp," she said. "A few races after joining the 8.90 class she joined the winner's list when she won the Sportsnationals in Fontana, California. "I had a very good rookie year," she said. "I went to two finals (the Sportsnationals and the Division 7 race in Bakersfield) and went four or five rounds at the final race in Las Vegas." She especially enjoyed the Vegas race because she got to race and beat Jack Beckman in the first round. "He was my teacher at the (Frank Hawley) drag racing school and I couldn't believe I had to run him in the first round. I just focused on the run and blocked everything else out of my mind, and when my win light came on I was so surprised." All in all not a bad start for someone who hadn't even raced before last year.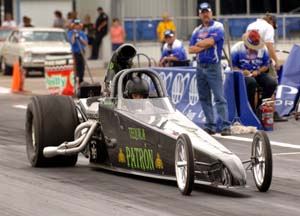 DeJoria in her Super Comp.
During her test runs in Las Vegas Alexis did what a lot of drivers have done, she hit one of the orange blocks in the center of the track. "Let's be honest, I hit a lot of those orange blocks." In fact, as I was getting ready to talk with her she was walking around with the remnants of one of the blocks in her hand. When I informed her that she wasn't the first, nor would she be the last to hit one of those she seemed genuinely relieved. "Wow, I thought I was the only one to hit one of them," When I told her she wasn't even the first one that day she just laughed. "I really want to do well and I figure that as long as I learn from every run I'll eventually reach my goal. Right now I'm getting more comfortable in the car with each pass. My burnouts are smooth and I'm leaving the starting line right. Randy just tells me to be patient and make each run a learning experience. He also tells me about a lot of the things that he went through when he was just getting started and it makes me feel better about what I'm doing." She also said that no matter what Randy or anyone else says about her progress, she is her own worst critic. "I'm hard on myself when I mess up. When things go wrong I blame myself. I know the car will do what it's supposed to do if I do my job." That's quite an honest evaluation for someone who only got her alcohol license a few days ago, but it's the kind of statement that shows how serious she is. And it's that kind of honesty that's a true test of character for any driver. When she isn't going through the paces of learning how to drive one of the toughest cars in the sport, Alexis spends time with her four year old daughter, Isabella. She also works with the family jewelry business. "We have a private line of jewelry and I'm the head designer. We do everything from engagement rings to big things for the Golden Globe awards and a lot of the top stars wear our stuff. When I think about it, between my business and drag racing it really is an interesting mix of two worlds, isn't it?"
As the 2007 season begins, Alexis De Joria will attempt to do something that no woman has done since 1986, and that is win a national event in the Top Alcohol Funny Car class. The great Carol "Bunny" Burkett won at Maple Grove that year and that national event success went along with her ten divisional final rounds. Now, with the support of a great team, the sponsorship from Patron Tequila and the support of her father, Alexis journeys into uncharted territory as she looks to add her name to the record books. She did it in Super Comp and something tells me she'll do it before too long in the alcohol ranks, too. And then, a few years from now, who knows, it could be Ashley and Alexis in a final round at a national event. "When my dad asked me what day he should come to see me race this year I told him to come the first day I race because at least I know he'll see me, because if I don't qualify I won't run the other days," she said with a smile. Somehow I think if dad comes on Sunday he'll see her race, too.




NHRA: 10 Most Recent Entries [ top ]

Jul 10- INDY 1 - Saturday Schedule
Jun 30- Lucas Oil to Sponsor Summernationals at Indianapolis
Jun 25- Tickets on Sale for 2020 Southern Nationals
Jun 25- Houston Raceway Park to Transform into Drive-In Theater for First NHRA Race Since Lockdown
Jun 25- NHRA Northwest Nationals Canceled Due to State and County Restrictions
Jun 25- Toyota to Serve as Associate Sponsor of Tony Schumacher in Indianapolis
Jun 25- Wally Parks NHRA Motorsports Museum to Reopen July 1
Jun 24- E3 Spark Plugs Named Title Sponsor of July 11-12 NHRA Indianapolis Event
Jun 24- Cory McClenathan to Return for NHRA Indy Double-Header with DSR
Jun 22- AAA Texas Fall Nationals Expects Championship Field In October