Thu, 1 Feb 2007, 10:42 AM



Greg Anderson Straight Shooter



By Norm Froscher


Photo copyright 2007 Auto Imagery, Inc.





GAINESVILLE, Fla. --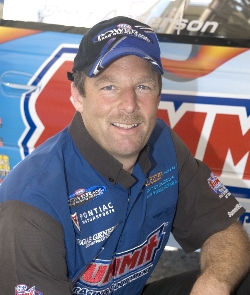 Greg Anderson
I guess the best way to describe him is as a straight-shooter. Not a bad accolade for a drag racer, right?
We're talking about three-time Pro Stock Champion Greg Anderson.
He always has an answer to a would-be interviewer. Maybe not the exact answer the questioner would like, but an answer, no matter how mundane or foolish the question might be.
Yes, Anderson is one with whom you don't have to worry about saving your interview-ender to the last question.
You know, one that may be in the realm of "have you stopped beating your wife?"
No, that's not for Anderson, but here's three questions -- maybe interview-ender types -- to which he readily replied during a Pro Stock test session of NHRA competitors at Gainesville Raceway in Gainesville, Florida.
The first:
So what about NHRA's latest deal, the Countdown to the Championship, if you will? That's the formula whereby all competitors strive to be in the final eight -- others being eliminated from championship consideration -- and then to the final four and eventually one.
Whatta think, Greg?
"As a personal deal for me, I'm not a big fan of it. Don't get me wrong. We've had a lot of success over the last four or five years and I think we've earned our success. I just am scared that possibly -- and I'm not saying it's going to be myself or Jason -- someone comes out and has a fantastic year, winning 15 races leading up to the Countdown, but the stumble at one of those last two races and end up fourth in the championship. That doesn't seem right to me.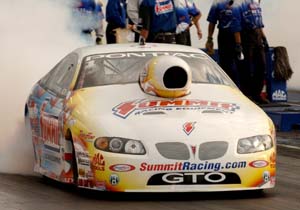 Greg's Summit Pontiac
"I just want to make sure that whoever has the best season through the year, I think they deserve to be champion. I think you need to earn it all year long, not just in a one-race shootout. I don't quite understand that. If NHRA is looking for more drama, more final race of the year drama, you're not going to beat what you had last year anyway. You can throw out the Chase (Countdown) forget it. We didn't need it last year, may not need it this year, but it's going to happen one way or another.
"I'll have to find a way to win, no matter what the rules are, no matter how the game is played, but absolutely, I'm not a proponent of it."
The second:
Okay. You're only a two-car team, but what are your thoughts on NHRA's cap of four entries by an owner in one class?
"I guess they feel it's necessary," he says. "A lot of their response seems to have come after what NASCAR has done, NASCAR has made steps like that (as well as the Chase) because they were afraid it, I guess, was going to hurt their deal.
"I'm not in the know enough to know if was something that had to be done yet. It didn't really appear to me that it was getting out of hand, but who knows? Maybe too many cars in one stable is an unfair advantage. Four should be a great plenty, I would think. I mean we have two and I think sometimes that's too many. I can't imagine having four. They didn't need to limit mine. I would have to have a strait jacket to run four.
"I don't know how John (Force) is going to do it, I don't know how (Don) Schumacher does it."
If you will recall Anderson's string of three straight championships came to an end in 2006. And by of all people, his teammate and protege Jason Line.
Anderson, it has been said, created a monster and that was the result.
And just between you and I, he was at Gainesville testing his new Summit Pontiac GTO by himself. Yep, one car of a two-car team. And we all know it's best to have two cars with which to share information.
But Anderson was alone.
The third:
What did you do, Greg, sneak out of the shop without him knowing it? Trying to steal an early march on him?
No, nothing that sinister
"Well, the truth there is that most of the time we don't go test with both cars," Anderson says, grinning at the thought.
"We run the dyno (at the Charlotte shop) all the time and Jason does all the dyno work. I work in the engine shop and if we both go, it pretty well shuts down our engine development. We're trying to build and design debut the new DR3 engine in our car.
"The only ones who have run it so far are Warren and Kurt (Johnson). We hope to debut ours at the opening race in Pomona.
"The bottom line is we're trying to do the best of both worlds. I'll go do the car testing and he'll stay there and do the dyno and we'll keep both programs running."
Anderson says the team has brain-stormed for the last two months since they left the final event at Pomona.
"We think we've got a lot of ideas a lot of neat things we want to test before we go racing again," he says.
"The problem is, it's snowing in Charlotte and we really can't test there. We've got an eighth-mile track two blocks from the shop where we do all our testing in the summertime. Because of Mother Nature, we had to go south and even if we went to Valdosta it would probably be another 10 degrees colder," he concludes
And Anderson points out that as a two-car team, he and Line can share information, not only from testing, but once the season is underway.
"What we learn with one car, we apply to the other and the same with the engines. That's one of the benefits of having a two-car team. When we go to a National Event we have twice the amount of runs a one-car team has and twice the amount of data and when we go test somewhere we don't have to shut down the shop."
Anderson and Line also have another major change in their Ken Black/Summit team.
"Jeff Perley (former co-crew chief along with Rob Downing) is not with us any more," Anderson points out.
"He retired at the end of last season and started his own Goodyear tire store and is back in Charlotte where he also hopes to spend more time with his family,
"We had a great run with him, but it's a new chapter for us. We have a new guy by the name of Derek Jones, as our lead engineer and Rob will be the lone crew chief right now. That's another reason we're down here. (at Gainesville). Derek is new to drag racing -- he comes from the round track world -- and he and one other guy are new on my team."
Gainesville was the site where Anderson started his five-straight victory string back in '04 and was later named Driver of the Year.
"Yeah, Gainesville has always been a favorite of mine," he says. "First of all, I can remember when I was a little kid, coming down here with my parents and I thought this was the biggest race in the world and the neatest thing. You know we had family down here and we'd always come to the Gatornationals, just as fans.
"Then when I started racing it, well it's what Pro Stock racers like. We like smooth race tracks and this is good and smooth track and obviously has real good air. You've got a good barometer here because you're close to sea-level and it's a fast race track."
And thanks Greg, for those smooth answers. And since you DIDN'T sneak away, also take our congratulations back to Jason at the shop.




NHRA: 10 Most Recent Entries [ top ]

Jul 13- INDY 1 - Sunday Videos
Jul 12- INDY 1 - Sunday Wrap Up
Jul 12- INDY 1 - Summary of Eliminations in Top Fuel
Jul 12- INDY 1 - Summary of Eliminations in Funny Car
Jul 12- INDY 1 - Summary of Eliminations in Pro Stock
Jul 12- INDY 1 - Summary of Eliminations in Pro Stock Motorcycle
Jul 12- INDY 1 - Summary of Eliminations in JEGS Super Quick
Jul 12- INDY 1 - Summary of Eliminations in Oakley Motorsports Top Sportsman
Jul 12- INDY 1 - Summary of Eliminations in Oakley Motorsports Top Dragster
Jul 12- INDY 1 - Championship Points