Thu, 1 Feb 2007, 01:20 AM



From Roy Hill to Jerry Darien



By Bob Frey


Photo copyright 2007 Auto Imagery, Inc.





>From Roy Hill To Jerry Darien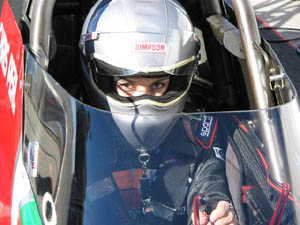 Lindsey Wood
Over the course of the years there have been a lot of drag racers who have gone through Roy Hill's Drag Racing School. Even famed NHRA announcer Dave McClelland took a couple of trips down the quarter-mile with Roy observing. Other than those who did it for fun, like Dave, most of the graduates or attendees at Roy's school went on to a career driving Pro Stock or some other stock bodied vehicle. Very few of them, if any, left the school and went on to drive an A/Fuel dragster. Well, Lindsey Wood is about to shatter that stereotype of a Roy Hill student. "I've always wanted to run Pro Stock," Lindsey told me at the test session in Las Vegas. "And I will say that going to Roy's school was an interesting experience." Why then, if she loves Pro Stock cars and if she attended Roy's school was this twenty-two year old in Las Vegas driving for Jerry Darien? "I never thought about driving a dragster so I guess that just goes to show you how quickly things can happen in this sport," she said.
Lindsey Wood is one of the many and growing number of second generation drag racers. Her dad, Rowland, won Super Comp at the Sportsnationals back in 1985. Driving his blue roadster, Rowland, along with his friend and partner Keith Gills, beat some of the top dragsters in the sport, including Larry Nelson in the final round, to win the 8.90 class in Bowling Green. That win came after a couple of final rounds at divisional races earlier in the year and it followed his Division 2 championship a year earlier. The evening before the Sportsnationals' eliminations in Bowling Green, Rowland lost in the All Star race when he broke out in the final round. After that disappointing loss he called home to tell his wife, Kim, and their two children, Lindsey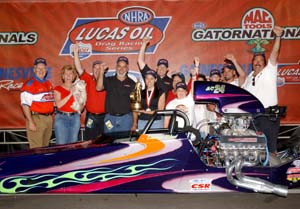 Wood and crew celebrate win.
and Jason the bad news. "She told me the reason I lost was because she wasn't there to wish me good luck. She then wished me good luck six times and I went out and won the race the next day." That's the kind of story that legends are made of. Fast forward to today and Rowland and his wife are busy watching their daughter get one of the best gigs in drag racing, an opportunity to drive the Darien and Meadows car, a car that has been driven by some of the top stars in the sport. "I never even met Jerry until today," Lindsey said last weekend. "His wife came up to me last year at one of the point's races and asked if I wanted to talk about driving the car and I told her that I liked Pro Stock so I would pass on the offer. When I was asked again at the PRI show in Florida I figured that chances like this don't come along very often so I said yes." The fact that Lindsey had never met Jerry Darien before she got to Las Vegas to drive the car shouldn't come as much of a surprise. After spending eight years in the Jr. Dragster ranks, she moved up to Super Comp where she scored a national event win at the Gatornationals in only her fifth start in the class. "I knew nothing about these fuel cars before this weekend," she said. "Even though I grew up around the sport I never really paid any attention to them." When I asked her if she had any conversations with the previous driver of the car, Ashley Force, she said no. "I've never even met her." How about Hillary Will who was also in Las Vegas testing? "Never met her, either." She did say that she has had some conversations with Erica Enders but that all centered on Pro Stock cars. "Honestly, I never thought I would be in this position. It's all happened really fast."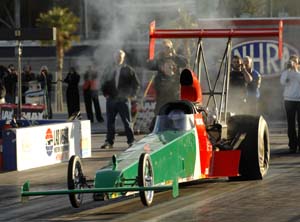 Wood in the Top Alcohol Dragster
While Ashley Force is the most recent person to benefit from driving for Jerry Darien she certainly isn't the only one. Among other "graduates" of Jerry's school are Top Fuel drivers Morgan Lucas, Brandon Bernstein and Melanie Troxel along with current Funny Car standout Gary Scelzi. "Everyone over here has been so nice," Lindsey said. "They have been very patient and are teaching me all about the car." Among the things that she has learned is the fact that she can't do everything herself on the car. "In my Super Comp car there wasn't a lot to do between rounds but I did everything myself and that included getting suited up for a run. With this car, I don't know anything about it so I kind of stand around and watch and learn. I can't even buckle myself in when I finally do get in the car. Like I said, it's all a big learning experience" One of the people who is helping her learn is Chris Perl, a young man who has worked on Jerry's crew for years, including the last few when Ashley was driving the car. Chris, who is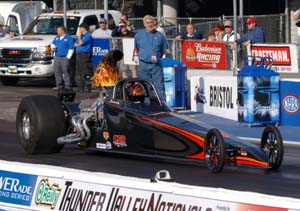 Wood in the Super Comp dragster.
a licensed, card carrying Top Alcohol Dragster driver, made a few runs with the car in Las Vegas, one of them a 5.41 pass on Friday. Chris will drive the car in Pomona before turning the keys over to Lindsey and she appreciates all the help that he has already given her. "He's been so nice and I know we'll get along well. I'm going to call him before the Winternationals and tell him to bring home the 'Wally," I just think that would be great." After Pomona, Lindsey will take over the driving chores and the current plans call for her to run at the early divisional races in the southeastern part of the country. "We're planning on running at the Division 2 races in Bradenton and Gainesville before going to the Gatornationals and then we'll run at the points race in Valdosta, Georgia. Altogether we expect to race at about sixteen events this year." As for her Super Comp racing, the former top ten driver says that she still enjoys that and may return to action in the 8.90 class at the end of the year. "We had such a tough year with the car last season and I'd like to go back and see if I could win another race in Super Comp." After that she'll reevaluate the alcohol dragster experience and go from there. "I still would like to drive a Pro Stock car but maybe after a year in the dragster my thoughts will change. I'd eventually like to drive a pro car and, until recently, I never thought it would be a dragster, but now, well, you never know. Let's just see how this works out." The one thing that Lindsey did say after the weekend was that she felt that she adapted to the car and the environment very well. "It's overwhelming what there is to do on the car, but I enjoyed the first weekend and I think I did OK." Jerry Darien agreed saying that "she did a nice job for her first time out." That's like a glowing recommendation from Jerry, believe me. For the record, Lindsey made several runs on Saturday and Sunday with a best of 5.376 at 266.85 miles per hour.
When she is not racing Lindsey works on the contingency program at her father's company, CSR Performance Products. The company, which has been around since 1989, specializes in water pumps, high torque racing starters, transmission shields and cooling products. Their newest product is their 24-volt "Smart Start," a platinum starter with "severe duty starter drive and 139 tooth flexplate." I'd love to tell you more about that but that's why they have their website, http://www.csr-performance.com. And while I don't know much about the technical stuff I do know this, they have started something big this year, the career of their daughter in the Top Alcohol Dragster ranks and that's not bad for a young lady who always wanted to drive a Pro Stock car.




NHRA: 10 Most Recent Entries [ top ]

Jun 30- Lucas Oil to Sponsor Summernationals at Indianapolis
Jun 25- Tickets on Sale for 2020 Southern Nationals
Jun 25- Houston Raceway Park to Transform into Drive-In Theater for First NHRA Race Since Lockdown
Jun 25- NHRA Northwest Nationals Canceled Due to State and County Restrictions
Jun 25- Toyota to Serve as Associate Sponsor of Tony Schumacher in Indianapolis
Jun 25- Wally Parks NHRA Motorsports Museum to Reopen July 1
Jun 24- E3 Spark Plugs Named Title Sponsor of July 11-12 NHRA Indianapolis Event
Jun 24- Cory McClenathan to Return for NHRA Indy Double-Header with DSR
Jun 22- AAA Texas Fall Nationals Expects Championship Field In October
Jun 22- Crew Chief Doug Kuch Returning to Foley Lewis Racing